Do you know how many people are currently in your office building? This information was once reserved for the analytics team and data enthusiasts. People counters have always been very useful in determining rush hours, most popular spaces, and even evaluating advertising success through footfall traffic data.
With many people returning to offices, information about people density in various spaces has become essential to everyone. By keeping the information clearly visible, it's possible to prevent overcrowded areas and ensure the recommended safety distance is maintained.
1. Show the number of people on each floor and redirect meetings to less populated floors
The reality is that during a typical workday, people leave their work stations and move around the office building – whether it's to attend a meeting or just pop by someone's desk with a quick question. In normal circumstances, this would be perfectly fine. However, we're living in a post-corona world, so we've got to make sure that no floor ends up being overcrowded. With people counters placed at the entry of each floor and Joan Sign displaying the information, you can clearly communicate the number of people in real-time.
Place them near the elevators or stairs and maximize their visibility. Additional information about face masks, disinfectors, and any further measures can be displayed right next to the people counting data.
2. Ensure that your internal workshops are not overcrowded
Internal workshops are being reintroduced into the schedule. The slow transition from online to face-to-face training is partially due to organizational challenges, such as figuring out the conference room layout, seating arrangements, and group work.
By using people counters and showing the number of attendees in real-time, half of the battle is already won. It's an elegant and effective way of displaying when a workshop is full and whether or not a health hazard is likely to occur, especially when the workshop is on a first-come-first-serve basis.
3. Display the current lavatory occupancy for avoiding queues
Inform your staff that there's an open stall in the most efficient way – with a real-time people counter positioned directly in front of the lavatories. The use case might raise some eyebrows but lavatories can quickly become a virus-spreading hot spot. They're usually difficult to air and have a mass of people entering/exiting throughout the day. Lining up in front of stalls only adds to this problem.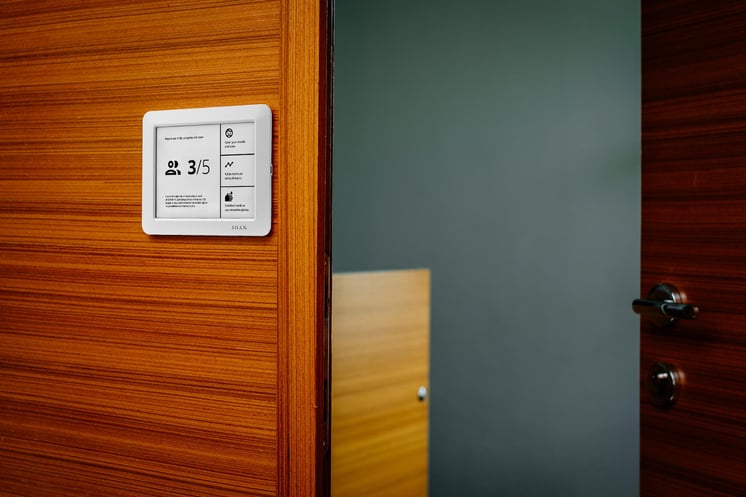 4. Control the number of people in the workplace cafeteria for keeping safety distance at the tables
When the clock strikes 11:30, offices empty and there's a rush towards the cafeteria. As with workshops and lavatories, cafeterias are another space where controlling the number of people can be challenging (without deploying additional workforce and old-school counters).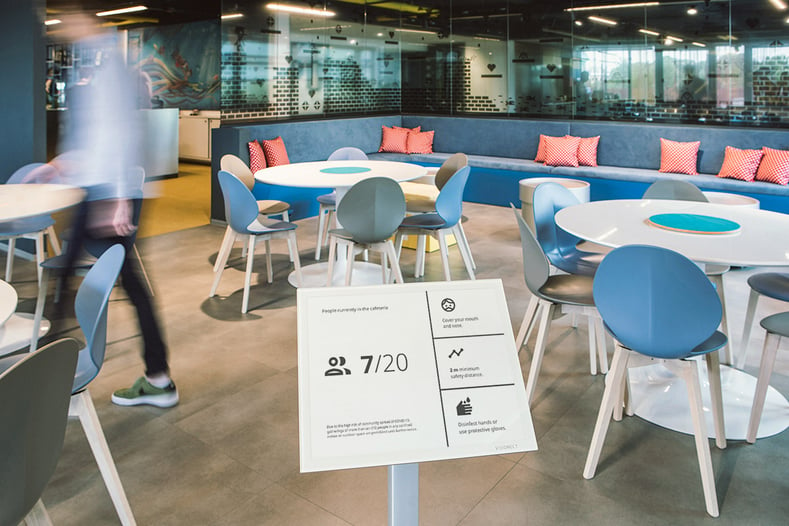 5. Make your break rooms enjoyable and omit the constant inflow of people
Break rooms are not just a "Google thing" anymore. But the reality is that there's never enough of them. There's no better activity than a quick round of table tennis before a brainstorming session – everyone feels more relaxed and forgets about the other tasks for the day… except for the people that are standing right next to the table, waiting for their turn.
With Joan Sign, everyone will get their chance to chill out without someone standing right beside them or nervously entering/exiting the room, checking whether it's empty or not. Add the additional information to the real-time people counter dashboard – perhaps a reminder to disinfect the rackets and air the room for an even better and safer experience.
What should you look for in a people-counter display?
Simplicity.
You don't want another ongoing task for your IT team; it shouldn't present them with hassle every step of the way, from mounting to onboarding and maintaining. Here's what to look for:
An out-of-the-box solution – people occupancy displays are an investment and there should be a clear return from day one, without extra drilling and wiring costs to get the solution in place.
A quiet yet sophisticated design – make sure that the solution blends in with your office layout and interior design. Search for a black/white dashboard and subtle casing. The combination will never go out of style, no matter how your office changes.
Almost zero maintenance – don't lose extra time on servicing and charging the device. Opt for something that's simple and tailor-made for the use case, but is also energy-efficient and doesn't require charging every few hours.
Customization – adding additional information next to the real-time counter is where the value really lies. What can everyone be doing to ensure the maximum level of safety? What's the procedure once a room hits its capacity limit? Place the information on that dashboard for clear guidance.
Start displaying real-time people occupancy in your office building
Joan Sign connects with people counters and displays real-time information wherever you need it the most, whether that's on each office floor, in front of the cafeteria, or both. With its advanced ePaper technology, it's 99% more efficient than LCD displays and only needs a recharge once every quarter.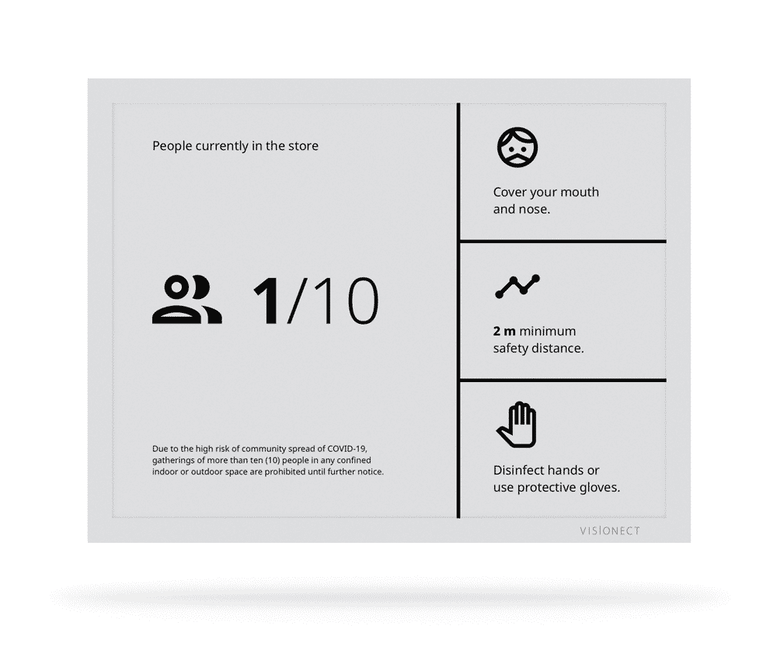 This out-of-the-box solution arrives pre-charged and with a magnetic mount (it can also be placed on a Joan stand). The onboarding process is simple and user-friendly. After unboxing, it takes less than 5 minutes to ensure that the people-occupancy status is clear to all.
If you'd like to test a device in your office building, please reach out to sales@getjoan.com.