Smart homes and smart offices are on the rise. And for a good reason. Gadgets, such as Alexa, are making our life much easier. Do you even remember the times when you had to walk up a floor to chat with your co-worker? Yeah, me neither.
But because memories can be unreliable, we have some numbers to support our wild claims. A recent statement by Amazon revealed that in 2018 they sold more than 100 million Alexa devices. If the primary market is the USA it would mean that every 4th American owns an Alexa device.
And why do we use it? Well, according to a small UK study, mainly for playing music. And sometimes for boiling an egg.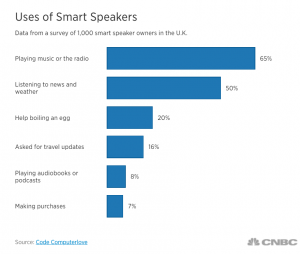 Surely there must be a smarter way to use the technology. Did you know that Alexa can also book some useful things?
Alexa can book many things. From a hotel room to a meeting room, and even a date.
1. Book a date
Although it's not completely functional yet, it's one of the coolest things you'll be able to book. In just 13 steps! That's right, according to CNN's article you'll soon be able to book the complete experience in a few simple steps. Alexa will provide some sweet recommendations for dinner after movies. It can even book you an Uber.
2. Book a hotel room
Kayak introduced an option to search for flights, rental cars, and hotel rooms with Alexa a while ago. But recently they've added another option – booking hotel rooms. Simply ask "Alexa, book a hotel room in [the location you're going to]" and you will get some possibilities to choose from.
3. Book a table at your favorite restaurant
Opentable, one of the largest online restaurant-reservation services, has joined powers with Alexa to enable on command table reservations. Your go-to one-liner is "Alexa, ask Opentable to make me a reservation at Your-favorite-restaurant."
4. Place your usual order at Starbucks
Technically, this doesn't fit under "booking", but let's say it does because it is too awesome to leave it out. On your way to work simply stop by the nearest Starbucks and pick up your favorite latte. You can place your usual order or just shout out "Alexa, tell Starbucks it's coffee time."
5. Book meeting rooms
According to Gartner, 25% of employees will use virtual assistants by 2021. Alexa for Business is advancing functionalities at the workplace, including booking assets such as meeting rooms.
Alexa seamlessly integrates with meeting room booking systems, such as Joan, and delivers a top-notch office experience. No more running around and constantly checking your calendar.
When you need a room for an impromptu meeting, simply ask "Alexa, book this room". Voila, the room is yours.
This feature enables employees to have full control over meeting room reservations. Together with Joan, booking meeting rooms is as easy and efficient as it gets.
Awesome, what's next?
Just like Alexa, Joan is also versatile when it comes to booking. Here's an idea: book a company car with Joan for your next work trip organized by Alexa. Check out this article on other things you can book with Joan.