Founded in 2018 by Alain Brossé, Welkin & Meraki is the first premium business center offering flexible workplaces with a distinct eye for quality and well-being for an hour, a day, or for years.
Business talks about flexibility in a world that often confuses agility with agitation. The company truly knows that women and men in large companies, from law firms and corporate institutions to consulting companies, sometimes go a long way to win close-by business, reflect on or develop new projects.
All these reasons and more are why Welkin & Meraki aims for a new standard when offering office spaces to their clients. They strive to foster talent and potential within the teams and companies using their spaces.
Welkin & Meraki already offers premium office spaces in Brussels, Eindhoven, and Paris, and will soon expand to other major capital cities. The company has ambitions and a genuine interest to support its clients through their bookable spaces.
They have created especially for them premium premises designed to be flagship headquarters, bases for parent companies, or satellite office spaces. An extension. A friend's house.
This month, we had the opportunity to meet with the IT director of Welkin & Meraki, Christoph De Bodt. De Bodt has been with Welkin & Meraki for three years, overseeing the management of the numerous booking spaces the company offers.
What's in a name?
When you hear "Welkin & Meraki" you'd think it's a name based on the founder's names, like Abercrombie & Fitch or Marks & Spencer. Yet, the founder, Alain Brossé, had a little more class than that.
Welkin, the firmament, the celestial sphere, Meraki the creativity and passion for action. These two terms, originating in English and Greek, are an undertaking, a program, an invitation both poetic and pragmatic.
Today for the brand, the notion of "taking care" has superseded the idea of "service". Whether for a day or a longer-term, working alone or in a team, at Welkin & Meraki we take care of all our guests. Entirely outfitted premium offices, shared workspaces, conference rooms, with an auditorium and bar, we offer restaurant facilities as sources of inspiration and well-being. The smallest details reflect elegance and comfort.
The goal at Welkin & Meraki is to support clients so well that they can focus on immersing themselves in their work with minimal distractions or stresses and maximum passion. With the Welkin & Meraki team tending to the environment, companies can focus on growth and development.
Flexible office spaces
For Welkin & Meraki, the design of their office spaces is of utmost importance. They want their clients to feel comfortable, surrounded by high-quality resources and products. Every consideration, down to the finest detail, has been seen to.
Welkin & Meraki is one of the few companies that values mental wellbeing when designing a functional workspace. The desks are lined with leather to guard against cold surfaces; the interior elements, from chairs to carpets, have been designer-picked to create a harmonious atmosphere. Overall, the office spaces are as premium as they are functional.
The atmosphere at Welkin & Meraki is like nowhere else. Our guests share spaces discreetly: respectful of one another and the needs for privacy. People meet, form relationships, do business, without disturbing the calm and serenity of those who wish to retain their privacy and quiet. Even in our Corporate Coworking lounges.
Flexibility is key when it comes to modern workspaces. The future is moving toward hybrid work conditions, meaning employees will be working in the office some days and remotely the rest of the week. More and more organizations are turning to bookable workspaces, rather than expensing their own real estate.
Welkin & Meraki's concept fits perfectly with current developments. The company's spaces can accommodate small businesses as well as much larger corporate groups, and the floor plans allow for isolated concentration areas or large open spaces for collaborative working.
Essentially, clients can book office spaces at any Welkin & Meraki location for a flexible amount of time: one hour, one day, one week… For a flexible number of users: one, ten, one hundred… The customer's needs define the company's strategy, no matter how big or small.
With so many bookable spaces, it's no wonder that Welkin & Meraki needed a robust, classy meeting room booking system on site.
Why Joan
Welkin & Meraki cast its eye on Joan soon after the company was established four years ago. Since then, many things have changed within the company's workspaces. Technology has come and gone, getting upgraded to the new best thing. However, Joan has always been an on-site favorite.
In the words of De Bodt,
"My first impression when I saw the Joan solution was that I really liked the design of the screens and they fit perfectly in Welkin & Meraki environment."
Joan 6 devices fit seamlessly with the professional, sleek look Welkin & Meraki offices are known for. One thing that De Bodt particularly values with Joan displays is the lack of flashy lights and symbols. Instead, Joan offers an unobtrusive, wireless, classy experience that enhances the office's ambiance.
Not only do Welkin & Meraki clients expect reliable internet and connectivity, but they also require high-level security when working on site. Security was a huge part of why Welkin & Meraki picked Joan for their meeting room booking systems.
Joan prioritizes security and is the most secure office management solution on the market. The devices store as little information as possible and exceed industry security standards.
Another bonus feature De Bodt mentioned was Joan's interest in sustainability. In this modern age, not much is classier than sustainable practices. Joan devices are made from renewable and reusable materials. Plus, Joan works hard to be carbon-neutral, leaving a minimal carbon footprint. In fact, Joan pledges to plant one tree for every device sold.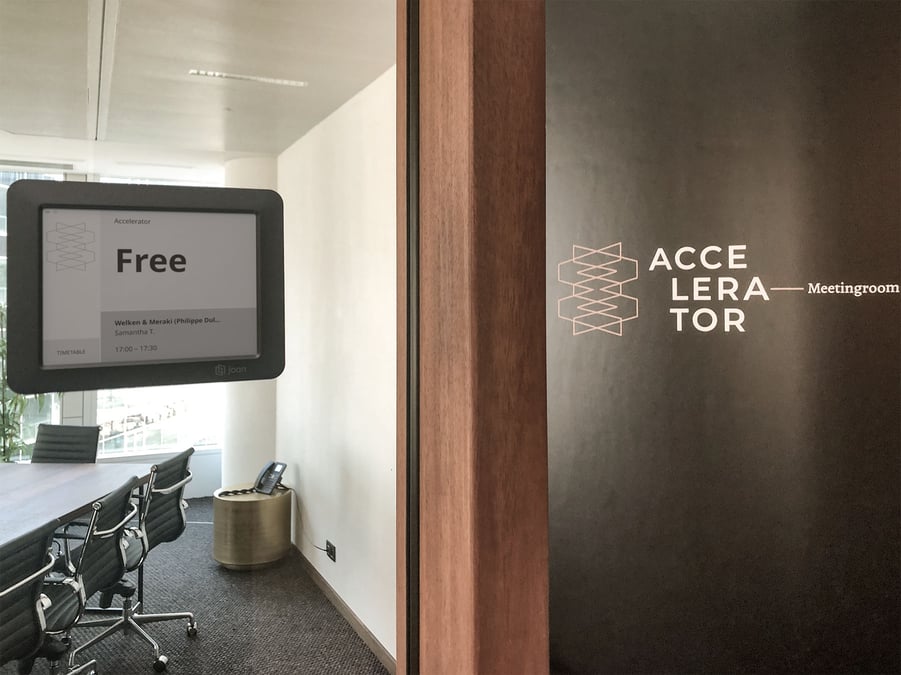 Favorite features
When asked to sum up his favorite Joan features, De Bodt hit some key aspects that really make Joan shine:
Sleek design. As the only ePaper meeting room booking display on the market, Joan offers a sleek look that blends into any classy environment. The aluminum casing and glass touchscreen add quality to any office space.
Ease of use. At Welkin & Meraki, clients and employees alike find Joan easy to set up and use. Rooms can be added and devices configured within minutes.
Personalization. Joan offers customization options, blending the whole room booking experience with the company's branding and image.
Wireless. Joan 6 displays last half a year on a single charge, allowing them to be mounted wirelessly on nearly any surface. The wireless presentation enhances the minimalist, sleek look of any office space.
All-in-all, Joan 6 devices are perfect for the quality and simplicity Welkin & Meraki requires for their spaces to be successful.
Next steps
Already based in Belgium, the Netherlands, and France, Welkin & Meraki has plans to expand to Germany, and the United Kingdom. The company's CEO is actively visiting new buildings, searching for new locations to set up Welkin & Meraki premium flexible office spaces.
Luckily, they have a meeting room booking system that will work for all their offices, current and future.
Ready to enhance your workspace?