Extend Joan's functionalities. Change what the default buttons on your 6-inch devices do. Rate a meeting, ask for supplies, or just order a coffee. With Joan's Custom Buttons the limit is your imagination and maybe your programming skills.
Set your course for Joan Labs
You already know that we care about your feedback, but our email and social media aren't the only places where you can reach us. There's also Joan Labs – the place to be if you wish to vote for and enable the latest Joan features before we release them to the public.
Since the beginning of our voting system, the top request has always been a feature that would let you do… well, pretty much anything. From requesting room cleaning to reporting technical issues, custom buttons have always been the Lab community's favorite.
To set your very own custom buttons you'll need a Joan 6 device and an active subscription to our Standard or Premium plans. Once everything is set you're ready to dive into the Joan Portal and follow our Knowledge Base guide to navigate to the right tab. From there you'll be able to pick which of our three standard buttons ("Meet now", "Meet later", "Timetable") you want to replace.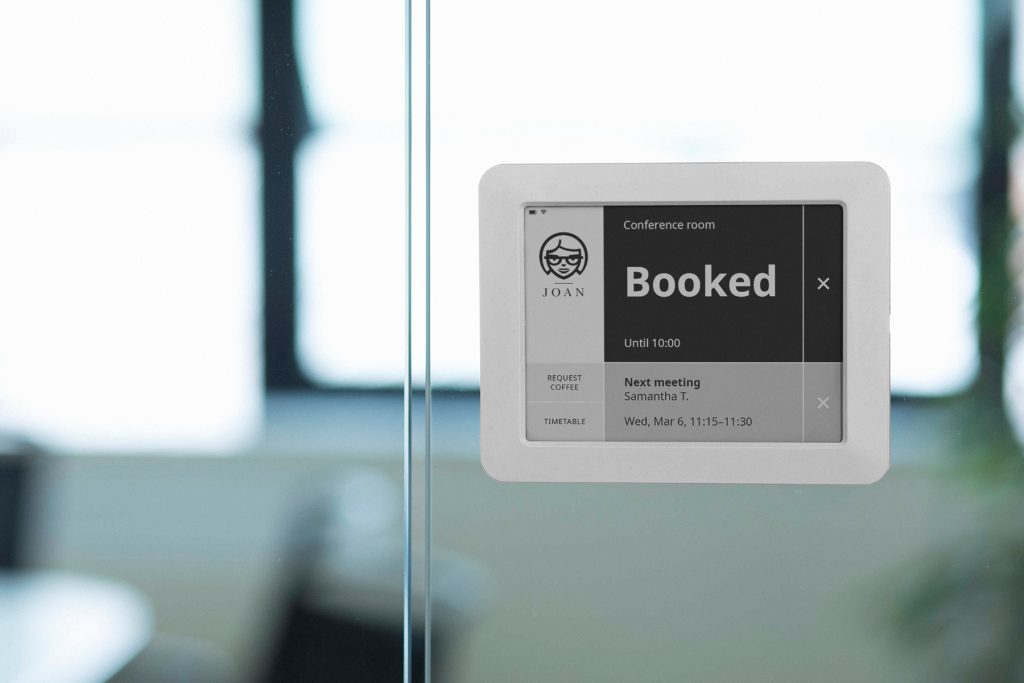 Ooh! What does this button do?
Honestly, we don't really know. Since you can make the buttons do virtually anything, there is no way we can predict all of the use cases for them. But even though we can't tell you what to do with them, we can explain how to do whatever you wish to do.
As of right now, you can configure your custom buttons in three different ways. You can make them open a webhook, display a QR code, or you can integrate them with Zapier (direct integration will be available shortly).
Webhooks – if you work in IT you've seen these before. Webhooks are a very common way to combine various services together. You can find some tips and ideas here, but if you're not a tech person you'll need help from your in-house geniuses for this one.
Zapier and IFTTT – two classics. Tap your custom button to trigger an event and take advantage of the rich ecosystem and complex actions already set up for you. Here's an example: set up a "HELP" button that will request assistance from your IT support. As of right now, this can only be done through webhooks, but we're already working on implementing a more direct method.
QR code – pressing the button will display a QR code. You can use this functionality to build interesting QR-code related integrations. Like a feedback sheet for example. After exiting the room the participants could scan the code to open a Google Form document and rate the meeting or give feedback to the speaker. Or, one of our user's most popular choices – requesting Wi-Fi access.
---
For a more in-depth look into Custom Buttons and even more examples read our Knowledge Base guide. If you'd like to vote or try out our beta features you can sign up for Joan Labs here.