Before reading the list below, make a list of the criteria you're looking for in a meeting room booking system. Organize your criteria from most important to least important. Are you looking for battery life? Touch screen? A colorful display? Perhaps you'd like an easy setup, saving the company time and money.
Once you have your list, it should be easy for you to weed out the device that will best fit your office space.
Keep in mind, this list is comprised of somehow similar and popular devices. There's no sense comparing Joan 13 with Visix's MeetingMinder™ EPS 60. While Joan 13's caters to large conference rooms where it offers a complete overview of meeting spaces, Visix's EPS 60 has a different purpose and shows information for an individual room.
Without further ado, let's jump in.
If I'm biased, then the rest of the internet is too. Joan is by far the most well-known ePaper meeting room display out there. If you search for e-paper meeting room displays, Joan pops up at least five times more frequently than any other display.
Why? Because it's a versatile, methodically-designed meeting room display that syncs with your office calendar nigh effortlessly. However, Joan has a shorter battery life than other devices on the list. Other displays have a battery life of one to five years compared to Joan's three months.
There's a simple explanation and good reasons for it:
Joan is continually syncing with the office calendar, making sure the meeting rooms are up to date.
It's the only device on this list that has a touchscreen. With Joan, users can check the availability of a room and book it via the display itself.
Joan is one of two devices on this list that can only ink in two colors: white and black. This isn't bad since single-colored screens refresh faster than colored screens and are less prone to ghosting.
We currently offer a 30-day money-back guarantee. Try Joan 6, we are confident it's just what you're looking for. Otherwise, send it back, no questions asked.
Display size: 6-inch display
Resolution: 1024 × 758 pixels
Calendar compatibility: Office 360, Microsoft Exchange, Google G Suite, and iCal
Battery life: 3 months
Touchscreen: Yes
Onboarding: Simple. Can self-install, sync and start using in a matter of minutes.
Customer support: Free lifetime customer support comes with the device. Joan also has a comprehensive knowledge base and a dedicated support team.
Price: $549 USD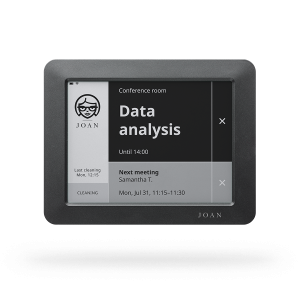 SyncSign is the second most intuitive device on this list and syncs with just as many calendar apps as Joan. However, it doesn't have a touchscreen and this is a big deal. Unless you get the four-inch model with dated buttons, the room cannot be booked or explored from the display alone.
SyncSign's 7.5-inch display has a sleek design and can ink in white, black, and red. Considering the size of the display, however, the resolution is a touch lacking compared to Joan.
Display size: 7.5-inch display (among others)
Resolution: 880 x 528 pixels
Calendar compatibility: Office 360, Microsoft Exchange, Google G Suite, and Nextcloud
Battery life: At least 1 year
Touchscreen: No
Onboarding: Simple. Can self-install, sync and start using in a matter of minutes.
Customer support: The customer support page is not great. You can issue tickets, but there is no knowledge base.
Price: $349 USD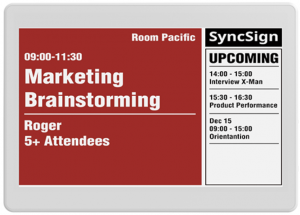 Visix advertises their MeetingMinder as "inexpensive," yet won't display the price on their website or any of their dealers' websites. They keep their pricing under lock and key, requiring all of your contact details, short of your SIN number, just to get a quote.
The most exciting aspect of MeetingMinder is that you can customize the faceplate. Or, at least that's what Visix seems to see as a major selling point. However, Joan also offers custom content that doesn't need to follow any templates as MeetingMinder's does. Making this feature more rigid and less desirable. The display can also ink in white, black, and red.
Ultimately, if Visix truly is inexpensive, it might be a good alternative to the more pricey displays if you're willing to dedicate hours to training and onboarding. The device syncs with the most common office calendars and has long battery life.
Display size: 7.4" display
Resolution: 640 x 348 pixels
Calendar compatibility: Office 360, Microsoft Exchange, Google Calendar
Battery life: Up to 3 years
Touchscreen: No
Onboarding: With basic training and mid-tier IT support, you can get your screens online and start using them the same day.
Customer support: A dedicated support page with an extensive knowledge base and ticketing system. However, the knowledge base is for all Visix products and it may take a while to find what you are looking for.
Price: Request a quote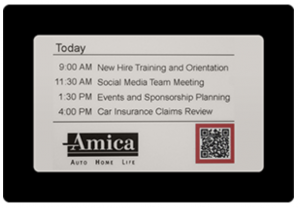 While Lancom's device is impressive with an up-to-five-years battery life, it's not specifically a meeting room ePaper display. Lancom's WDG-2 display is multi-purpose and has been used in healthcare, the hospitality industry, meeting room signage, and more. The reason the device's battery life is said to last up to five years is because its uses vary. Whether it would survive five years on one charge as a meeting room display… we have our doubts. The user experience would most certainly suffer due to slower syncing and refreshment rate.
Because of its versatility, the WDG-2 isn't a plug and play display. However, the device is "centrally controlled by a convenient program, the LANCOM Wireless ePaper Server." Still, according to the WDG-2 user manual, it seems to require more setup than some of the other devices on this list.
The resolution is comparable to SyncSign's display.
Display size: 7.4" display (among others)
Resolution: 800 x 480 pixels
Calendar compatibility: Exchange, Domino, iCalender, and Office 365
Battery life: Up to 5 years (conditional)
Touchscreen: No
Onboarding: As this is a multi-purpose device, installation and configuration are more complex and require significantly more time and IT knowledge.
Customer support: A service desk end customer support and an extensive knowledge base. However, their knowledge base is not super user friendly and covers various Lancom products, so finding specific answers is harder.
Price: $280 USD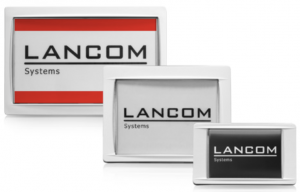 Slate106 isn't an intuitive, anyone-can-setup device, costing IT time and developer dollars. If you have a look at their installation instructions, there's no mention of how to sync the display with your calendar software.
The Slate106 is the only other device that only inks in two colors: black and white. Although, Innes is very proud that the device can ink in "four levels of grey."
This display is a simple get-the-job-done device. Designed to be "particularly dedicated to digital signage," the Slate106 is secondarily a meeting room display with little to no information on how to convert it into a meeting room booking system. However, it does communicate with mobile devices. As they say:
"The SLATE106 device exposes an open API for customised use (communication with a smartphone, etc.)."
The Slate106 display resolution is quite impressive, landing its quality between SyncSign and Joan's.
Display size: 6 inch display
Resolution: 800 x 600 pixels
Calendar compatibility: Unknown
Battery life: Over 3 years
Touchscreen: No
Onboarding: Most complex from the mentioned options without clear instructions on how to sync the device with your calendar.
Customer support: Their support page has a FAQ, but no contact options. There are two phone numbers in the footer of the page. The FAQ is also a bit confusing.
Price: $300 USD
Conclusion
Ultimately, your choices come down to this: if you want an intuitive, easy-to-use booking system, that's secure, supported, and maintained, get Joan 6. If your only criteria is battery life have a closer look at SyncSign.
The other displays might work, but are more complex to set up and not primarily meant for meeting rooms.
In the end, go back to your criteria list for a meeting room booking display and choose the right device to fit your company's needs. But be careful, cheaper alternatives come at a greater cost – training, onboarding, wiring, drilling, and maintaining. We are confident that Joan ticks most of the boxes. Try it yourself – we offer a 30-day money-back guarantee. Give it a spin and fall in love with it, otherwise, just ship it back, no questions asked. Get Joan 6 here.