Once again, Joan is honored with a Gold award at one of the most prestigious design events in the world. This year, the German Design Award (GDA) reached its aluminum anniversary, celebrating a decade of design history. With roughly 4,500 entries per year from 63 countries, the competition was hot.
In the words of GDA,
"Today more than ever, outstanding design means providing answers to the challenges of our time, promoting thinking in circular models, and realizing visions of a better world based on the design of actions."
The committee recognized Joan 6 Pro for doing just that. To say we were surprised would be an insult to the product design. To say we were beyond honored to receive this award would be the truth.
About the German Design Award
The GDA committee consists of 50 jury members from around the world. This top-class international jury honors groundbreaking design achievements and makes them visible across all settings. The awards shine a worldwide spotlight on state-of-the-art designs that are both effective and sustainable.
According to the committee, Joan 6 Pro exceeded expectations for both effectiveness and sustainability.
Excellent Product Design
The Joan 6 Pro wireless room scheduler triumphed in the "Excellent Product Design" category.
When choosing a winner, the GDA committee searches for a solution that will solve a key challenge of our time. In a world full of corporate office spaces, hybrid work conditions, and flexible workspaces, office meeting rooms can be bedlam.
The Joan 6 Pro device is quickly becoming a favorite solution among office spaces. With unbelievably low-energy technology, Joan displays can last months to a year on a single charge. Meaning, they immediately solve one key office dilemma: installation costs, including wiring and drilling. There are none.
What's more, time and time again, the displays have proven to effectively reduce or eliminate overrun meetings, double bookings, and wasted real estate from no-shows. The touchscreen wireless display shows each room's availability and allows users to book rooms on the spot for ad-hoc scenarios.
All-in-all, the Joan 6 Pro boasts a one-of-a-kind highly effective design that was realized by the GDA committee when they awarded the device the Golden award in the 2022 GDA "Excellent Product Design" category.
The jury praised Joan 6 Pro for its sleek design and sustainable features:
"The new »Joan 6 Pro« meeting room scheduler is impressive with a beautifully designed interface and clear, no-frills housing design allowing the unit to blend harmoniously into many office environments and become almost invisible when not in use. This is ensured by the particularly power-saving e-paper technology with the option to switch between light and dark modes. The use of reusable and recyclable materials such as glass and aluminium as well as reliable technology with a low failure rate promise a long service life that also makes it a commendably sustainable design approach. »Joan 6 Pro« can be easily installed wherever you want without drilling. Without wires or cables. This product has been exceptionally well thought-out down to the last detail both formally and functionally."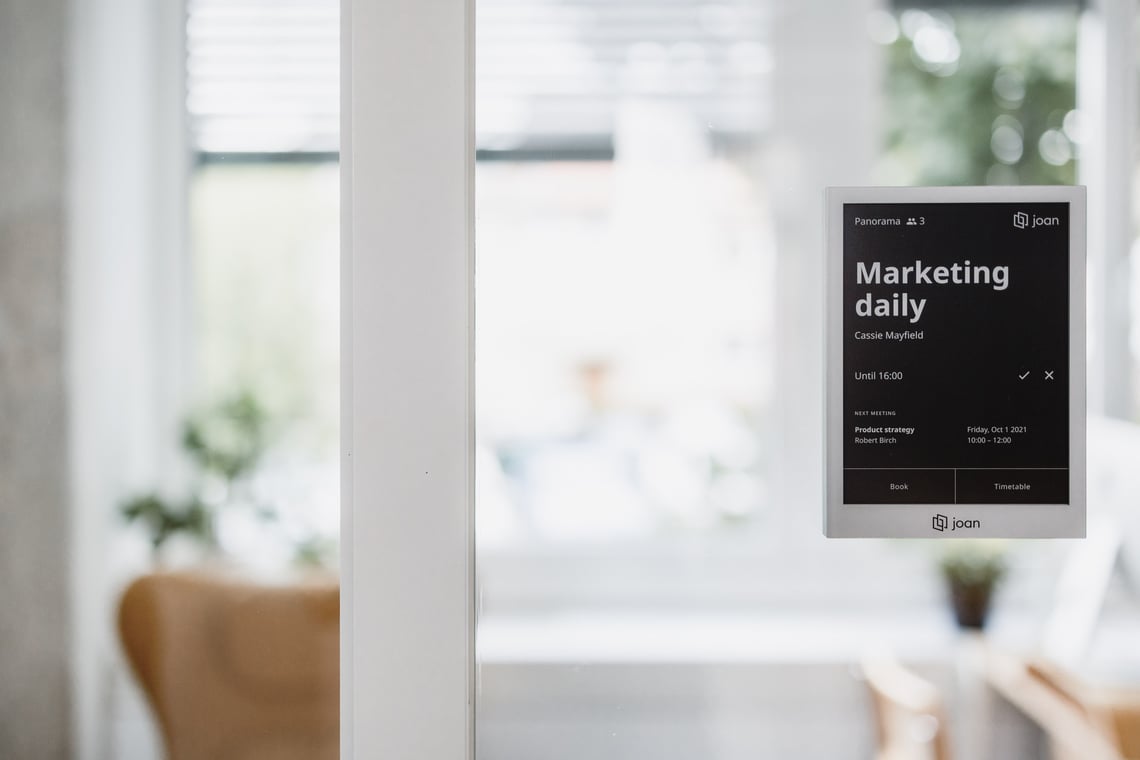 What GDA means for Joan
Each German Design Award shines an international spotlight on the winners. The GDA takes pride in its ability to influence the world to recognize and support the best and most innovative solutions available.
For the Joan team, our victory translates back to our customers. Once again, their investment has been validated as they benefit from the best room management system in the world. We love taking care of our customers and the planet.
Beyond our prestigious Joan 6 Pro, Joan solutions cover all aspects of office life including meeting room, asset, and visitor management, along with versatile e-paper displays for all use cases. We believe in solutions that answer the challenges of everyday life too, which is why we're continually expanding how Joan can support the workplace experience.
Joan products are available worldwide through our certified distributors. To find out how Joan can solve challenges in your workspace, contact our Sales team.