Centralized systems in the workplace provide fast, efficient, up-to-date services to multiple employees. Everyone's platform syncs to the same database, helping the workplace flow with minimal speed bumps.
Let's look at Outlook, for example. The calendar app syncs with your colleagues' calendars, keeping employees from getting double booked and helping teammates find time to meet up. What's more, with Joan, the software syncs to meeting room calendars, keeping meeting rooms from getting double booked and helping users find available rooms.
How to pull this off? By bringing all your workplace management tools together.
In this blog post, we'll show how to achieve centralized workplace management while ensuring high engagement with the Joan app.
What makes a good workplace management app?
Oddly enough, the best workplace apps are ones you don't even notice. Unless you're directly asked whether or not you like the app, you don't think about it — it's just there, making your life easier.
In the workplace, you need applications that help the company run as a whole. You need reliable office calendars that will sync throughout the entire company; you need chat apps that sync with your calendar apps; you need meeting room booking systems that update company-wide. And here's where Joan fits in.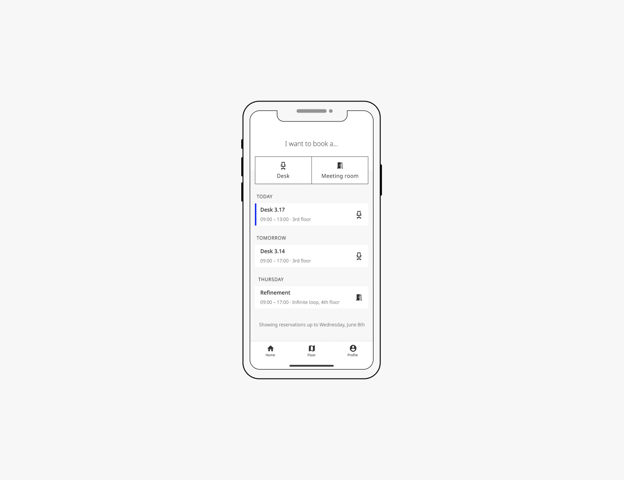 The Joan app
More than ever, meeting room management is key to helping companies run smoothly. The recent pandemic has pushed most companies to adopt flexible or hybrid work habits. Employees are sharing desks, working at flexible workstations, or working from home.
Companies are discovering solutions to help manage bookable spaces. Joan happens to be one solution that's become indispensable to many companies.
"Yes, we love our Joan. It's completely changed how we manage our meeting rooms and I would say we would not be able to manage things efficiently without it." - John Smith, Founder and CEO of Invest by Rubicoin
The Joan app was designed to be a perfect meeting room and desk booking solution.
With a few taps, employees can check the availability of desks, meeting rooms, and meeting spaces... virtually anything you want to make bookable. With another couple of taps, employees can reserve a desk or meeting room directly from the app.
The benefits of the centralized workplace management with the Joan app
Sounds great, right? We haven't even mentioned the long-term benefits yet.
Companies thrive and grow on productivity. The Joan app was designed to be one of those good apps that make office life easier. Implementing a meeting room booking system, or a desk booking system can save employees time in more ways than one.
First of all, employees no longer need to waste time walking laps around the office in search of an available meeting room. What's more, they no longer end up squatting in meeting rooms, only to get kicked out by the team who booked the space. All in all, disorganized meeting room booking systems are real-time-wasters.
So, how does all of this equate to productivity?
Productivity is measured by output per unit of time. Efficiency is measured by the best possible output per unit of time. Efficiency is about improving your productivity, and Joan is about improving your efficiency.
The average worker wastes approximately 30 minutes per meeting simply looking for a bookable space. The Joan app has been designed to cut this time down to seconds instead of minutes, making employees incredibly efficient with their time.
Still, that's not all the app does...
Bonus benefits
The Joan app was designed with the entire office in mind, supporting employees 24 hours a day. Here are some extra benefits included with the Joan app:
Data and analytics. Joan's booking system offers analytics on each bookable space. Through these analytics, managers can identify popular spaces, favorite times, and even handle contact tracing.
Check-in. The Joan app offers something your average calendar solution doesn't: check-in. from the app, users can check into a desk. What's more, the booking system can mark desks or rooms as "available" if no one checks in, making the space available for teams in need.
Health screening. These days, many companies struggle to implement health screening for their returning employees. The Joan app has got you covered. From their mobile device, employees can fill out a customized health questionnaire before even arriving at the office.
Takeaway
There are some solutions that simply make your life easier: "simply" being the keyword. The Joan app is easy to use, highly customizable and is designed to make your job easier. Joan is constantly looking for ways to fill in the gaps — help your office run smoothly by fixing systems you didn't even know were broken.
If you're going to choose an office booking app, make it a good one. Sign up for a free 30-day trial to find out if Joan is the right solution for you.