In an interview last month, Eric Eby, Director of IT for ISG, explained how the company's workplace thrives with the help of Joan 6 Pro. With the pandemic transforming corporate work, Eby needed a solution that was as adaptable for ISG's always changing work environment.
Let's have a look...
Meet ISG
ISG Inc. is a multi-disciplinary design and engineering firm focused on offering architecture, engineering, environmental, and planning services. The company is proudly 100 percent employee-owned, which ISG believes gives their team the drive to succeed.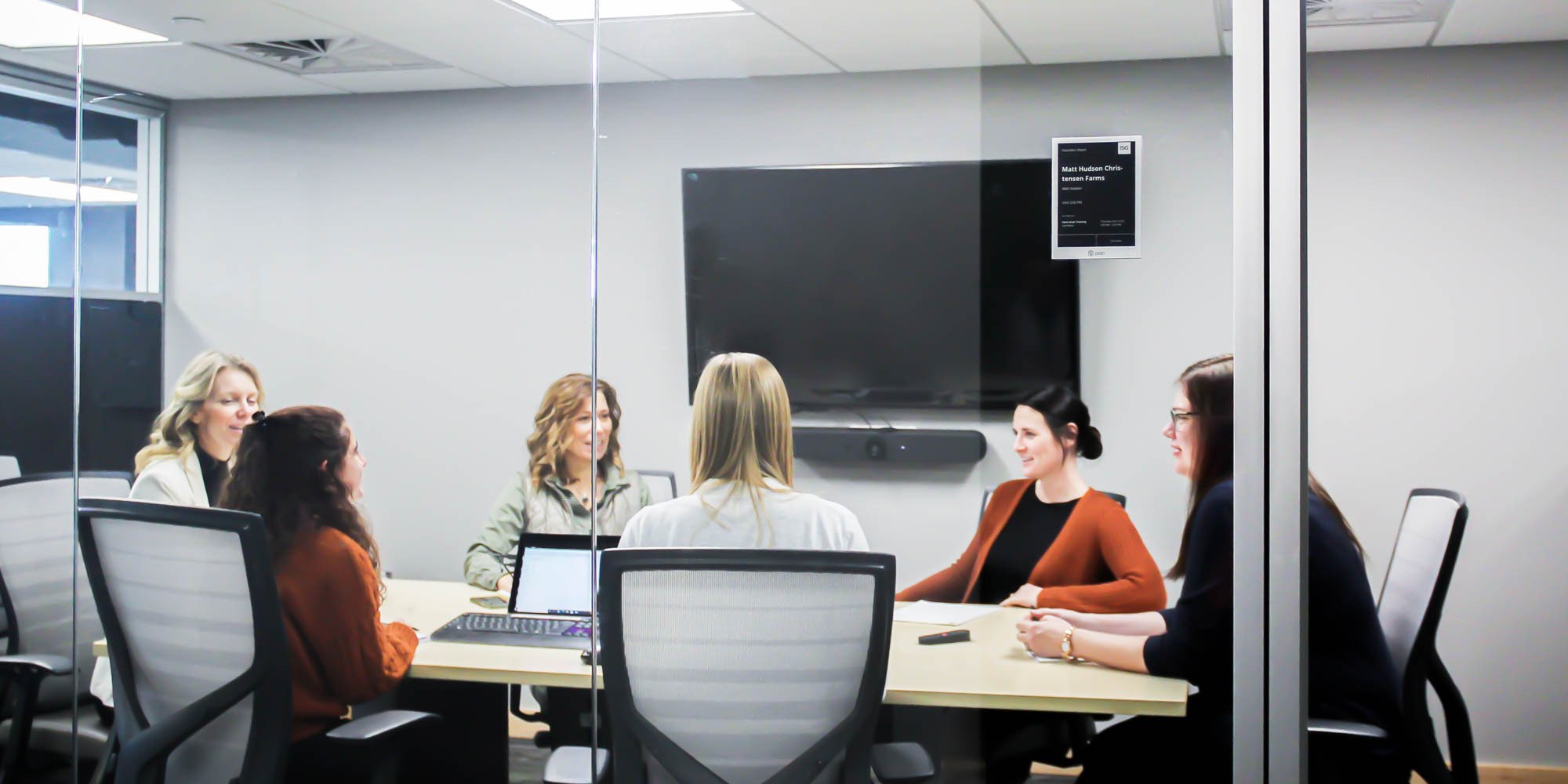 The company has eleven offices throughout the Midwest housing roughly 400 employees. Eby has been working for ISG since 2014 when the company only had 150 employees in 6 offices. With a 260 percent growth rate in six years, ISG has been constantly migrating offices or acquiring new office space nigh-yearly.
Why Joan?
The idea of a meeting room booking system wasn't new to Eby. In fact, he's been Googling solutions since 2016. His criterion was simple: ISG needed a solution that would display conference room information outside of the meeting rooms.
Before stumbling upon Joan, ISG was using paper schedules posted outside of their meeting rooms. Not only were these schedules a waste of resources, but unreliable as no one was really using them consistently. One key issue ISG faced were the squatters:
"Individuals would walk into the room without checking the calendar, sit down, and start a meeting. Then, someone who had it booked weeks ahead of time would be stuck and need to find a new spot. It was a pain"
In need of a better solution, Eby's online research led him to Joan. ISG started off with two or three Joan devices, just to get a taste. Lo and behold, "They worked really well."
"Being an architecture and design firm, we like the design of modern, glass walls. So obviously, running a power cable isn't possible and we've always been limited by that. With Joan, we don't need to worry about power, they're just magnetically attached, which is super slick."
Joan even caught the eye of ISG's visitors and vendors, praising Joan's looks and functionality:
"Vendors ask us all the time: Where did you get those and how do they work?"
Joan 6 Pro for the next-gen workplace
Over the last six years, ISG has been a steadfast fan of their Joan devices. Eby believes the company's offices are on their third generation of Joan displays. Even now, since Joan released Joan 6 Pro, ISG has ordered dozens of new devices.
"We love Joan, they work really great."
Considering ISG has tried and enjoyed three generations of Joan displays, why did Eby order so many Joan 6 Pro devices?
The answer is flexibility. The Joan 6 display has a longer battery life than Joan 6. Not to mention, Eby specifically noted the new PoE dock for the Joan 6 Pro and the look and feel of the new model.
The new devices look great! They have a really nice glass feel to them."
At Joan, we're always transforming our customers' feedback into new features and products. Consider our new Joan PoE dock released this year. The dock is just another way the Joan team has listened to and responded to customer feedback and needs. Although Eby doesn't foresee many of ISG's Joan devices needing a PoE dock, he appreciates having the option.
In Eby's words, the Joan 6 Pro was "what [he] was looking for since day one." Aside from the new PoE dock, Eby finds Joan 6 Pro Smart Magnet useful, the devices are thinner, and the materials are high-end.
Ever since implementing Joan 6 Pro in their offices, ISG's employees and visitors alike have noticed the difference. The displays look great, especially with their sleek design and new backlight.
In over six years, Eby has not received a single complaint about ISG's Joan devices, making his job easier and the offices run smoother.
What's the learning curve?
When asked about the onboarding experience, Eby described it as "super easy — very, very easy." Plus, whenever Eby needed a little extra help from Joan support, he found the process "super painless" with impressive response time. Ever since their initial setup, ISG's Joan devices have been "working great."
While users can book rooms directly from Joan displays, Eby has found ISG employees are most comfortable booking rooms directly through their Outlook calendars. Lucky for them, their Joan displays sync seamlessly with in-office calendars, letting employees stick to familiar territory.
Even so, Joan's touchscreen displays do allow users to book a meeting room on the spot, alleviating one of ISG's biggest problems: squatters. Instead of squatters taking overbooked rooms, or getting kicked out by another team, they can check meeting room schedules and book the room directly from the Joan 6 Pro displays.
Once upon a time, ISG employees struggled with room scheduling, having to run back to their desks regularly just to check room schedules. Eby is proud to say Joan has filled the void, smoothing out ISG's meeting room experience:
"It's such a simple device that solves such a simple problem."
Would ISG recommend Joan?
When asked if he would recommend Joan, Eby readily replied,
"I would absolutely recommend Joan devices. Honestly, Joan sells itself when people see it - that's really what I've noticed. And at that point, they're already asking about how to make a purchase."
Overall, Eby found Joan displays to be "a game-changer." The devices fit right into ISG's work environment, being both functional and classy at the same time.