This month, we'd like to share with you a unique story with one of our unique clients. We spoke to Tom Peeters, the director of IT at Zavo. Peeters has been a part of the Zavo team for over 15 years. Meaning, he knows the organization from the inside out. He knows the pain points and the roadblocks for solving them.
As a growing educational institution, Zavo properties are often stretched to their limits. They need to make every space count. Learn how Joan helped the school achieve its goals and get the most out of Zavo properties.
About Zavo
Zavo is a large public school in Zaventem, Belgium. The establishment covers education levels from preschool to secondary education. Students can begin classes at Zavo at the age of two and graduate when they're eighteen or nineteen years old. The school houses approximately 3,000 students and 300 to 400 employees. Each classroom holds approximately 25 students.
From the IT point of view, the entire school population is managed and supported by four IT personnel. Not only does Peeters' team oversee and organize property networks and devices, but they also support the student and staff members' laptops.
Over the years, Zavo has been experiencing exponential growth. Nearly two decades ago, the school enrolled approximately 900 students, compared to today's 3,000. This growth has inevitably led to building capacity problems.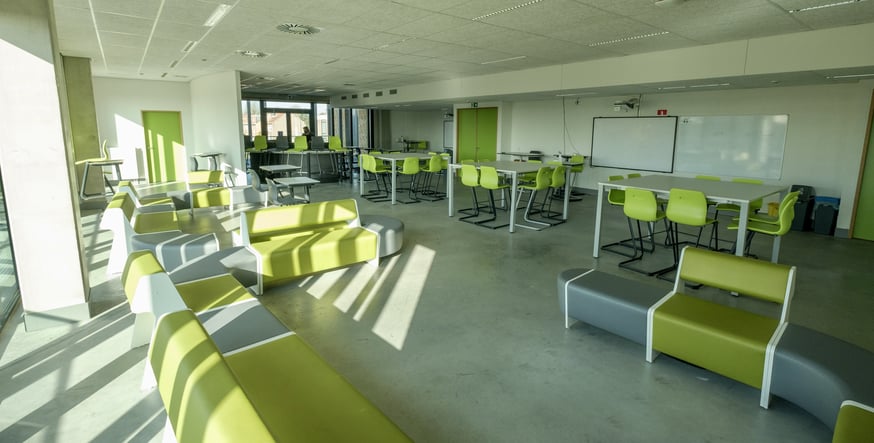 Making each space count
The school is constantly expanding in every way. More students mean more staff and real estate, helping the institution keep up with the rising demand for enrollment. Still, Zavo's facility hasn't been expanding fast enough. Each year, the school finds itself at capacity, no matter how many buildings or resources it invests in. This strain means Peeters and his team need to make each space count.
To put the problem into perspective, Zavo began with two buildings. To date, the school runs out of eight buildings, all within a one-mile radius. While many of the buildings function as traditional school spaces, others are repurposed apartment buildings that Zavo uses for co-working spaces. Another building was once a printing house that the school remodeled to be a fully-functional addition to the establishment. The Zavo faculty have been masterful at creating educational spaces out of unorthodox buildings.
Every single room in every building needs to be used to its maximum capacity. Yet, this level of optimization can be quite the knot to unravel. Lucky for Zavo, Peeters is a very hands-on IT master. If he sees a problem or room for improvement, he investigates it personally.
How Joan optimised Zavo's space management
In an establishment where faculty and students outnumber IT personnel 850 to 1, Peeters wanted a room management solution to carry some of the load. He envisioned a room booking system that would let people reserve their own meeting spaces, removing front desk or IT involvement.
It was important for users to be able to book rooms and spaces on the fly: "where they want and when they want and how they want." What's more, the system needed to be compatible with Google Workspace — the collaboration tool Zavo has been using for well over a decade.
One key caveat for Zavo was, while all the faculty has access to Google Calendars, they don't all use it. This limitation guided Peeters to search for a room booking solution that displayed each room's availability and facilitated on-the-spot room booking.
"I can just press 'Occupied' and Google Calendar gets synced and everybody's happy because then you know, okay, this space is occupied."
While the Zavo IT team toyed with the idea of a DIY booking system with LCDs, they weren't attracted to the prospect of wiring, blaring lights and colors, and the complexity of setting up and managing the devices. One internet search later, Peeters connected all of his room management criteria to one solution: Joan 6.
"It's the extra level between the physical and the digital agenda."
Before Joan, Zavo managed one single meeting room. Even with the one room, staff and faculty members had a hard time knowing when the room was booked and when it was available. These days, Joan helps the establishment run numerous bookable meeting spaces.
"Because we barely have any dedicated meeting rooms, we were able to lock it down with Joan."
Joan keeps classes from being interrupted by people searching for available rooms and spaces.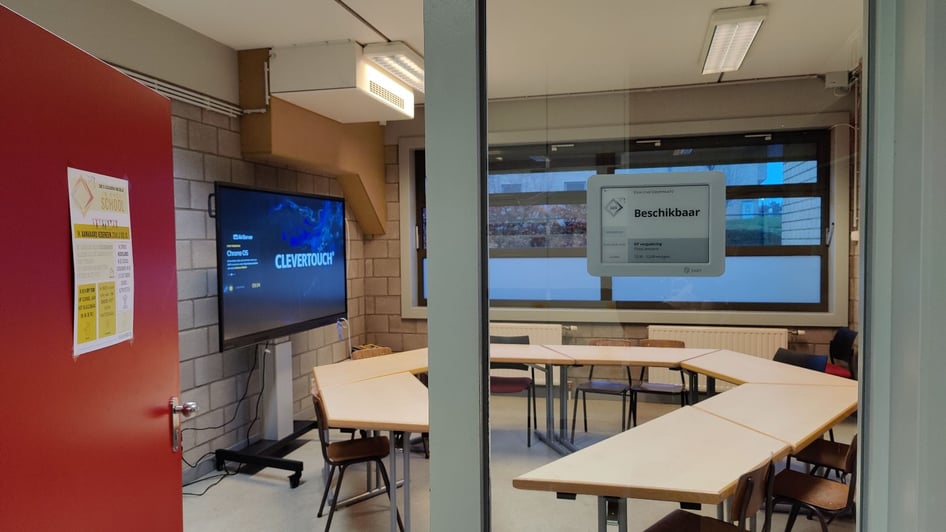 Joan's sleek newspaper look impresses Zavo
First and foremost, upon unboxing, Peeters couldn't help but think: "It reminded me the way Apple is packaging their products — it looks fancy." The device was sleek, buttonless, and elementary in complexity.
Joan's smart magnet surprised and awed everyone. Not only did their Joan 6 displays mount on any surface, including glass, but they looked stylish too! In an educational environment, teachers want minimal distractions surrounding the students. Luckily Joan isn't about flashing lights and blazing screens. Instead, the e-paper display "looks a bit like a newspaper" — plain and simple.
"And it's something totally different than an LCD or an OLED. It looks professional and it looks calm."
Talking about simplicity, the Joan UI is incredibly user-friendly. To connect with Joan, you don't need any extra software or software modules. With a scenario of 850 users per every IT specialist, Peeters says, "We don't need to teach people how they book rooms." Zavo simply put paper instructions next to the Joan display for a few days and that was that! Everyone was onboarded.
Thanks to Joan simplicity, Zavo faculty are now following room-booking procedures, all but eliminating room confusion and disruptions.
The final verdict
The best solutions are the ones that take the least effort to implement. Joan solutions have been designed to require little to no onboarding and minimal installation. Simply set up the devices once and leave them alone to do their job. Aside from charging the displays a couple times per year, they're maintenance-free.
What's more, they work. Zavo has been thriving since they added Joan to their family. The school has been capitalizing on every inch of real estate they own, making every building, every room, and every space matter.
Find out how Joan can help you get the most out of your workspace by contacting our Sales team today.