"Remote work," "flexible workspaces," and "hybrid work" are the buzzwords for 2021. Everywhere around the world, employees are waiting to see what their companies will switch to forward… and if the grass is greener on the other side.
All companies are navigating the transition through trial and error. Yet, with the right tools, their trial and error process can be much more reliable. Before explaining how, let's drill into some theories behind hybrid work models.
What is driving the hybrid workplace model's adoption?
For years, organizations have been drifting toward hybrid work models. COVID-19 just happened to accelerate the process.
Why were some companies tinkering with hybrid conditions before the pandemic? The answer is employee experience.
Once upon a time, corporations focused on running their employees around the clock, making sure they plodded away at their jobs throughout all payable hours. In the new millennia, the focus shifted to productivity: getting the most out of the employees without keeping their noses to the grinder.
With this shift came studies and experiments measuring employee productivity in various conditions. What researchers discovered was that employees were most productive when they were engaged and had positive workplace experiences.
According to Gallup, only 34 percent of employees are reportedly engaged at work. To improve productivity, companies strive to improve employee engagement. Studies have shown that 71 percent of managers see employee engagement as one of the most important factors for company success.
According to Oxford University, happy employees are 13 percent more productive at their jobs. There are many factors that give employees a negative work experience, including stress while they commute to and from the workplace and poor work-life balance. Between employee engagement and employee satisfaction, companies have a lot to juggle to boost company productivity.
Before COVID-19, some companies dabbled in hybrid work models, yet not many had taken the plunge. There was too much grey area. What if what worked for one company wouldn't work for the other? What if implementing hybrid work made it harder to control employee productivity? What if remote team members struggle with remote communication?
The pandemic shoved nearly all companies over the edge into fully remote work conditions. What's more, the majority of companies saw an increase in productivity, rather than the feared decrease.
Thanks to government-enforced work-from-home mandates, the grey areas of hybrid work have become more clear and less terrifying. Moving forward, most companies will be offering their employees some form of flexible, or hybrid, work conditions.
What are the advantages of a hybrid work environment?
Over the past year and a half, companies have been surprised by the benefits of work-from-home conditions. Here are a few:
Improved productivity
While most companies feared a loss in productivity with remote workers, the pandemic showed a different story. Whether or not employees procrastinated or were distracted more at home than at the office, productivity rose. Companies were able to get more out of their employees without micromanaging.
A study by Stanford, with a sample of 16,000 workers, found that remote working conditions increased productivity by 13 percent on average. ConnectSolutions reports that 30 percent of employees performed more work in less time and 24 percent reported accomplishing more work in the same amount of time.
We've already learned that productivity is influenced by employee engagement and employee satisfaction. So, how did working remotely boost productivity? Some reasons include
Less stress. Employees experienced less stress commuting to and from the office. They could also more easily manage a work-life balance, reducing their out-of-office stress as well.
Fewer distractions. Believe it or not, some remote employees find working from home more peaceful than working in the office. Minimizing distractions can help employees focus on their jobs and feel good about their work.
Better health. Employees who can work from home some of the time tend to have better physical and mental health. They have the time and freedom to nurture their wellbeing as needed.
Heightened employee retention
Happy employees don't only improve company productivity but lower employee turnover rates as well. In fact, recent studies show that one in six employees will quit their jobs if they aren't offered hybrid work conditions. Even more are on the fence, waiting to see how their company handles back-to-work procedures in the coming months.
A recent report by Accenture states that 83 percent of employees prefer hybrid work models. Companies offering hybrid conditions are at an advantage when hooking in new employees and retaining talent.
Lower operational costs
A study by Global Workplace Analytics and Design Public Group (DPG) states that "employers could collectively save over $500B a year or almost $11k for each employee who works at home half of the time."
With hybrid work conditions, companies can invest in less office space or implement greater office density, considering at least a third of their employees will be working remotely any given day.
Alternatively, many companies are moving toward activity-based office plans, where employees can migrate around the office to whatever areas or zones they feel most productive in. Meaning, they no longer need designated desks and the traditional amount of floor space per employee.
What's more, fewer employees in the office mean lower utility bills. Overall, hybrid work practices are ingredients for financial savings.
Flexible workforce
COVID-19 caught many companies — excuse the expression — with their pants down. Most offices weren't prepared to go fully remote and weren't given time to prepare for it.
Companies with hybrid workers will never be caught unprepared again. Their workforce will be practiced, equipped, and flexible enough to manage work-from-home conditions seamlessly without a dip in productivity.
All companies who don't embrace hybrid practices after the pandemic will be at a disadvantage if we're ever ordered to work from home again. While they struggle to organize and train their employees for remote working conditions, hybrid companies won't miss a beat.
Challenges of implementing a hybrid work model
Many of the challenges of hybrid work models are industry-specific. For example, the privacy lawyers need is different from the privacy developers require. However, there are some challenges that ring true for all companies implementing hybrid practices. Here are a few:
Internal communication
Over and over again, we criticize companies for being phobic of work-from-home policies. However, keep in mind, technology has only recently met the demand.
In the past decade, companies such as Zoom, Slack, and founders of other conferencing platforms have jumped onboard a growing market: teleconferencing platforms. Thankfully, these platforms managed proficiency just in time for COVID-19.
Even so, choosing the right platform for your company can be challenging. Choose one that will foster your company's culture and work habits with great chat functions, calling tools, and remote team collaboration features.
Office floor plan
Many hybrid companies don't invest in as much real estate as in-office companies. The question is: where to cut corners? Will your company allocate less floor space per employee? Will they implement a flexible floor plan? How will it all come together?
For a flexible floor plan, consider investing in an office booking system. Joan offers platforms for booking both desks and spaces. Employees can book meeting rooms or desks from their mobile devices, helping their flexible work environment run smoothly.
Company culture
Before the pandemic, it was easy for most companies to host company-wide events. Or, at least floor-wide events. Thanksgiving potlucks, Christmas gift exchanges, and Valentines goodies were events everyone could take part in.
In hybrid work environments, social committees and management will be hard put to arrange any company-wide treats. What's more, chance encounters and serendipitous meetings are less likely to happen. Colleagues will come into the office on different days, with some missing each other entirely.
Your company may have to think of original ways to foster camaraderie and loyalty.
How can a company adopt a hybrid workplace?
As promised, let's have a look at some recent successful approaches to hybrid work models. The companies named below have worked hard to fine-tune their company culture, action plans, and workspaces.
Facebook
Facebook has gone all-in with a "whatever our employees prefer" outlook. This level of flexibility shows a lot of trust that, in turn, sparks a sense of loyalty in their employees.
Straight from the Facebook Career's blog page, let's have a look at a day in the life of a Facebook employee:
"Picture this: You have a morning of productive, energizing meetings at the office. You grab lunch with some coworkers, then head out to run a few errands. After you're done, you head back to your place to finish up your day from the comfort of your own home."
As peaceful as that sounds, Facebook has done a lot of work to get their company comfortable with remote working. One challenge they faced included building "technology that promotes collaboration, inclusiveness, and fairness among all employees, regardless of their location." Facebook tackles this challenge with three core values in mind:
Always build for community and inclusivity
Empower everyone to build meaningful careers
Develop world-class managers and leaders
Overall, Facebook's clear mission is to make sure all of their employees can grow and improve in the new hybrid work model.
Google
Google has always been a forward-thinking company, ahead of the rest. For years, they've offered flexible work environments where their employees can meet at a cafe, whiteboard, outdoors…
Yet, never before has the company so fully embraced hybrid work. The tech giant has made their work environments so inviting that most of their employees want to return to the office. However, the majority of them still appreciate the work-life balance hybrid work offers.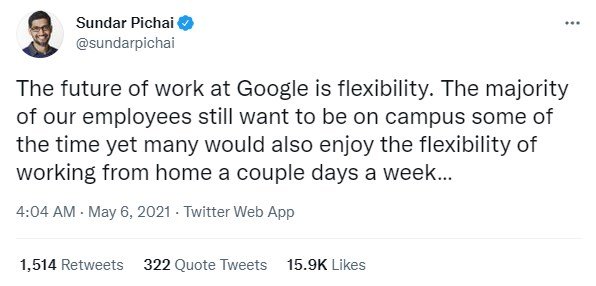 One key focus Google has focused on is remodeling. They've been redesigning their workspaces to embrace hybrid and flexible work conditions. Instead of desks and cookie-cutter meeting rooms, Google is designing "team pods" to promote in-office creativity and collaboration. These pods are flexible and can easily be rearranged into different layouts for different purposes.
If a redesign is in your company's future, help your employees book their meeting spaces or find their way around the office with a meeting room booking system.
QFL
QFL is a fast-growing organization based in the Netherlands and has approximately 130 employees — a huge leap from when the pandemic began. With the end of the pandemic in sight (or so we hope), QFL knows they simply don't have the room for 130 employees in their pre-pandemic office spaces:
"We're growing really fast as a company, we literally don't have enough space for everyone. So, that's why we need to go to a hybrid working environment."
– Esra Kuijpers, head of QFL's human resources (HR)
Rather than spend millions on acquiring more real estate, QFL is moving toward hybrid work practices. In response to employee feedback, QFL improved the flexibility of their office spaces, offering more workstations instead of cubicles. The company wanted to create a space "where people could make a reservation at a desk and QFL could monitor who was at the office or who was at home."
Luckily, Joan's meeting room booking system fit the bill. With Joan installed, employees could book meeting rooms or workstations remotely from their mobile devices. Furthermore, they could easily identify which spaces were available and which were reserved.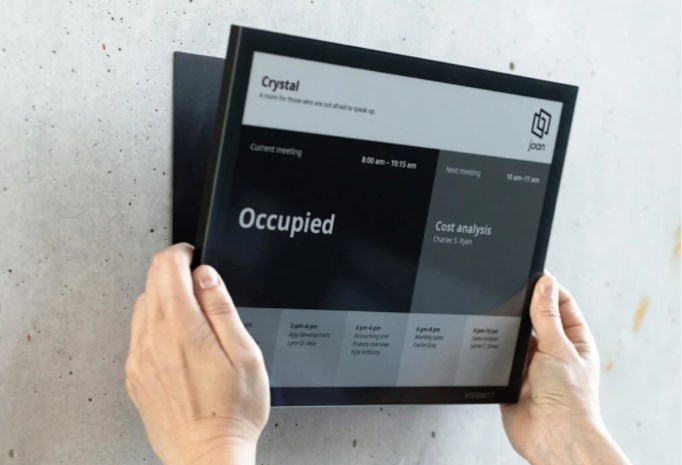 Takeaway
In these uncertain times, companies welcome anything tangible that helps them navigate these uncharted waters. Fine-tuning how your new hybrid workspace will run can be intimidating, yet having the right tools can take a load off your shoulders.
Seize opportunities to learn from other companies transitioning to hybrid work practices. Keep an eye out for technologies that can help you through the transition.
Try Joan solutions to make your transition to hybrid work simple and painless.