Extra, extra, read all about it: the International Day of Forests is coming up and we're pumped!
For years now, Joan has been keen on supporting the environment and giving back as much as we take. The initiative began with a focus on renewal and recyclable resources: glass, aluminum, a low-powered design, and more.
Our initiative didn't stop there. We're proud to announce that in 2021 we committed to planting one tree for every Joan device sold. All our low-power ePaper devices are manufactured with sustainability in mind.
Still, our team wanted to do a little something extra for the International Day of Forests on March 21, 2022. In the days leading up to March 21, there will be more ways than one to join Joan's tree-planting initiative.
Read on to find out how you can plant trees without spending a dime. Let's see how many we can plant, shall we?
What's happening to our forests?
For decades, the world has been sacrificing the long-term wellbeing of the Earth for short-term benefits. Forests have been disappearing at an alarming rate. Since the start of human civilization, we've reduced the number of trees globally by 46 percent.
17 percent of international rainforests have disappeared in the past 50 years alone and it's only getting worse. Instead of slowing down deforestation, industries are speeding up. The demand for tree-sourced products has increased, no matter how many groups are vying for production to slow down; no matter how educated the general population is becoming.
With all the awareness programs, recycling incentives, and initiatives to use less paper, much of the population thought the problem was getting better — that we were making a difference.
How wrong we were.
In 2020, the destruction of forests accelerated by 21 percent — roughly the size of Israel.
An. Entire. Country.
Humans are a huge part of the problem. But, you know what? We can also be a big part of the solution.
How trees help
Planting trees is the cheapest effective way to reduce carbon dioxide (CO2) greenhouse gasses from our atmosphere.
As trees grow, they convert the CO2 in our atmosphere back into oxygen, providing breathable air instead of planet-altering gasses. They literally sap the problem from our atmosphere, virtually fixing what we've broken. Still, trees are like the army of 600 spartans vs 11,000-strong Persian army: not enough to hold out against the CO2 we're throwing at them.
A lesser-known fact is that trees cool the planet through more than just reducing greenhouse gasses. The shade they provide and the moisture they emit into the air are essential to keeping the planet cool. In 2021, 25 countries reached record-breaking temperatures. These heat increases could be lessened by simply replanting trees.
What's more, rainforests are home to 50 percent of all plants and animals on the planet. Species are dying off at frightening rates due to the loss of habitat and means to survive. To save these species, we're going to need a lot more trees…
The benefits of trees don't stop there. Forests help shape our planet, preventing landslides and even diverting floods — both natural disasters that countries experienced severely in 2021.
Keep in mind, trees need thirty to fifty years to reach maturity. For trees to have the much-needed impact on the environment, they should have been planted yesterday.
"Yesterday" is when Joan teamed up with Treecelet, a not-for-profit organization that strives to help restore forests around the globe. Thanks to this partnership, Joan is able to guarantee that one tree gets planted for every device sold.
Still, that's not all. With our International Day of Forests initiative, you can plant tens of trees without even leaving your computer. You'll find out how further on.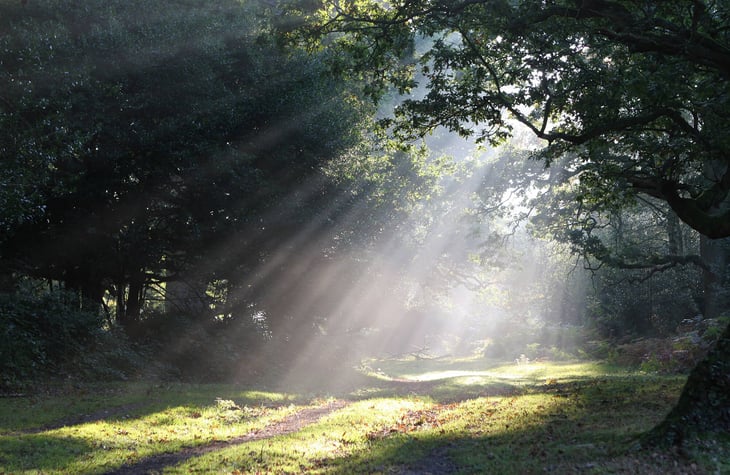 Forests in Indonesia
For now, Joan is focusing on planting trees in one key country: Indonesia.
In the last half-century, more than 74 million hectares of Indonesia's rainforests have been destroyed — more than twice the size of Germany.
For one country to lose two Germanys worth of rainforest is huge! Over the past 50 years, Indonesia has lost just under three quarters of its rainforest and counting.
Consider how many creatures have lost their homes, how much less CO2 is getting converted to oxygen… the loss of these rainforests is felt worldwide.
For these reasons, Joan has targeted Indonesia for our tree-planting project. It will take an army of planters plus years of growth, yet the only way to progress is to begin.
For the International Day of Forests, Joan intends to speed up the progress. Here's how.
Let's plant some trees!
Our team is passionate about sustainable incentives and designs. So much so that we're looking for an excuse to plant more trees and give back to the environment in a big way.
In the days leading up to the International Day of Forests, Joan is inviting you to plant tens of trees — without costing you anything but a moment in time and click of a button.
There are two ways to enter straight from your social media platform. On Facebook or LinkedIn, simply find our post for the International Day of Forests and
Like our post to plant 1 tree
Comment on our post to plant 2 trees
Share our post to plant 10 trees
Thirdly, if any of our Joan office management devices were on your shopping list, now is a great time to buy one. For every single device sold, Joan will plant 10 trees.
Our energy-efficient devices last months on the energy it takes to brew a single cup of coffee. What's more, if you're office is printing out paper schedules every day, save some trees with an ePaper Joan display, which syncs to your in-house calendar via WiFi.
With our International Day of Forests initiative, spreading the word is the fastest way to plant trees. With your help, we won't only improve awareness and mindfulness, but also make a difference by actively planting trees and regrowing our forests.
We're passionate about saving our planet — are you? For more information on how Joan supports the environment, check out our Sustainability goals.