Joan is all about creating the simplest and seamless experience when it comes to managing meeting rooms. In the past, we ensured building Joan bots for your favorite communication tools (Slack, MS Teams, Cisco Webex Teams) was a priority, but now it's time to take it to the next level – by creating integrations that'll automate the managing of meeting rooms, empowering you to focus only on what matters the most, the meeting itself.
Thus, we're proudly announcing an exciting partnership with Jabra.
What is the automatic management of meeting rooms?
We created an integration between the Jabra PanaCast camera and Joan. Jabra PanaCast camera will detect the number of people inside a meeting room and send this information to Joan servers. Joan will then change its status accordingly – "booked" or "free".
The intelligent people detection will book a meeting room, end the booking or check-in to a meeting instead of you.
Simply walk out of the room, and the room gets freed up for the others to use. No need to end the meeting manually, or to check-in when you arrive. The experience couldn't be more seamless.
How to set up the system?
To start, you'll need two things:
a Jabra PanaCast, and
a Joan 6 device
Set up the Jabra PanaCast system
Jabra PanaCast is the world's first intelligent, 180°, panoramic video solution for huddle rooms. It covers the full 180° field of view of the meeting room, ensuring everyone is visible. It also detects when someone's speaking and zooms-in on them, creating that perfect meeting experience even when on conference calls. It comes with a wall-mount for easy installation.
It's a plug-and-play device, whenever you're planning a conference call, simply bring your laptop to the meeting and plug it into the compute unit where all the devices are connected or connect it directly with the camera.
Set up your Joan device and the integration
Joan 6 is the simplest meeting room booking system out there. With its advanced ePaper technology, it's 99% more efficient than LCD screens. It clearly shows the current meeting room status and any upcoming meetings. Joan 6 arrives with a magnetic mount. Simply place it on any clean surface outside the chosen meeting room with Jabra PanaCast, and set it up in Joan Portal.
With its vast integrations and touch-screen, Joan 6 enables you to book a meeting room with your favorite tool – calendar, with a communication app, Amazon Alexa, and even right on the spot. With the newest Jabra PanaCast integration, we're automating the process and lifting completely lifting the meeting room management hassle.
The integration can be set up in Joan Portal in just a few simple steps:
Add authentication token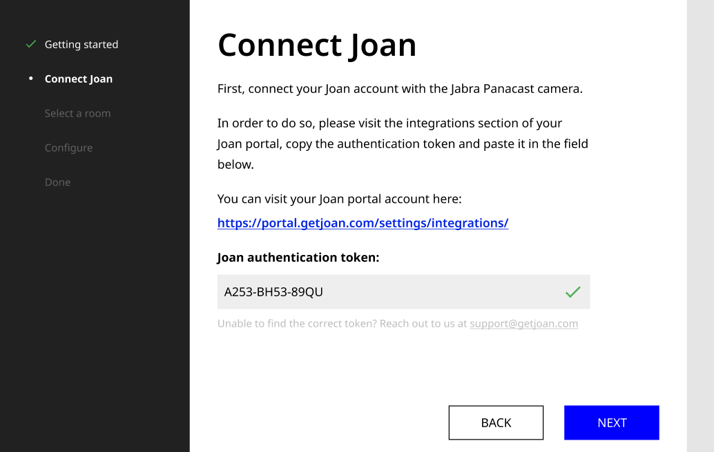 2. Pick a room with a JabraPanacast camera and Joan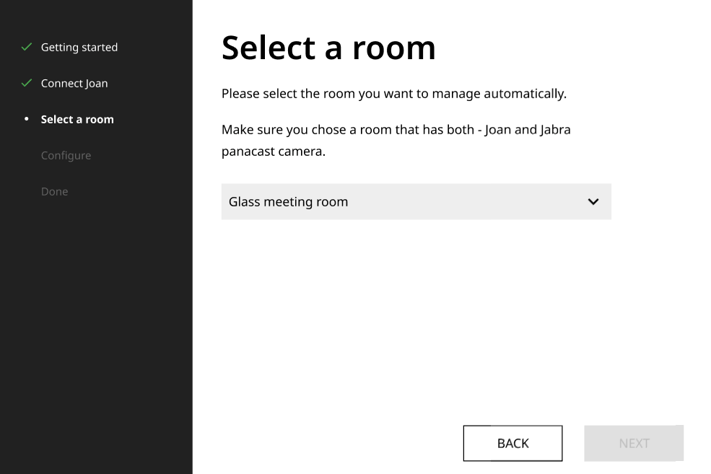 3. Configure the important settings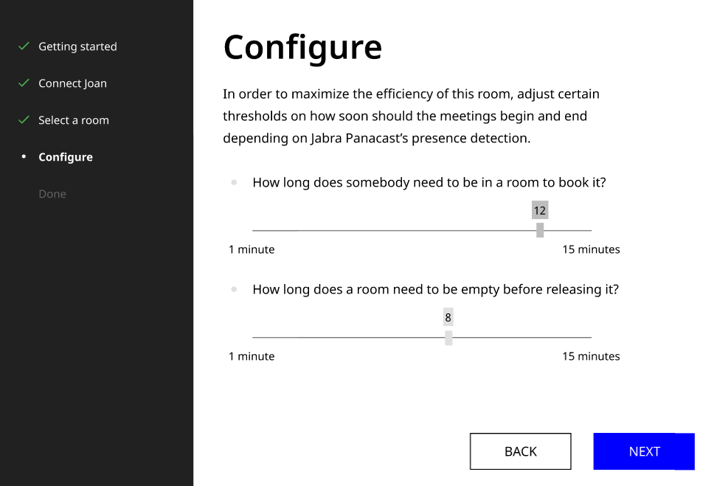 That's it, your automation is all set and you don't ever need to worry again about checking-in to meetings, booking meeting rooms, or releasing them once you're done with a meeting.
"I'd like to try this integration. Where should I start?"
If you already have Jabra PanaCast and Joan, simply search for the setting in the Joan portal. Make sure to reach out to us if you have any questions. We're always available at support@getjoan.com
Otherwise, please reach out to us at sales@getjoan.com for questions about purchasing the bundle or devices individually.