Deploying a meeting room booking system can be a nightmare for every IT department. From researching to onboarding and mounting hardware, every step takes time, effort, and additional helo before you can dabble in all the benefits a meeting room booking system brings.
And that's only the beginning. Once deployed, someone needs to maintain and take care of the devices, maintain them, and make sure they're always ready for use and in the right space.
While this might be true for all the major meeting room booking systems (such as Condeco or Meetio), there's a simple way around it with the latest innovation – Joan 6 Pro.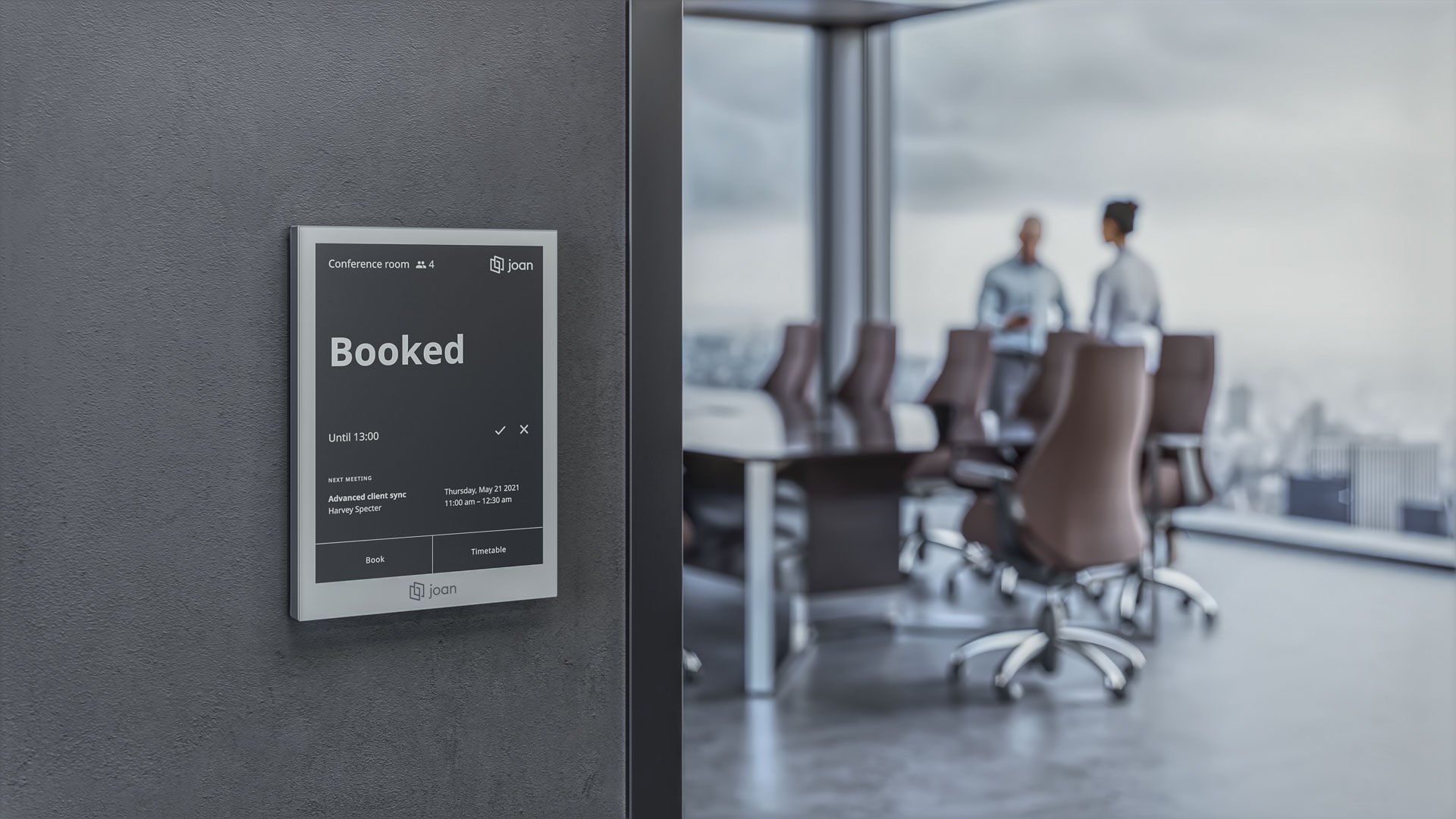 In this article we'll show how with Joan 6 Pro you get:
Simplified onboarding
Easy management with our proprietary magnetic mounts
Office flexibility by taking the device with you wherever you are
Let's dive in!
Onboard Joan 6 Pro in minutes and deploy it company-wide without additional resources
There are two major industry advancements when it comes to deploying Joan 6 Pro - simplified onboarding and deploying.
Simplified onboarding
Joan has always kept simplicity at the core of the products so there's no surprise that the tradition continues with the latest release. With the launch of Joan 6 Pro, we are also launching a new functionality - device onboarding straight from the app. We have omitted instructions and the device can be onboarded straight from our mobile app.
Throughout the process of onboarding, you simply need to follow the on-screen instructions and let your new device guide you throughout the process.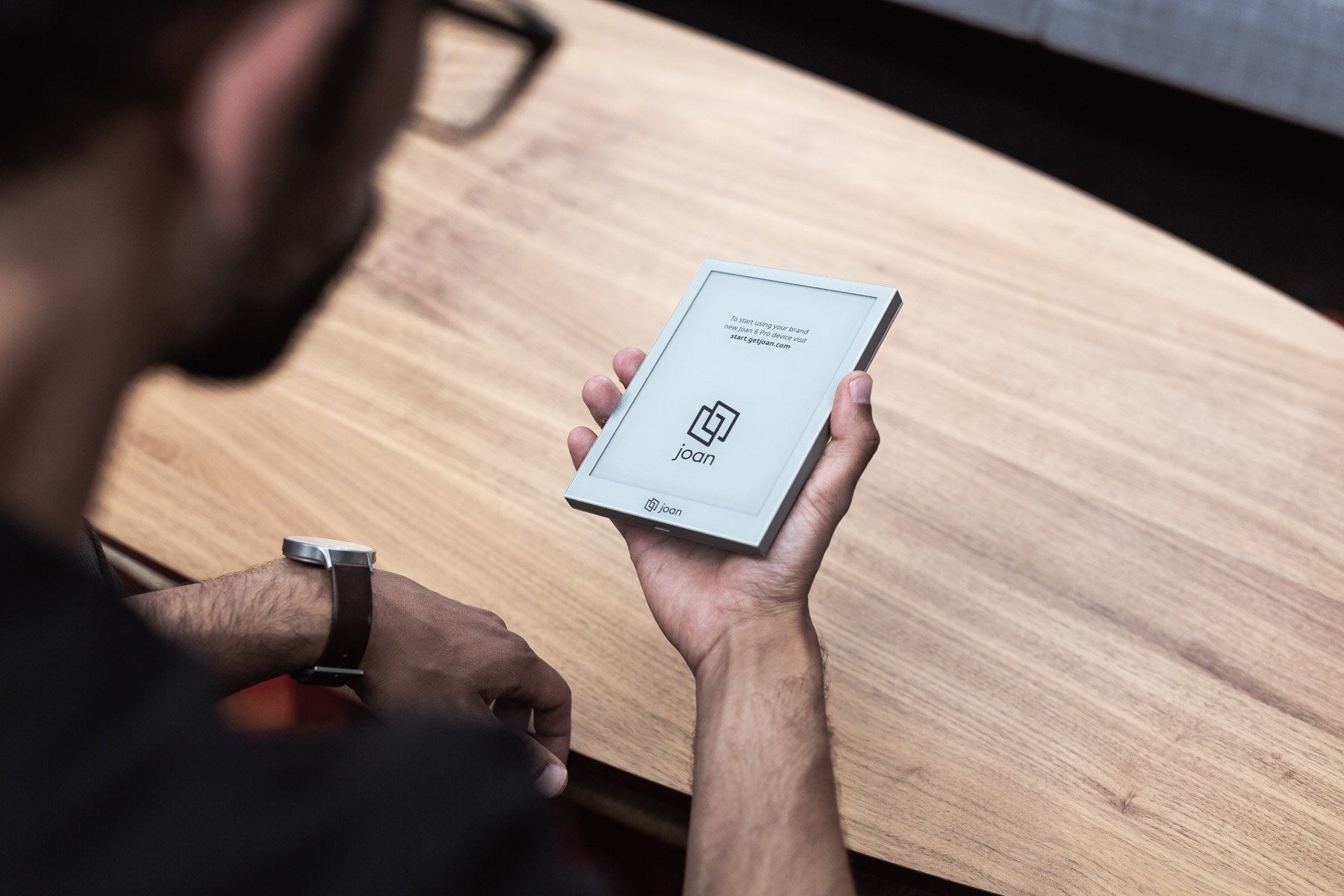 With this, you and your team will save hours on talking with external experts and figuring out how to set up the meeting room bookings system for the entire business.
Mount Joan devices immediately
Once you onboarded the devices, they're ready to sit next to your meeting room doors. And instead of wiring and drilling, simply place them on a Smart Magnet (enclosed with every purchased device).
Place-and-forget management with Smart Magnets
Even though Joan 6 Pro advanced technology and ePaper screens ensure a 6-month battery life on a single charge, they'll still need to get recharged a couple of times per year. Usually, at the same time.
The ongoing issue has always been with matching devices with their room when they're done charging. That's why we introduced Smart Magnet.
Smart Magnet is a magnetic mount storing a meeting room identifier. So instead of having the basic settings stored on the device, they're being added to the magnetic mount. When the devices are recharged, simply place them on a nearby magnet. Without worrying which device fits where. The device will pick up the room settings from the magnet.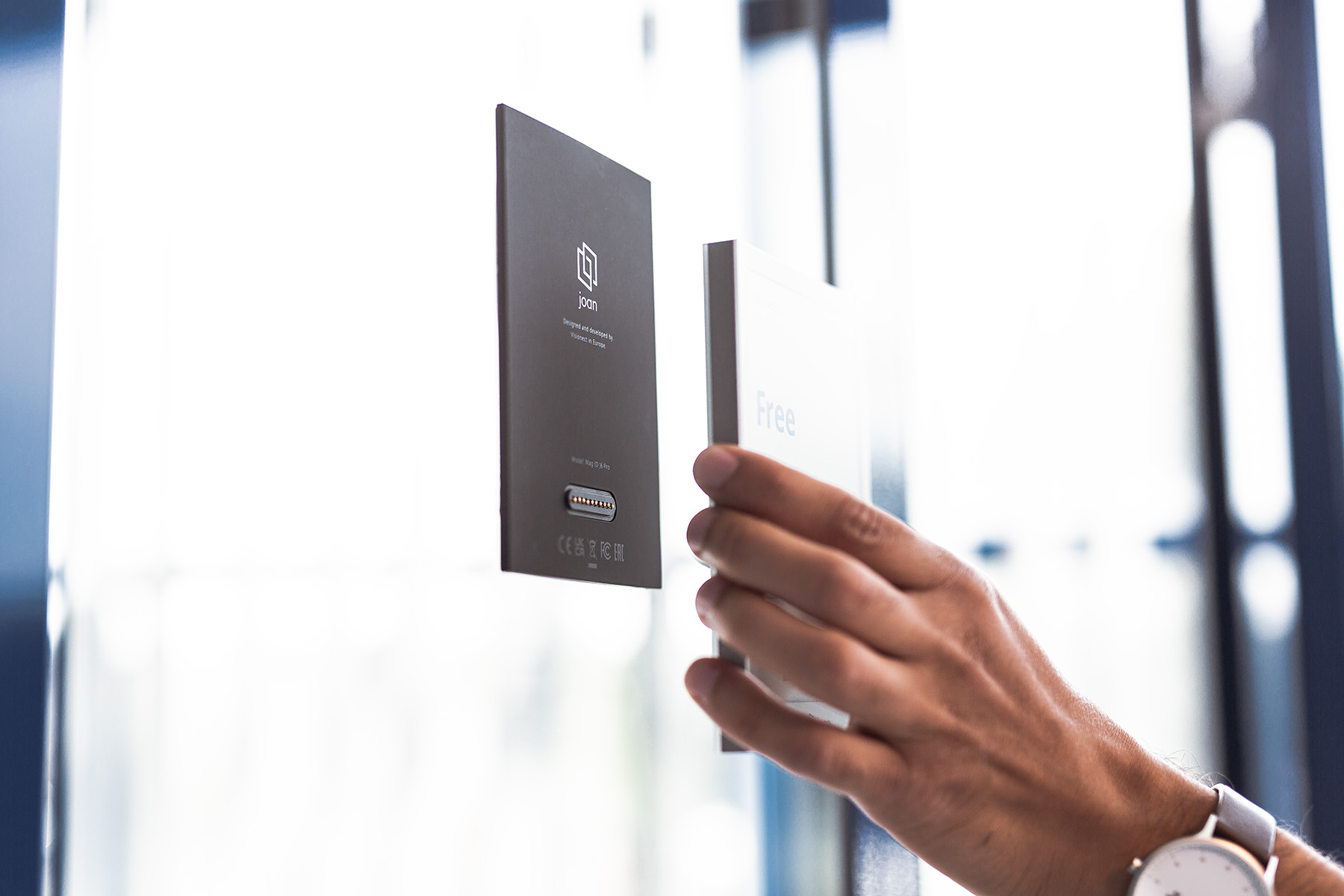 Move to another location and take Joan 6 Pro with you. Without any additional investments.
With a Smart Magnet as your Joan 6 Pro mount, you can truly embrace the hybrid workplace. Is there a need for more space? Simply rent a bigger unit and take Joan with you. Instead of purchasing new devices, drilling, and wiring, you can purchase a new Smart Magnet at a fraction of the device price.
Store the room identifier on that newly purchased magnet and you're good to go. Voila, you just saved thousands of dollars and you're keeping all the benefits of a meeting room management system.
Embrace the simplicity with Joan 6 Pro
To manage your workplace effectively, you need a meeting room booking system that is easy to deploy and doesn't require any extra attention once it's running. And with our advanced Smart Magnet, you get exactly that.
Start in minutes, recharge and match without paying any attention and bring Joan 6 Pro along to your next destination. Get started today.