The year the world starts to recover from a pandemic brings many challenges. For us, the year began with recognition: we won an award.
On January 12th 2022, the latest introduction to the Joan family, Joan 6 Pro, was announced as one of the winners of the TechRadar Pro PICKS Award, which honors "the best and most influential consumer technology that was at CES 2022 or introduced in 2021".
TWICE, Residential Systems and TechRadar Pro, who issued the awards, recognized products and solutions "that are leading the way within the technology sector" for being "innovative, creative, productive or effective".
So, yeah, 2022 started with a bang for us.
"We are just thrilled to receive such appreciation from the industry. It shows our path with Joan keeps evolving and that we continue to tailor our offering to the market effectively. It is truly rewarding to see that through hectic times, people recognise our products as useful tools and thrive because of them.", said Matej Zalar, our Co-Founder at Joan.
After such a complex couple of years, getting acknowledged for pushing out a device that at its essence tries to solve one of the main problems most workers around the world are facing at the moment (going back to a secure and collaborative workplace), shows us that we are on the right track because we succeeded in interpreting data and in tailoring a solution according to the trends. Real world, recurring, wide spread trends.
We believe Joan 6 Pro can be a key element to facilitate and enable the reshaping of the workplace in the post-pandemic scenario. Our data clearly showed us something: the office is turning into a more collaborative space rather than a place for individuals to do focused work. New habits need new solutions and we are glad the panel recognised Joan's practical application and awarded it for it", said Matej.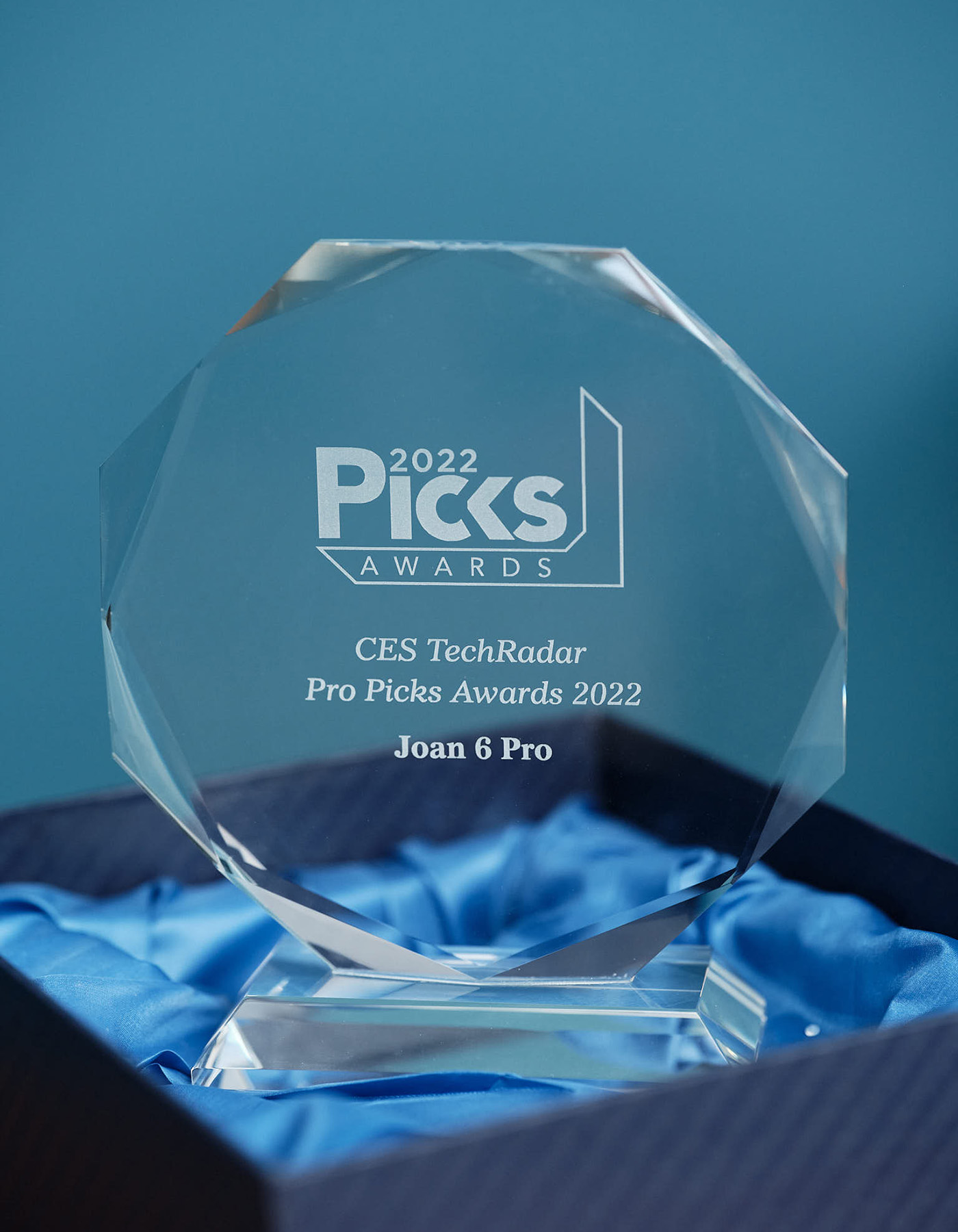 Joan 6 Pro inherits many of the pre-existing features of our Joan devices, but we believe the latest additions are what made it gain the accolade.
One of which is Power over Ethernet (PoE). For more flexibility, Joan 6 Pro can be mounted with either PoE or Smart Magnet, but PoE guarantees strict security protocols and ensures constant power to the device while eliminating the eventuality for the device to wander off. It also allows for LEDs (green for available, orange for an upcoming meeting and red for busy) to communicate room occupancy at all times.
Designed with enterprise in mind, Joan 6 Pro allows employees to know beforehand where meetings will be held, just like with our other devices, but adds a visual touch and a very convenient feature.
On the other hand, the Smart Magnet acts both as a support and as a location tag. The system is designed so that as soon as a Joan 6 Pro device is attached to the magnet, it automatically reconfigures to display the room's dedicated information. This allows devices to be interchanged without any loss of information or synchronization to the room's schedule.
As suggested by our co-founder, this proves particularly effective when considering the latest trends of the workplace that see offices shift into collaborative spaces.
We believe that, if anything, we were awarded for continuing on innovating and creating a solution that has a practical, direct application while being sustainable.
Ah, yes, sustainability.
It is and always has been one of the top priorities at Joan. The experience acquired over more than a decade of operating in the sector, allowed this Pro device to proudly continue this tradition. To deliver the highest quality experience glass and aluminum are used for the enclosure of the device. On top of being very sustainable and highly recyclable materials, these also greatly improve product life expectancy, which is at the minimum of 5 years. Also, with its ultra-low power architecture, Joan 6 Pro allows for six months of battery on a single charge.
Joan still allows for extremely low electricity costs and is still 100 times more efficient than competing solutions, not to mention 500 times more efficient than a regular consumer's tablet.
And 2022 has just begun.