Joan has leveled up visitor management! Our new Joan Visitor Management solution delivers a first-class experience that is bound to rescue your front-end staff, visitor host, and visitors.
All Joan solutions are designed to streamline workplace management, keeping the nitty-gritty details under one, easy-to-use umbrella that's ready to save the day.
Let's see how a visitor management system can support the three key players involved in visitor arrivals:
1. The office manager and front-end staff
Office managers and receptionists work tirelessly to keep the office running smoothly. The more elements that can be automated, the better. With most companies aspiring to achieve high-security standards, offices must keep track of every visitor who enters the workspace, putting a lot of pressure on the front-end staff responsible for making sure visitor data is collected and stored reliably.
No more "Please sign this printed sign-in sheet and wait for me to fill it in the system."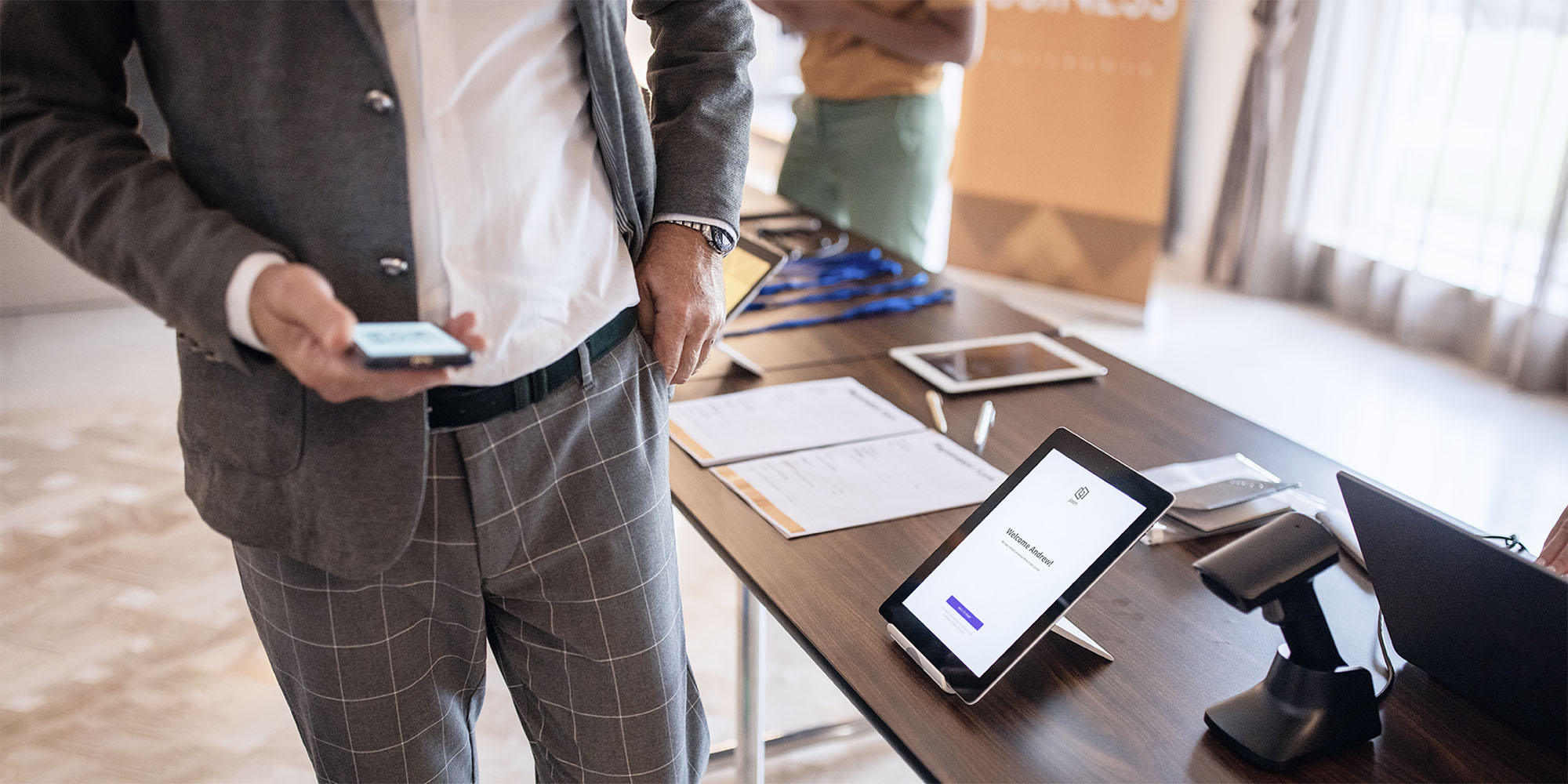 While there are more than a dozen proven ways a visitor management system supports front-end staff, here are a few examples:
Who's this visitor visiting and why? The Joan Visitor Management lets you assign a host to the meeting. The system will then notify the host when their visitor arrives. Plus, you can add notes and descriptions to the visit, keeping internal parties in the loop.
Are you still using manual sign-in sheets? A digital log of visitors eliminates manual record-keeping that can be time-consuming and prone to errors. With Joan Visitor Management all visitor profiles are stored in one place, making it easy to keep track of who enters and leaves your premises.
How do visitors complete the necessary paperwork? Joan Visitor Management reliably and securely lets visitors enter their information — name, phone number, etc. — and digitally sign documentation, like NDAs. Having visitors complete the forms eliminates the risk of front-end staff entering mistaken information.
2. Employees hosting visitors
A clear-cut visitor management system can help make sure employees follow the right procedures every time they host a guest in the office. The Joan visitor management system is straightforward and requires no prior training or experience for the visitor to check in, letting office managers and employees rest easy.
No more "Did your visitor sign the NDA?"
Here's how Joan Visitor Management takes care of the host too:
Are you making a great first impression? First impressions can start before your visitor even arrives at the office. Joan will send them notifications and welcome emails to make sure their visit goes smoothly.
Did the visitor arrive on time? Joan is on the ball, sending you instant messages — on Slack, Teams, etc. — when your guest arrives.
Did they finish all documentation and other protocols? Automation makes it easy to ensure your visitor has checked in and filled out the necessary documentation. Plus, you'll receive notifications when they do!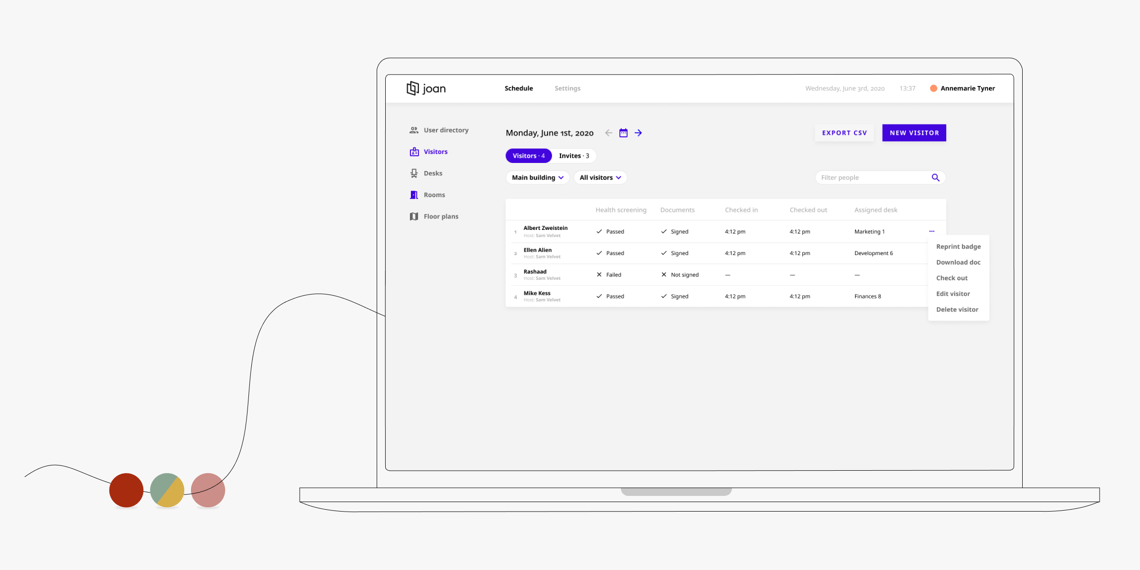 1. The visitors
Reception areas are critical zones to showcase a company's culture and standards. An automated check-in process minimizes the formalities and lets visitors focus on how they were greeted and their business in the office. The Joan Visitor Management handles check-in and check-out procedures with an out-of-the-way approach that doesn't tarnish the visitor's experience.
No more "I hope the host knows I'm here and waiting in the lobby for him…"
Centered around the visitor experience, Joan Visitor Management supports exceptional first impressions. Here are a few ways it does so:
Where do I park and what's the WiFi? These basic questions can create a sticky first visit. Joan can send your visitor all the logistical information they need including desk or room assignment, WiFi login, and parking details.
How do I check in? Paperwork is a pain for both visitors and staff. Luckily, we've simplified the experience, letting visitors check in digitally in advance or on-site.
Can I fill out the paperwork in private?

NDAs, health checks, and other paperwork might ask for sensitive information. Visitors can fill out these forms digitally in private before arriving at the office.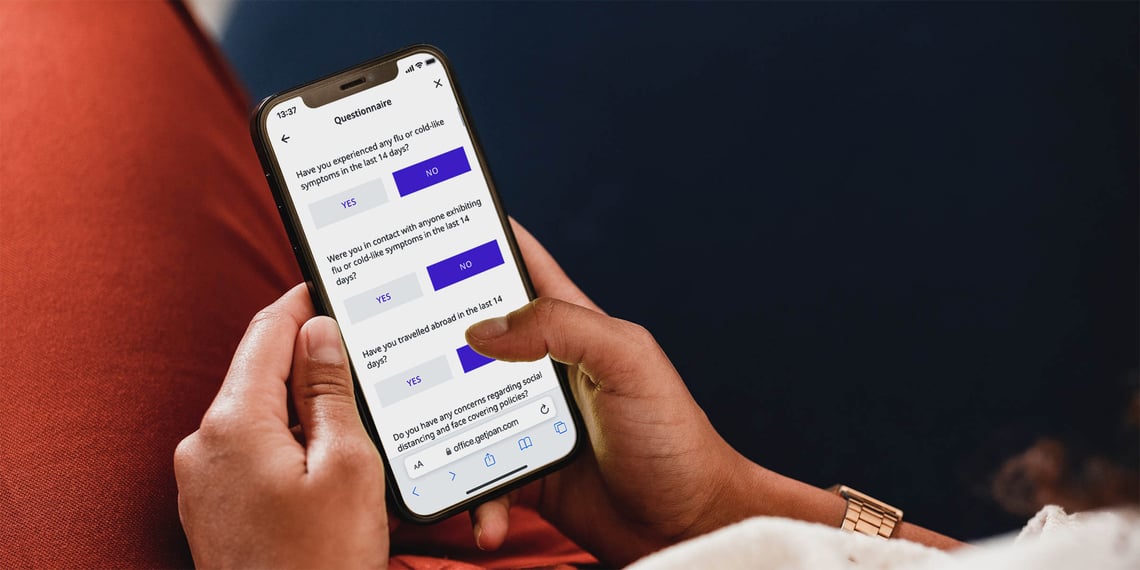 Onboard Joan Visitor Management in minutes
We've said it before: the best office solutions are the ones you don't notice. You don't need to change how you work to have a better office experience because Joan solutions fit right in, taking care of everything including room, desk, and asset reservations.
Joan Visitor Management is no exception. The system works seamlessly with the Joan office management solutions, providing an easy setup with maximum convenience: you simply configure the system and use it from day one.
Automate your visitor experience, taking the burden off the front-end staff and employees, and exceed your visitor's expectations.
Sign up for our Joan Visitor Management beta program today!