How to organize your workplace better with the simplest meeting room booking system
Visit getjoan.com for more info.
With the number of meetings increasing, office space has become the second-biggest expense for organizations. And when these are badly planned and managed their effects are reflected on poor office workforce satisfaction and lack of productivity.
According to AskCody, 70% of people spend 15 min looking for a meeting room before each meeting. If we apply this data to an average SMB it means $50,400 are lost per company each year.
Based on the market research and industry requirements we have created a solution that fits perfectly into any office.
The next-gen meeting room booking solutions
We are introducing two new devices – Joan 6 and Joan 13, accompanied with many functionalities for the modern office. For those not looking for a hardware solution, we developed software that can be featured on your own device.
A solution on your own device
Joan can be featured on smart TVs and will soon be accompanied by a version for your tablets.
The solution developed for your TV is the Status board. Use it to check any current and upcoming meetings for all of your meeting rooms. You can even show who booked the room and until when it is taken.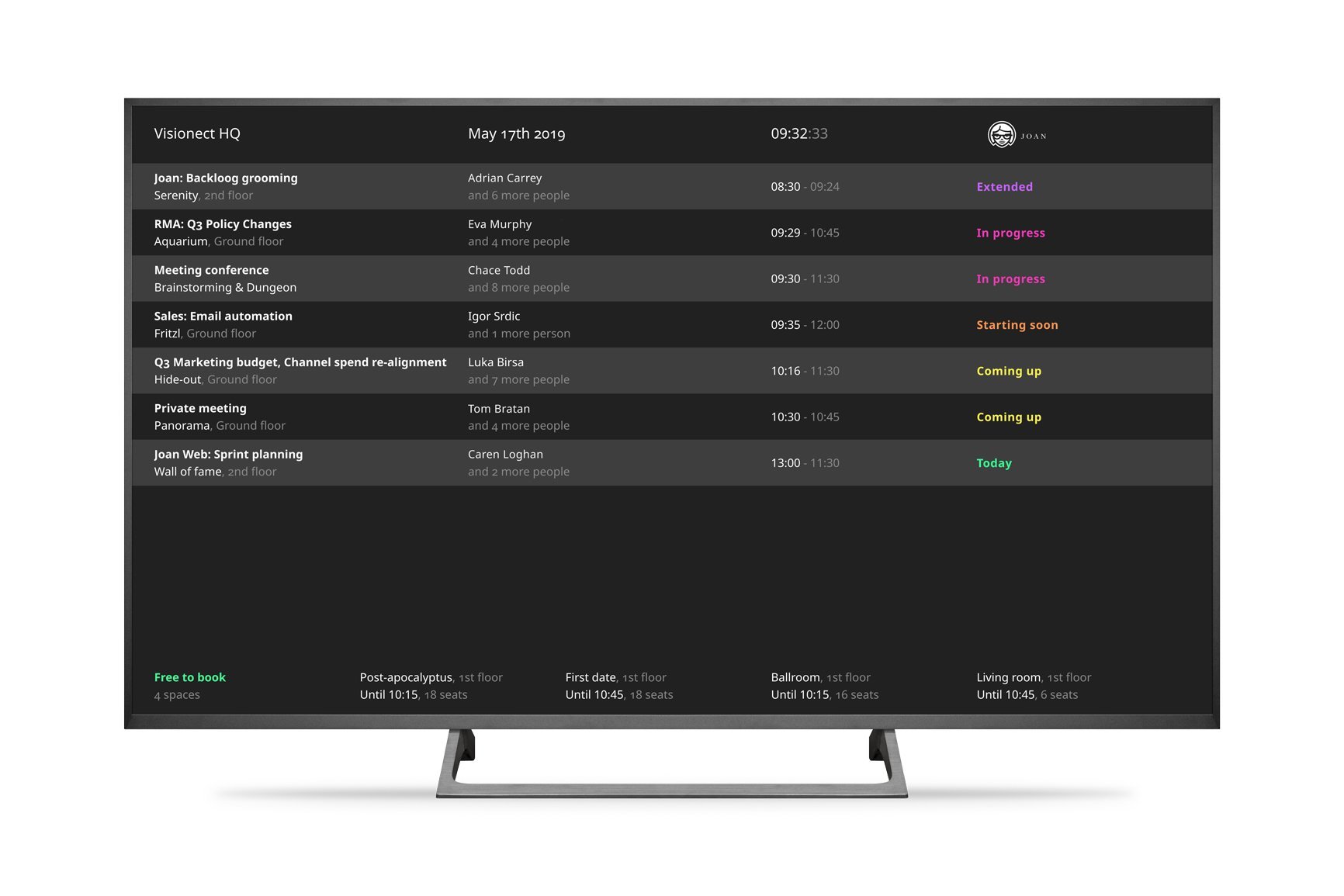 Contact us for more info on featuring Joan on your own device.
Joan 6, the office hero of real-time booking
Easily find information on room availability straight at the conference room door with this 6-inch device. No more interruptions, daunting search and pulling out your phone to triple check where the meeting is.
Eliminate time and space wasters by delivering scheduling and wayfinding information where it's most needed. Interactive, real-time, and sustainable, Joan will help you improve three essential workplace transformation areas.
You can decide between two functionalities on one Joan 6 device. Real-time booking offers information on the availability of meeting rooms, huddle spaces, office pods, and the possibility to book them on the spot. Hot-desking gives you the opportunity to work around the office. Simply book a table you'd like to work from and release it once you're ready to leave.
Joan's slick display will show you the current availability and will turn black when the room is booked. Making it clear from across the hall. The new generation Joan 6 device includes front LED lights for clear visibility in any weather and time of the day.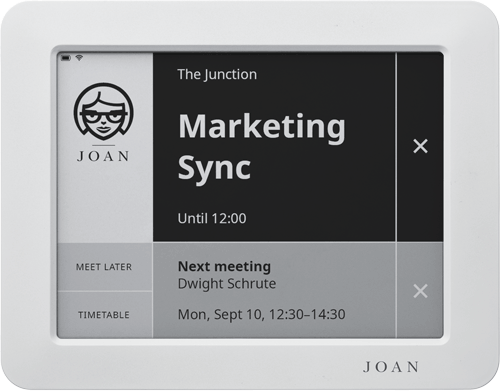 Want to try out? Return the device within the first 30 days of your purchase and receive a full refund. No questions asked.
Joan 13 – the office hero of overview and wayfinding
This 13-inch device ensures easy meeting room and co-worker finding. It's a versatile information board that provides an overview of meeting room availability or even the availability status of your team.
You can decide between 3 functionalities on your Joan 13. Schedule board is best suited for large conference rooms as it shows the current status and up to 6 following meetings in a single room. Room grid showcases the status of up to 9 rooms whereas Team grid similarly showcases the status of your co-workers.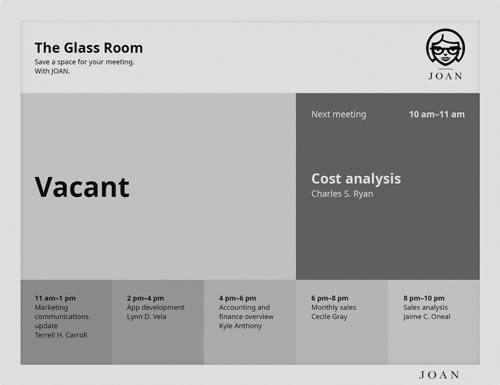 Want to try out? Return the device within the first 30 days of your purchase and receive a full refund. No questions asked.
Subscription plans that determine features
Choosing a device is only the first step towards finding the right meeting room booking system. Once you pick a device, it's time to think about the features needed at your workplace.
You can decide between three subscription plans: Basic, Standard, and Premium. However, to use Joan on your existing infrastructure such as smart TVs you will need Joan's Premium subscription plan.
Every first purchase comes with free access to our Premium plan
The Basic plan offers all the essentials every office needs. Synchronization with your existing calendars, the security of your data, displaying essential info, and receiving support from us.
While modest, it is still something that will improve your office productivity and enable initial wayfinding around the office.
For bigger offices, greater customization, holistic wayfinding (both rooms and co-workers), the Standard plan will bring you upgraded essentials.
Choose the Premium plan for optimal productivity and the best office experience. It offers all of Joan's features, from real-time booking to full customization with welcome emails and even compatibility with non-Joan devices. While subscribing to our Premium plan you will also receive weekly analytics emails to see which of your conference rooms are the most popular along with statistics on unattended meetings.
Check out the whole array of features on our Pricing page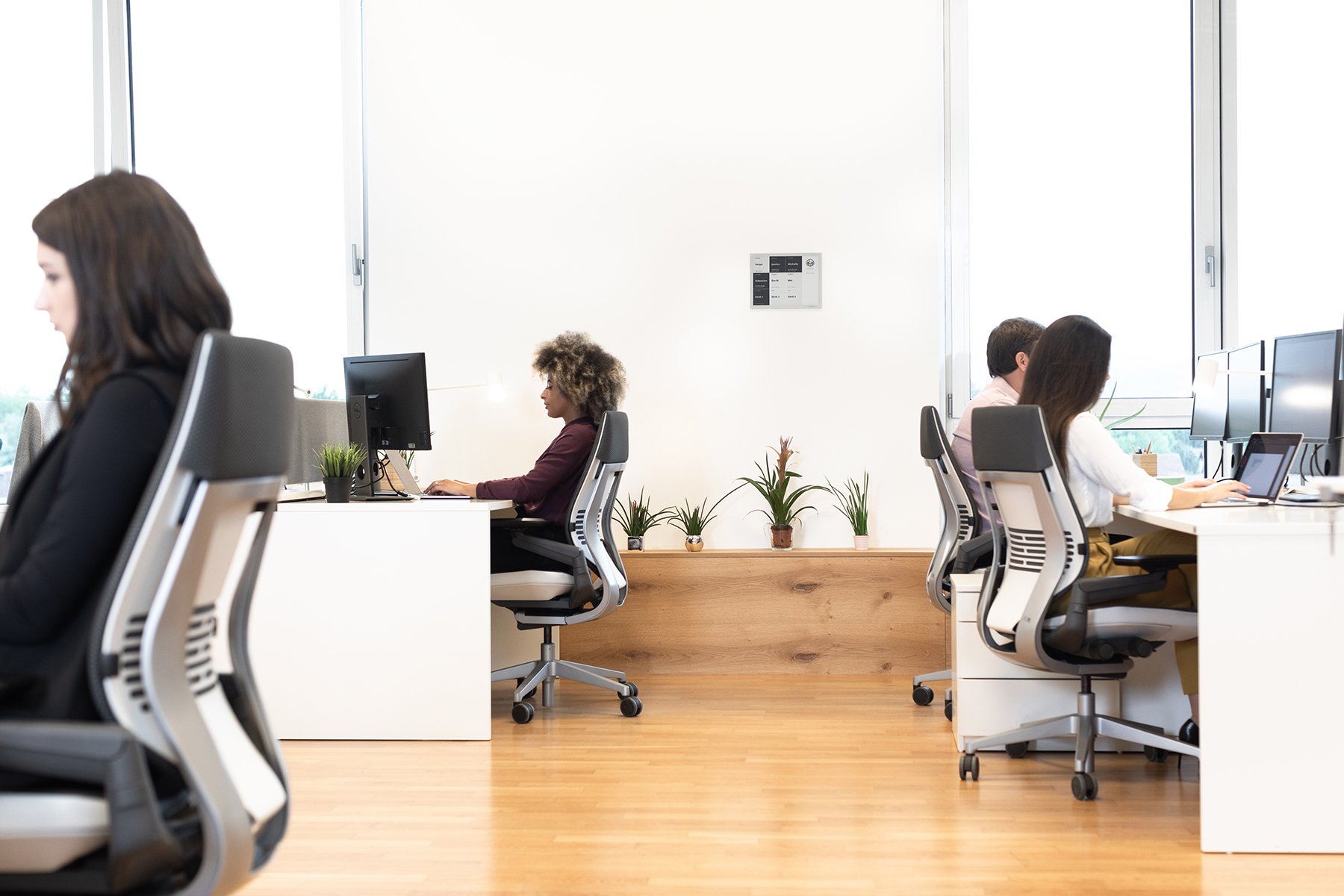 Don't want to give your credit card info when purchasing a subscription plan?
We are introducing a new payment method, Joan Credits. Contact our sales team and buy Joan Credits through an invoice. You will receive a shortcode to insert into the Joan Portal which can be used to purchase any subscription plan.
How can I meet next-gen Joan?
Order Joan 6 or Joan 13 here. We offer a 30-day money back guarantee, so no risks involved.
Each first purchased device receives free Premium plan access for the first month. No need to think about the subscription plans today. Test everything out and pick one later.
Not sure which device to pick? Compare them.
Get Joan on your own device – talk to our sales team, they'll be happy to help.
Are you already a Joan customer? Contact our customer success team to discuss the available options. Nothing will change automatically.
Conclusion
After years of development, we have found a way to create the simplest, most sustainable, and efficient solution out there.
We want to simplify how you book meeting rooms, huddle spaces, and even desks. But even more importantly, finding your way around the office shouldn't and mustn't be challenging. With Joan, it is not.
Go to pricing to browse the 360 experience of Joan or subscribe to our newsletter and stay in touch.