Discover reasons Takeaway.com decided to onboard Joan and how it improved their meeting room management.
Takeaway.com is the leading company specialized in online food ordering and home delivery. Their main focus? Connecting consumers and restaurants. It was started in 2000 by Jitse Groen. His determination and passion for entrepreneurship lead the company towards success. Takeaway.com is now present in 10+ countries and set for further growth.
When companies scale, office management becomes harder to stay on top with. According to our calculations, the average company loses 2,100 hours (50 working weeks) looking for free meeting rooms each year. In perspective, it takes the same amount of time for Takeaway.com to open at least one new market.
Joan is the perfect solution for recovering lost time and investing it in the things that matter the most. We sat with Dewi Siemerink, Functional Application Manager at Takeaway.com, to learn more about their workplace challenges tackled by Joan.
The greatest challenge before Joan? "Searching for available meeting rooms in your calendar when walking around."
Dewi explained that the greatest challenge was the constant search for available meeting rooms while walking around the office. He was searching for a similar solution with some major industry players, but couldn't find what he was looking for.
Many alternatives are, according to Dewi, purely software based. Joan is the solution that offers both, a slick hardware device with a smart software solution. It integrates into already existing calendars. Takeaway.com is currently using Google's G Suite integration, but any future migration won't affect Joan's functionalities.
"Due to simplicity, low cost, and the ease of use, we chose Joan."
Dewi was the one who searched for a meeting room booking solution, but adoption is necessary for the whole company. According to him, Joan is easy to use and manage. Although simple, Joan is a powerful tool for office management.
The greatest surprise Takeaway.com discovered? "Mainly the number of ghost meetings we did not know we had." Every week you receive a detailed report on meeting room use to see which room is the most popular and how many unattended meetings your company has.
Ever since Joan became a part of the company, Takeaway.com increased their meeting efficiency and freed up more meeting rooms due to unattended meeting cancellation.
Food themed meeting room names – when meeting rooms fit the company's mission
The most awesome meeting room in Takeaway.com's? The rooftop at Berlin's office. However, not every meeting room can have that kind of view. Takeaway.com found an elegant solution for differentiating other meeting rooms with ease – interesting meeting room names.
They have decided to name them after dishes (for example Sushi) since this goes along with their business mission. Joan devices feature meeting room names on their screens. Making meeting room search completely effortless.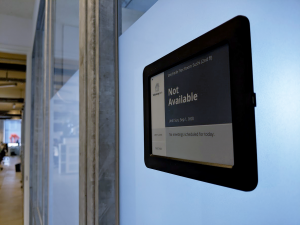 "I recommend Joan because of its easy use and management"
Dewi ended the interview with his final thoughts on meetings – "Plan less time than you think you need." Highlighting the importance of time management and efficiency of the modern workplace. Office efficiency is one of the three traits of the modern office. Focus on what matters the most, and leave the meeting room management to Joan.
See which Joan suits you best and take it for a spin with our 30-day money back policy guarantee.