Takeform makes sure your wayfinding information conveys your brand. They find your brand's voice and create signage systems to guide people to wherever they're going. Whether it's a person's next doctor appointment or their meeting with a client, Takeform's got it covered.
They know brand is critical for conveying who you are and creating wayfinding that's welcoming for everyone. Takeform's signage can be found in hospitals, schools, libraries, businesses, and even governmental organizations across the country.
Recently, they have decided to onboard Joan. We immediately loved the idea of them using our products since they are positioned as experts in wayfinding signage. Thus, we have decided to have a little chat about their experience with Joan. Phil Daggar, Director of Corporate Branding, gladly shared some insights.
The Problem
"Teams would often grab the nearest open meeting space for spontaneous meetings which would cause conflicts and delays for previously scheduled meetings."
As a fast-growing company, scheduled and impromptu meetings have become a part of everyday lives. With that, all of the meeting room issues emerged. People tend to hijack the first huddle space or meeting room they find, without checking the online schedule. This causes embarrassment with outside guests and extra stress levels of finding new spaces or time slots.
Beyond the general usability of our products, Takeform was also searching for a solution that would integrate with their products.
A design that won over even Takeform's Chief Creative Officer
Kurt Lyons, Chief Creative Officer at Takeform was the advocate for Joan at Takeform. Apparently, he stumbled upon Joan at a tradeshow several years ago. Since Takeform serves the architecture and design industry, the design is a high priority when choosing solutions. In their words, Joan's clean lines and low-profile perfectly fit their requirements.
They have managed to frame the device as shown in the picture below.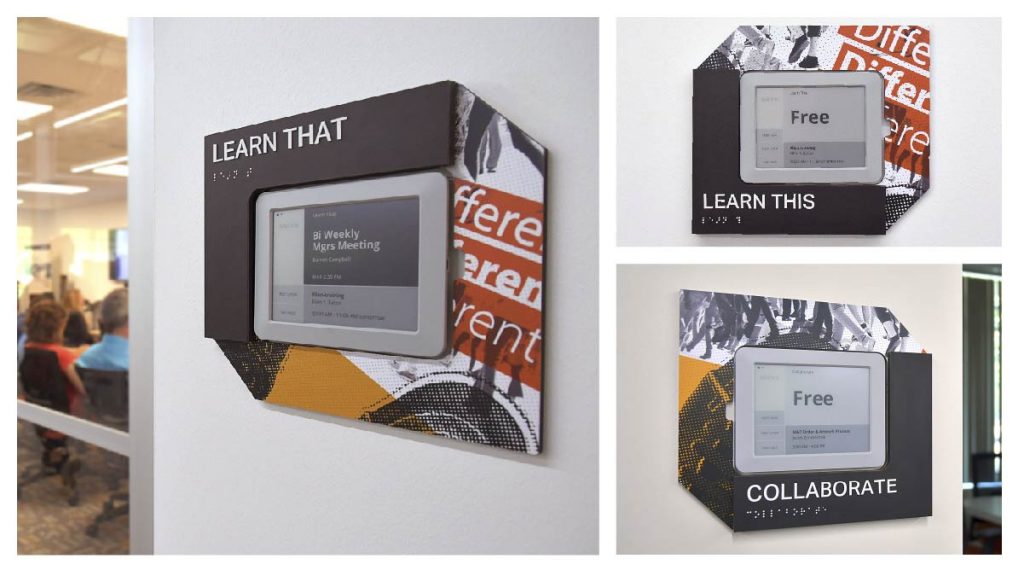 "Joan had the right blend of functionality, system compatibility, design quality, and Joan readily integrated with Takeform's Conference Room sign product."
The Solution
"Joan greatly reduced meeting room interruptions and conflicts."
Joan provides increased efficiency by making room reservations visible at the door rather than having to refer back to your calendar to determine room availability. In the case of Takeform, they've connected Joan to their Outlook calendar. However, Joan supports all of your already-existing company calendars.
"Clearly define the objective of the meeting and include a wide range of stakeholders to contribute."
Joan helps you meet better and it's why we always love to discuss everything meeting related. According to Phil, creating the main objective of the meeting leads you to better discussions overall. It also helps you to shorten your meetings. By letting everyone else on the objective beforehand, they will be able to prepare and hold fruitful discussions.
"Joan is an intuitive, reliable product that simplifies meeting room scheduling." Want to see how it improves your office? We are currently offering a free Premium plan trial AND a 30-day money-back guarantee. Explore our solutions.