Before the pandemic, the world wondered how productive remote working could be, yet not many companies were brave enough to dive in.
By the Spring of 2020, most companies had no choice. They were forced to adapt to government-mandated work-from-home policies. Low and behold, most company's worst fears did not come to pass. What's more, most companies have noted a rise in productivity during the pandemic.
Even so, as unprepared as companies were to transition their employees to remote work, employees found themselves just as unprepared.
Most workers didn't have a quiet, isolated office or workstation set up in their homes. What's more, their spouses and children were also obligated to stay home throughout the day, making for a potentially noisy household.
Now, imagine how productive these workers could have been if they had been prepared to work from home. With the right tools and environment, remote working can be even more productive than it has been this past year and a half.
Why work from home is a good option
One key reason productivity hasn't fallen in 2021 is simple: remote employees are happier. A study by the University of Warwick suggests that employees are 12% more productive when they're happy.
Now, if you're one of those workers who values time at the office, you're not alone. Not all employees are happier working remotely, but nearly all employees are happier if they have the flexibility to work remotely. There's huge stress taken from their shoulders if they can work from home when their child is home from school sick… the furnace man is coming for a repair… the dog walker canceled.
Whether you work remotely 100% of the time or only some of the time, Here are the top six benefits of working from home:
Better work-life balance
The problem with "work hours" is that those are the eight to nine hours in a day when everyone else is working, or at school, too. Your children are catching the bus, your mail carrier is stopping by, your plumber is out on calls, your doctor is available… Without flexibility, it's hard to take care of all the small things that keep your life running.
The option to work from home helps you take care of yourself and your family members without sacrificing your vacation days or jeopardizing your job.
No work commute
The average work commute in the USA is 27 minutes one way. For some people, that commute is five minutes. For others, it's an hour and a half. All-in-all, the average American spent 225 hours per year commuting in 2018.
Not only is commuting a waste of time, but it generally causes employees excess stress. Side effects of stress include high cholesterol, elevated blood sugar, and risk of depression. Working remotely can help alleviate unnecessary stress so employees can focus on outputting their best work.
Money savings
Work from home scenarios offer financial savings to both parties. According to FlexJobs, the average commuter spends $2,000 to $5,000 per year commuting to and from work. An employee who commutes to their in-house office for work can save thousands of dollars per year.
Depending on where your office is based out of, each company pays approximately $4,000 to $8,000 in square feet per employee per year. Not to mention, another couple hundred dollars for utilities to boot. Having employees work from home all of the time, or at least some of the time, can help companies save on real estate costs.
Improved sustainability
Studies show that 29 percent of all greenhouse gasses emitted in the USA can be attributed to transportation. Not only that, buildings and the construction of buildings account for 39 percent of energy-related emissions.
Additionally, one study showed that 98 percent of an employee carbon footprint comes from commuting. Reducing or eliminating their commute to an office can bring about a huge positive impact on the environment.
Personalized office space
There are three key concepts for why a personalized office space is a good idea.
Happiness
Control
Individuality
Having personal touches in a workspace can bring employees a sense of joy, whether it's from pictures of their children, pets, or simply splashes of their favorite color. Additionally, having the freedom to modify a workstation can help employees feel empowered. Lastly, a personalized office space expresses the employees individuality and uniqueness.
At home, employees have the freedom to set up their office space however they please, enhancing their happiness, sense of control, and individuality.
Improved happiness and productivity
Motivation is something that cannot be forced. You can force momentum and results, at least until you burn out, but motivation is an internal impulsion to reach your goals, accomplishments, and produce results.
Forbes says motivation comes from happiness and is a critical component behind productivity. In fact, happy employees are the best hack for generating productivity within a company. What's more, their happiness and motivation can spark other employees to feel the same, resulting in widespread productivity.
Prepare yourself for an at-home work environment
It's one thing to prepare your physical workspace for working from home, it's another to prepare yourself mentally. Take care not to neglect one or the other, because your physical environment also has an effect on your mental state.
Here are some considerations to prepare yourself to work from home.
Have a designated office space
Just as you can condition your mind to get sleepy when you enter your bedroom, it's possible to condition your mind to focus when you enter your workspace.
Set up a designated workstation for yourself that is both organized and personalized. For more tips on setting up your home environment, check out our work from home tips for 2021 article.
Maintain work hours
One benefit of flexible work is that employees can balance their work versus life more easily. Not everyone can work set, linear hours. Your eight to five workday may be interrupted with driving the kids to school, taking the dog out, or other household to-dos.
What matters the most is that you commit to hours and stick to them. Make your schedule deliberate, whether you work linear hours or not. Although, when possible, challenge yourself to stick to the same hours your team members are online for. Time management is key to the next two pointers too.
Create a routine
The best way to stick to a goal long-term is to generate a routine. Some of the most famously gifted people in history thrived on routine — Freud, Beethoven, and Georgia O'Keeffe. Routines help lull our minds into focusing on tasks beyond the mundane.
Instead of wondering when you take your break, what you'll have for lunch, or what time you'll finish work, stick to a routine and let your schedule fall into place.
Plan for breaks
Inline with creating routines, plan for breaks… and take them. According to Forbes, "nearly 20% of North American workers worry their bosses won't think they are hardworking if they take regular lunch breaks, while 13% worry their co-workers will judge them."
In reality, skipping breaks actually skimps on your potential. Over time, your mental well-being and overall work performance will suffer. Fuel your mind and body by taking regular breaks throughout your workday.
For more tips and advice, check out our work from home tips for 2021.
The best work-from-home tools
Technology is an amazing thing. There are so many solutions on the market that you need only think of what bothers you the most and there's probably a fix for it. If there isn't, you can market a solution and become a millionaire.
If distractions around the house bother you, there's a solution. If your video chat tools annoy you, there's a fix. If your team is out of sync, there's a tool for that. Let's have a look at some of the best remote working tools and solutions.
Meeting scheduling software for remote work
One struggle for many remote workers is accountability. They no longer have their boss supervising them and checking in throughout the day. Keep your day from getting too flexible with these simple scheduling tools:
Calendar Tools
When working remotely, it's paramount for your calendar to sync with your video conferencing software. Luckily, most calendar tools are compatible with the main online meeting tools. For example, Calendy is not only compatible with GoToMeeting, Salesforce, and Zapier, but can sync with your Google Calendar, Outlook calendar, Apple Calendar, and Office 365.
Home schedule display
On another note, your home can be just as noisy as the office or vice versa. Something you might not consider, however, is that one tool that works well in the office might work for your homespace too.
Joan's meeting room booking system was designed to alleviate meeting room confusions that resulted in wasted time, energy, and focus. The Joan 6 wall-mounted display is designed to display a room's schedule, minimizing distractions and interruptions.
When working remotely, the Joan Home setup can display your schedule in real-time so your household knows when you're available and when you are not. Just like with Joan's meeting room booking system, Joan's home solution is designed to minimize distractions and interruptions in your workday.
"My kids love Joan Home. In fact, when they use my 'home office' for a call of their own, they expect the same level of privacy as I do when working. It's a big stress reliever for everyone. They also know when I'm done with my workday, and I know they will not interrupt."
— Matt Mayfield, Telekta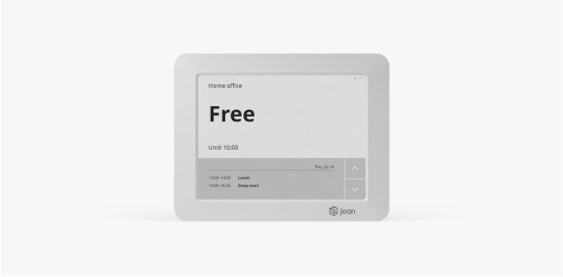 Video chat and call tools for remote work
Video chat and call tools include both software and hardware. With the majority of the workforce working remotely throughout the coronavirus pandemic, most companies have invested in reliable, dependable hardware. Yet, your tools could probably be better.
Headsets
In the office, many workers avoid noise-canceling headphones for fear that they might not hear their colleague calling to them. Or worse, their boss.
If you're serious about working from home, seriously consider treating yourself to the headset you'll want to wear all day. Check out CNET's list of top 25 headsets for working from home. Whether you want a cushy, lightweight, or rad headset, there's probably one with your name on it.
Video cameras
If you're tired of seeing your pixelated face rendered in low-quality video, consider investing in a webcam. Check out PC Mag's list of top 8 webcams for 2021 to see the features and specs of their favorite webcams.
Conferencing software
As for the best video conferencing software, Zoom and GoToMeeting are high up on nearly all "top" lists online, while Microsoft Teams and Google Hangouts are considered favorable solutions too. However, keep in mind that Microsoft Teams is compatible with Microsoft Office (OneDrive, Outlook, etc.) and Google Hangouts is fully compatible with the G Suite products (Google Sheets, Google Docs, Google Calendar, and Google Drive), helping with document sharing and collaboration.
Tools for remote access
Before looking into any file, document, or message sharing solutions, implement a strong VPN solution. Here's why.
VPN
When working remotely, a VPN, or virtual private network, is key to keeping your documents and data secure.
A VPN creates a private connection over a less private network, encrypting the data that is transferred between the two. A VPN is installed onto your computer just like any app and is usually configured by an IT personnel.
According to CNET, when it comes to VPNs, you get what you pay for. When investing in a VPN, dodge the free plan and pay the money to get a thorough, reliable remote working tool that fits your needs. For recommendations to get you started, NordVPN® appears near the top on nearly any "best VPN" list online, followed by ExpressVPN and ProtonVPN.
File sharing
Once you have an impenetrable VPN in place, have a look at the top file sharing solutions. Dropbox, Google Drive, and OneDrive are the most common solutions with Google Drive topping many of the charts for the best file sharing solution around.
The features that mark a great file sharing service include…
File sharing
Commenting
Versioning
Data recovery
Password protection
Data storage
When in doubt, check for a free trial. Most cloud storage solutions offer a few gigabytes of storage for free to get you hooked.
Tools for cooperation and task management
The market can be saturated in tools, but make sure your office isn't. The more tools an office has, the less united the workforce may be. Investing in one task management software throughout the company can help employees keep their accounts and data in one place.
A strong project management tool will help remote teams and individuals alike prioritize their tasks and collaborate with teammates. Proper collaboration tools help all teammates get onboard to share ideas, plans, and even the workload.
It doesn't matter how many of the team members are remote: with the right synchronization, it shouldn't be an issue to get everyone on track, track progress, and meet deadlines.
Investing in the right cloud-based task management software is key for helping a remote workforce stay on par with their teammates. There are too many great task management tools online, each tailored to a different type of clientele, to recommend just a few. However, when considering a task management tool, make sure it offers the following features:
Simple user interface
Customization and flexibility
Task creation, prioritization, and tracking
Multiple task views (calendar, Kanban board, Gantt chart, etc.)
Team collaboration tools
Again, when in doubt, opt for a free trial.
Takeaway
When the pandemic hit, we weren't ready for remote working. Even if you love working out of the office and have adapted to it readily, working entirely from home still took some adjusting. The amazing truth, however, is that most companies have found employees are more productive working remotely than in the office.
Imagine how productive we could have been if we'd been prepared. It's never too late to get your ducks in order and set yourself up for success.
Check out our Joan Home solution to learn more about how to optimize your home workspace to stay more productive.