Office managers are faced with a bevy of challenges when trying to ensure that office tasks are all completed in a timely manner. As a receptionist, you're their right-hand helper; the gatekeeper; the overseer; one of the few people in the office who knows a little bit about everything.
Modern technology has made huge steps toward enhancing the kinds of responsibilities the front desk staff can take on. With a sprinkle of automation and a sprig of the best software around, a receptionist can be a force to be reckoned with.
This article is full of tips and recommendations to help receptionists be efficient and reliable on the job.
Reduce scheduling and dispatching time
For some companies, scheduling and dispatching are the lifelines of their services. Therefore, if you're a receptionist who manages scheduling and dispatching, you're more or less the heart of the company.
However, you're only as strong as your tools. It takes one faulty program for a dispatch to fail and for dissatisfied customers to rain down upon you. The three key features all successful scheduling and dispatching software needs are automation, simplicity, and tracking.
Automation
Automating your scheduling and dispatch processes not only reduces the risk of human error by syncing your dispatches across computers, but populates client information, to-do list, and results… everything you could want with a scheduling and dispatching platform.
Simplicity
Even with automation, there is still a risk for human error. A software with a simple user interface further reduces this risk by being logical, straightforward, and not overloading the user's senses. Plus, an easy-to-use platform speeds up the scheduling process and offers the user a birdseye view of how the dispatch is progressing.
Tracking
With the right scheduling and dispatch software, you can track not only your contractor's location but also the status of their job: just arrived, in progress, complete… Helping the dispatch run as smoothly as possible and resulting in happy clients.
Here are four scheduling and dispatching tools that appear in the top ten of nearly every list of the best dispatch software:
ServiceTitan: This platform is a true behemoth in its field with a wealth of features.
Jobber: This simple-but-thorough platform is perfect for small companies.
FieldEdge: This powerful platform was designed to give your large company an edge.
Service Fusion: This all-knowing platform is the best at connecting you to your field agents.
Ensure workplace health and safety
Never before in the modern world has health and safety been more critical to businesses. COVID-19 has impacted how safe many employees feel in their workplace. Furthermore, companies have sanctioned regulations to protect their workforce.
Implementing a system as simple as a pre-reception health screening questionnaire can help with the security and safety of both employees and guests and lessen a receptionist's burden.
For example, check out Joan's free health screening and visitor check-in, which is accessible from any smartphone or tablet. The visitor management system helps you, the host, create a safe environment for your guest, improving the overall visitor experience.
Secondly, find ways to implement contact tracing. Joan's desk booking app gives managers a simple way to see which employees booked which desks throughout the day. What's more, Joan's meeting room booking analytics ID which employees attended which meetings: who was in a room together and may be a potential contamination risk.
Enhance receptionist's ability to manage appointments
Receptionists are grand overseers of appointments. Whatever they're told to keep track of, they do. A plumber's coming in? The receptionist knows. Does the CEO have a client stopping by? The receptionist has it covered.
The best scheduling tools interact directly with your calendar. Have a look at Calendly for example: from one link, clients can view your availability and book their own timeslot. Their appointment is then booked and added to your calendar, complete with appointment notifications.
For a more complete list of the top appointment scheduling apps, check out Fundera's top ten.
Get paid faster
One tedious, repetitive task most receptionists have is accepting payment from clients. What's more, the client probably doesn't want to spend much time focusing on paying your company either.
With the wealth of payment gateway tools available today, there has to be one just right for your company. Consider Stripe, for example. The powerful payment platform is designed for large businesses that handle billions of dollars worth of transactions each year. Stripe is capable of organizing subscription services, on-demand transactions, and even crowdfunding.
For a smaller company, Square might be the solution for you. The platform not only offers reliable software, but the hardware to go with it. Square's mobile card reader is free for subscribers and Square offers a $99 Square Stand for larger businesses.
Increase desk efficiency with a workspace app
One key difference between hot-desking and desk hoteling is that there's minimal time wasted with the latter. Hot desks run on a first-come-first-serve basis, meaning employees waste valuable time trying to find an available workstation every day. Desk hoteling, on the other hand, enables users to pre-book desks before even arriving at the office, eliminating the time wasted with hot desking.
What's more, the best desk booking apps also have wayfinding capabilities. Users can pull up a map of the floor plan on the user's mobile device to book or locate their desk. The app will show in real-time which desks are available and which aren't.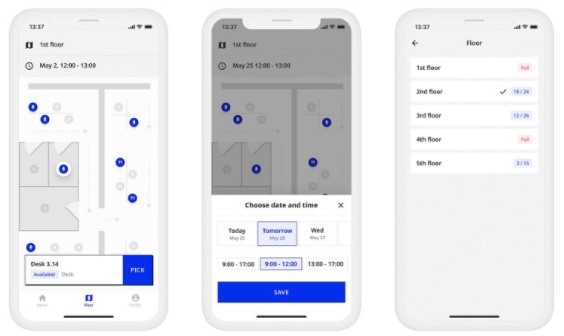 With this desk booking tool, receptionists can locate employees in a flexible floor plan. Additionally, desks can be booked, reserved, or marked out of service in preparation for office events, visitors, or client meetings. Not to mention, this wayfinding app lightens the receptionist's job of navigating employees and visitors around the office.
For more information, check out our article on how desk hoteling can give your office a competitive edge.
Keep the secretary out of paperwork
Receptionists deal with many forms of paperwork. Therefore, there are different apps to deal with each kind.
For example, there are many software options to help get forms filled and documents signed. Consider eSignly: a slick app with smooth signature-signing capabilities and form-filling tools. Rather than scan the signed copies, you'll have unlimited digital versions to share or store.
Also, save trips to the copy room by storing as many files as you can online. If the files are accessible through a cloud, you can send them off to any and all employees, or even clients before they even enter your office space.
Online documents also help improve loss prevention. In the case of a disaster or simple misfiling, physical documents can get lost. What's more, if you're out of the office, employees can still access essential files that you usually dole out.
Check out the best cloud storage and file sharing solutions recommended by PC Magazine.
Takeaway
There are dozens of "top" lists on the internet, all claiming to know which software tools are the best. The trick is to open as many of these lists as you dare and identify trends: which software tools appear in the top three of nearly all the lists? Which would be a better fit for your business's model?
There's one thing that's sure: Joan's solutions are centered around helping the workplace run smoothly. Especially with more and more companies turning toward flexible workspaces, room and desk booking apps are a must-have as we reach the end of 2021.