Believe it or not, automating a task as simple as payroll or scheduling meetings can boost a company's productivity. How? By keeping employees from wasting their time on menial or repetitive office tasks. By automating simple tasks around the workplace, employees can focus on excelling at their jobs, raising the company's overall productivity.
This article outlines the key tasks office managers should automate within the office. Employing most, if not all of them, can give a company the edge it needs to keep up with, or surpass, its competition.
Building an effective customer relationship management system
Automating customer relationship management (CRM) includes the automation of elements of the customer journey, including sales tasks and customer service ticketing. With office automation software, teams can track current and prospective customer engagement, helping improve the customer experience and convert leads into paying customers.
By employing automation in CRM tasks, employees can focus on jobs that cannot be automated, rather than redundant, mundane tasks. Examples of CRM tasks that can be automated include data entry, updating customer contacts, calendar management, and client interaction statistics.
CRM automation software also offers customer statistics based on customer interactions. These statistics are invaluable to sales reps, marketing departments, and customer support teams, helping your company identify strengths and weaknesses as a whole, helping teams fine-tune their strategies.
Tracking calls and communications with customers
Call tracking automation technologies are different from the technology used to gather marketing stats and campaign-optimization details. Instead, call tracking can provide the following information:
The numbers of calls received
The numbers that have called
Where the callers are located
The time of day the callers phone
Missed calls and missed call statistics
Repeat callers list
Which campaign resulted in callers
Like CRM processes, automizing call tracking can help give your marketing and sales teams the information they need to optimize their resources. Call tracking can help your sales team learn when customers are most likely to pick up the phone, and when they're likely to let it ring to voicemail.
What's more, these insights can help customer support teams allocate their resources to the busiest times of the workday, making sure more staff are on-hand during their busiest hours.
Some call tracking tools even employ artificial intelligence (AI) to further analyze calls. For example, AI can pick up on which languages are most frequently used in phone conversations and even trace particular words. By flagging specific words, call tracking software can help categorize calls that ended in a sale, required customer support, or other particulars.
Keeping track of billable hours
Billable hours are the number of hours an employee spends working on a client's project. The client is then billed for those hours, or else the hours are capped when the billed quota has been met.
By automating billable hours tracking, employees and HR alike can spend minimal time calculating and recording client bills and employee payrolls. Instead of spending hours on time-consuming spreadsheets, employees can record hours with the click of a few buttons.
With most tools, the automation process requires three steps:
Set the hourly billable rate for each employee — this value only needs to be set once (at least, until the employee gets a raise)
Configure the invoicing schedule — Bi-weekly? Monthly?
Track the hours worked on each project — employees can efficiently enter their hours using time tracking software
The billable-hours automation system will then add up the total number of hours worked and send an automated invoice to the customer.
Automating payroll
Payroll is about so much more than simply doling out employee salaries. What about salary bonuses? Leave pay? Vacation payouts? Travel expenses?
By using the right tools, all of these factors can be automated. Tasks that would take an HR employee hours to implement and double-check can be delegated to payroll automation software, improving productivity.
Instead of printed and handed-out paychecks, most payroll automation tools deposit salaries directly into employee bank accounts. What's more, payroll automation software can help a company with financial planning and project management. Finance specialists can see how much money is spent in each department and view estimates outlining future spending.
Lastly, payroll automation promotes employee morale and satisfaction. With an automated system, the workforce can receive their payments within hours of each other, making sure payments are on time and in full.
Automation of meeting scheduling
The best aspect of automating meeting room scheduling is that everyone's calendar syncs up: when you book a meeting with your team member, it appears on their calendar too. What's more, you can view your colleagues' availability to help you pick a meeting time that works for your whole team.
Make sure your meeting room scheduling software offers full integration with your other tools. For example, Outlook calendar syncs with Teams to help facilitate video calls and online meetings. Or, through Microsoft OneNote, you can convert notes into calendar tasks.
Automating your meeting schedule can also help organize client appointments. By using an app such as Calendly, clients can schedule an appointment via an online link. This link can improve customer experience and save time by skipping the office receptionist.
A meeting room booking system can help iron out the meeting room experience. For example, Joan's meeting room booking system seamlessly syncs with the most popular meeting schedulers, such as Apple Calendar, Office 365, G Suite, and more.
Automating office meetings
Joan is one of the rare office tools that offer custom hardware devices that update according to changes in the meeting schedule. The Joan 6 low-energy, e-ink, wall-mount display shows a meeting room's schedule and availability. Displaying a meeting room's schedule at the meeting room's door can help eliminate squatters and reduce meeting overlap. What's more, Joan software offers analytics that helps fine-tune a company's meeting room setups.
In addition to wall-mounted displays, the Joan mobile app helps employees manage meeting spaces and desks from their phone or tablet. The app's wayfinding platform updates real-time, showing which rooms and desks are available at any given time.
Automating office meetings and the processes that go with them can significantly reduce meeting confusion and delays.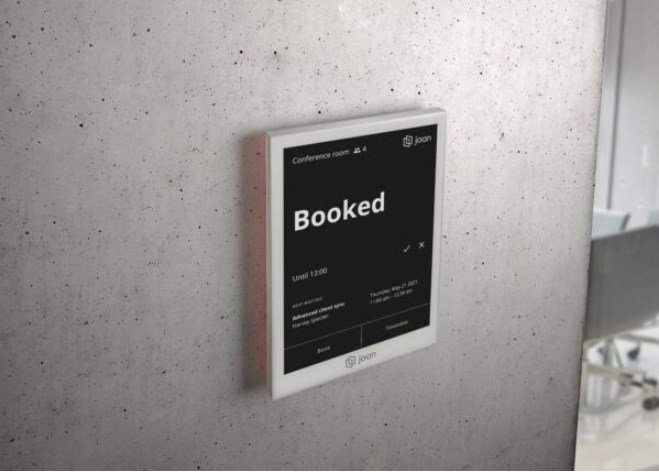 Conclusion
To say office automation is the way of the future sell's the concept short. In fact, office automation has been essential to most businesses for decades.
Contrary to the common misconception, automation is not intended to replace human jobs. Instead, it's designed to help them work their best. Without automation, employees get bogged down with admin tasks and paperwork, leaving them with less and less time to get work done. They get stressed in these conditions, leading to human error or low job satisfaction.
Automation has helped companies excel and get the most out of their workforce. By automating simple, redundant tasks, employees can work their best and companies can perform their best.
Automation takes many forms. It's not enough to simply invest in automation: you need to analyze where your company is struggling and find the right office automation system that can help.
To learn more about how to improve your meeting room booking experience, contact Joan or check out our blog post on the Top 3 Benefits of Office Automation.