What was once a simple room booking system has expanded to become more of a lifestyle.
Over the years, the Joan team has enhanced and refined our workplace management solution to cover everything from transportation to visitor management. Now that hybrid work models are on the rise, many companies are struggling to support a flexible work environment. Other companies who aren't struggling have no idea things could be better.
With its all-encompassing spread, most people don't know exactly how powerful and supportive Joan can be. To help spark your imagination, here's a day in the life with Joan done right.
6:00 a.m.
You wake up. What's the first thing you do? Check your phone of course. Your calendar says today is the day when you need to be at the office in person. Many hybrid workplaces run off of desk booking. So, you open the Joan app, locate your favorite desk, and book it, all before even arriving at the office.
After getting out of bed and checking your wardrobe, you remember Wednesdays are a popular day for commuting to the office and the parking lot might get full. Opening the Joan app again, you locate one of your company's reservable parking spots and book it with a tap.
By 7:59 a.m., you're showered, in the office, having parked in your booked parking stall, and seated at your favorite workstation. Checking to your left and right, you're pleased to see a couple of your teammates — the Joan app worked its magic, helping teams find desks together for in-office days.
Voila, step one is complete.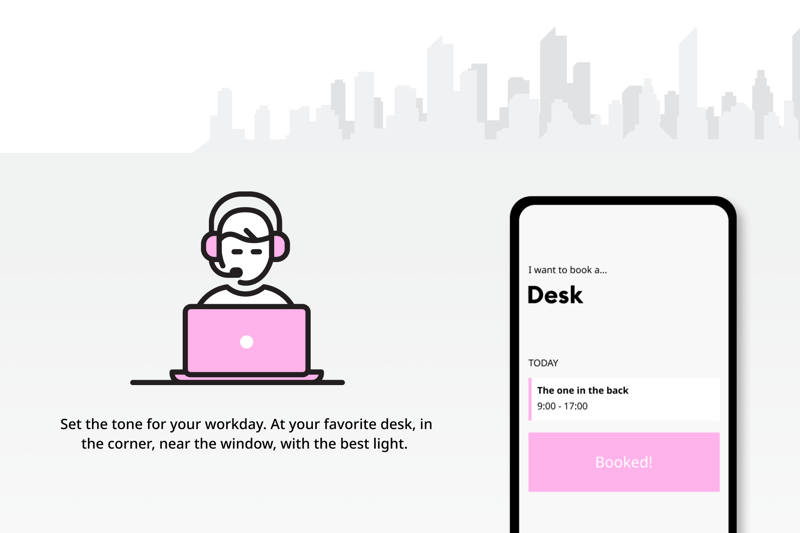 8:00 a.m.
Your day has begun and it's a doozy. After sifting through thirty emails, you realize a third monitor might help your cause. Before leaving your desk, you open your Joan app to the desk amenities, locate the company's spare monitors, and reserve one as easily as taking a sip of coffee. Thanks to Joan, you're guaranteed a monitor for the day without a wild goose chase to track one down.
After half an hour of muddling through emails, you realize you need to have a one-on-one chat with Dave to clear some things up. Right from your computer, you open your in-house calendar system, Office 365, and book a meeting room. Not entirely sure where said meeting room is, you check the Joan app's wayfinding tool. By 9:00, you've reached the room and tapped the "Check-in" icon on the wireless room display. The trusty meeting room scheduler updates in real-time, showing other employees the room is in use and for how long, minimizing interruptions during your chat with Dave.
10:00 a.m.
10:00 rolls around and you leave for a local site visit. Rather than add milage to your personal vehicle, your company encourages employees to use company vehicles for site visits. Luckily, you used Joan the night before to reserve a company truck and it's ready and waiting. On your way out of the office, you snatch up the safety vest and helmet you also reserved via the Joan app days in advance.
But wait, by 11:00 a.m., your site visit is running late. You're going to need the company vehicle longer than you'd booked it for. Rather than panicking, you pull out your phone and reserve the vehicle and safety equipment for another hour.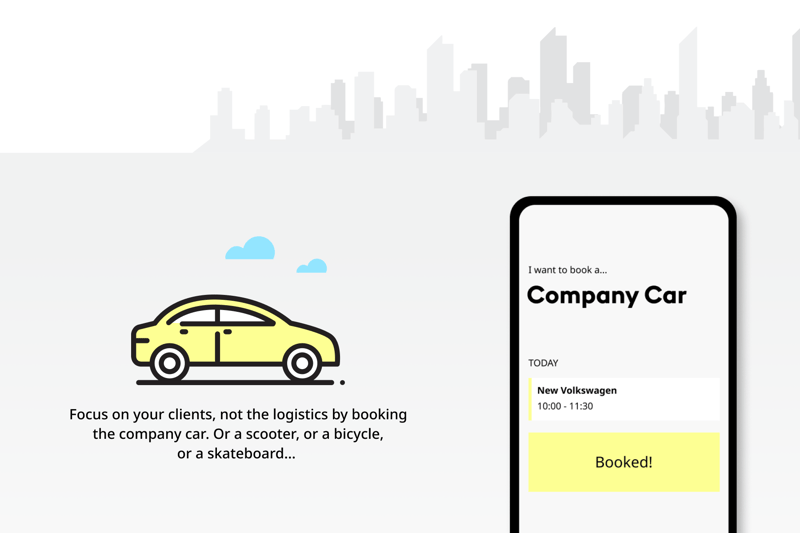 12:00 p.m.
You're back at the office just in time for lunch. The site visit was a success and you've made your way through half of your inbox. Feeling on track, you decide some fun is in order. You open your Joan app and navigate to the lunchroom game consoles, booking the Xbox for the hour. You shoot an email off to Dave and he's there in minutes, trouncing you at Mario Kart.
After your lunch break, you're back to the grinder, albeit feeling more refreshed than you had an hour earlier. You find yourself in need of a tablet to test a prototype of the company's latest up-and-coming product. At this point, you know the drill. Open the Joan app on your mobile device and book a company iPad.
Within an hour, you've tested all you wanted to test and have returned the iPad to its home, ready for the next person who needs it.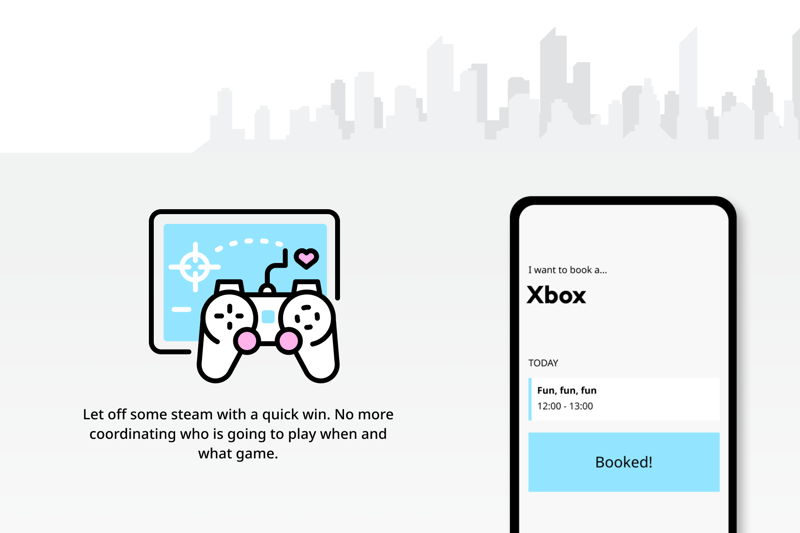 2:00 p.m.
The afternoon progresses and you find your energy waning. To make things really excentric, let's say your company has a company pet: a dog named Rosco. Believe it or not, Rosco is also on the Joan app.
After booking Rosco on the company app, you take him to the second-floor dog walk, which is complete with turf and fake fire hydrants for Rosco's enjoyment. Fifteen minutes later, Rosco is relieved and content, plus you're more refreshed from your doggie break — ready to plow through the last hour and a half of your workday.
After persevering through your last to-dos, you have ten minutes left before your workday is over. You return your extra monitor and wipe down your workstation.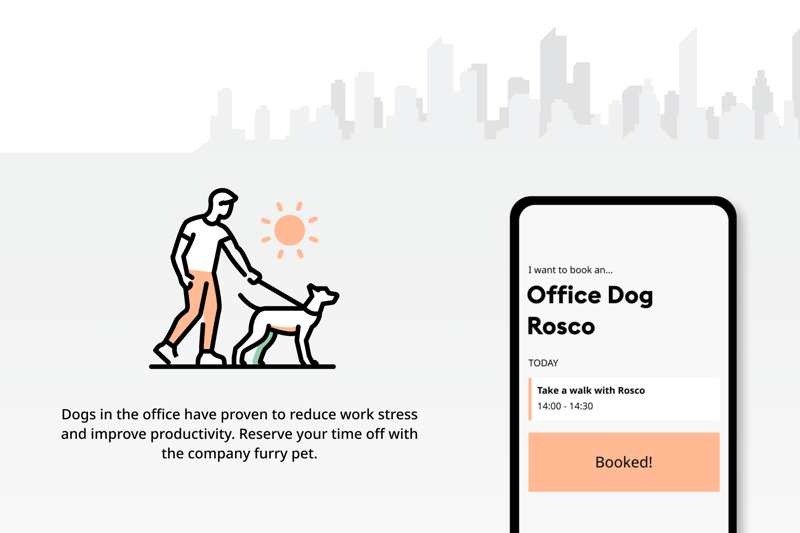 4:00 p.m.
Although you're off the clock at this point, your Joan experience doesn't have to be. Today, you're heading to the on-site gym where you've booked a private room for cross training. The wireless display outside of the room shows that you have, indeed, booked the space for the next hour, ensuring no one else is in the room by the time you arrive. However, knowing that the room will be marked as "vacant" if you don't check in within 15 minutes, you tap the check-in checkmark on the display's touchscreen and enter.
Tomorrow, one of your team members has booked the outdoor field for an after-hours soccer scrimmage. The activity not only bolsters team bonding, but also boosts company culture. Should be fun!
After a hearty workout, you're ready to head home. Before you leave, you pull out your Joan app and re-book everything down to the company truck for the same time next week. Your day worked out so well that you're eager to replicate it.
All the while, you probably don't spare a thought to the backend of the Joan solution… where the real magic happens. Let's have a look.
Joan analytics and asset booking
In the backend, your office manager is checking Joan analytics for ways to improve the employee experience. The data she finds helps her understand utilization rates, showing which assets are reaping a strong ROI and which are underperforming.
Joan metrics show tons of valuable stats including
Which assets are most popular
Which teams prefer which assets
Who books assets the most
The average time for bookings
How many assets result in no-shows
With this information, the office manager can assess which resources the company should invest more or less in. If the Xbox is consistently booked during every lunch hour, it might be time to get another. If all the extra monitors are checked out every day, employees may need more. All things considered, Joan analytics help enhance the workplace experience.
According to Doug Conant, an internationally renowned business leader, "to win in the marketplace you must first win in the workplace." Joan helps you win in every way from meeting room management to employee well-being.
Want to start your work day on the right foot with everything booked?