The post-pandemic workplace will hardly look like the one we left more than two months ago. The new reality demands not only temporary precautions but a systemic change. No more crowded open-plan offices, no more packed meeting rooms with extra chairs in the background, and no more wandering around the office.
Fortunately, there are two ways to tackle this – linger on your fond memories of how it used to be or try to embrace and adapt the system to get the most out of it.
Get the Back to the office Checklist and return prepared.
The new normal
Let's summarize how the new normal will look like with two words – social distancing. Now the challenge here is that it needs to be implemented in all workplace situations. From meetings to office layouts, and kitchenettes.
To achieve these, companies must carefully manage and predict scenarios way beyond the official government regulations.
We'll dive deeper into individual measures later. But before we do, let's highlight some general principles. When in doubt, recall these:
Limit surfaces that are touched – Assign desks, don't swap chairs, don't use huddle spaces if they are super comfy, even limit the number of meeting rooms in use if you can. Why? Every surface needs to get disinfected – either immediately or at least once per day.
Limit the number of people in one place – You can't just switch from open-plan offices, we get it. But do limit the number of people working at the same time. Can you change the layout of the office? What's the easiest hack for you? Consider the quickest and easiest changes you can make immediately.
Display clear instructions and information – If ever, now is the time to hang signs with basic information on how to contain the virus. Remind people to wash hands, air offices, don't stand too close to each other, and avoid physical contact. Clearly communicate any new rules regarding meetings, the use of common rooms, or just the new sitting arrangements. Clarity will solve the majority of your problems.
Don't panic – It's a completely new situation and it will cause your levels of anxiety. But, whatever changes you're making, don't make any hasty decisions. Keep in mind that instead of temporary, those decisions are structural. What's the long term solution you can make today?
Why should you even return to the workplace?
Some companies won't, and that's perfectly fine. One of the most talked-about examples is Twitter, where employees can choose if they'd like to continue working remotely or not.
There are many benefits of returning to the workplace – even in our internal Slack channel, it's been expressed that work from home hinders innovation, cooperation, productivity. Let's take a look at how exactly it does that:
Productivity
If you don't have a home office it can be hard to stay productive during the day. Especially with small kids being around. Not being productive won't make your work go away, it will only prolong the work hours. Thus, being in a more structured environment will help you stay less stressed and more focused.
Innovation
Remote design sprints, brainstorming sessions, or even general meetings have one major problem – you can't split people into groups. Only one person speaks at a time. This hinders group dynamic, forcing individuals to take the spotlight, and making brainstorming dialogues virtually impossible.
Collaboration
As with innovation, collaboration within and between teams is much more challenging when working remotely. If you get a crazy idea, you can't simply get into an impromptu meeting with a few people to discuss it. Now you either have to set up a call or write a message. Either way, it's more time consuming and a greater hassle for both parties.
Mental health
Seeing your coworkers has beneficial mental health affects – people don't feel as much isolated. Consequently, socialization will help them keep any mental challenges controlled or prevent developing new ones.
Coordination
It's much easier to connect different departments when spatially connected. It'll boost the connectivity you might have lost during the lockdown.
Where to start?
Before taking any measures it is important to analyze the status quo of your office before the lockdown. You need to identify any potential hotspots for the virus.
In the next step, you'll need to figure out how to either disinfect or prevent them.
What surfaces are touched the most?
Handles are one thing, but there are sneaky, secret hotspots like coffee machines and elevators. Focus on items that are shared – for example, PC doesn't matter that much since only one person is using it.
Here's a potential list that's might be applicable to your workplace:
Coffee and vending machines
Water cooler
Touch screen devices (meeting room booking systems, iPads)
Shared stationery
Shared tools
Where do people interact?
Search for the hot spots in your office. Where do people most interact? Which meeting rooms are the most popular?
Search for any of these places:
Chill out corners – table tennis, table football
Meeting rooms
Huddle spaces
Open-plan parts of offices
Kitchen
If your entire office is open-plan, identify where employees are sitting really close together.
Create a list of all the areas and surfaces. We suggest you print out the layout of the office and mark the hotspots. This is the starting point of your back to the office transformation that you'll work with. You probably won't remember everything from the get-go, but add to the list as you're solving those challenges.
The general back to the office framework: "Adapt, manage, analyze."
Before diving deeper into actual solutions, we need to discuss the framework for their implementation.
Adapt
Each problem needs to be addressed appropriately. Reality is that omitting surfaces or limiting people will sooner or later create a backlash. Thus, rather than creating radical restrictions – for example, canceling all face-to-face meetings, try adapting to the current system.
Manage
Here's the catch – adaptation is only the start. Then you need to manage its continuous implementation. Are people sitting in their assigned spots? If not, why not? Discover underlying reasons why people are breaking the new-imposed improvements.
Analyze
Analyze their success – here are just some metrics to follow:
How many times were they breached?
Which ones were most often breached?
What were the reasons?
Have new hotspots appeared? Where and why?
Return to the first step to improve already existing measures or create new ones.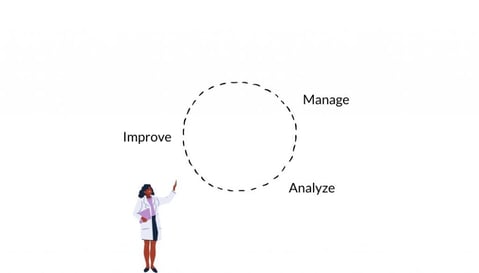 Immediate workplace solutions for limiting the exposure
By now you have a list of improvements needed to made and the general mechanism for deploying them. However, we don't want to leave you hanging. Let's examine what you can do immediately.
Sanitize, air and distribute PPE (personal protective equipment)
Let's start with the most obvious one. Place hand sanitizers at the entrance of your building, on every flow, in every office, and in meeting rooms. Also place it next to the coffee machine, water cooler, and anywhere else you have identified at the start.
Having it everywhere is the only way to constantly remind employees to sanitize their hands. Give out personal protective equipment to use it when in meetings.
Lastly, air the room. If it's a meeting room, place information somewhere near the exit to open windows once the meeting is over. Make sure to also air your offices – at least twice per day. Once in the morning and once mid-day. Place information on your TVs or use ePaper displays. Joan 13 can be placed anywhere visible to communicate the info with its custom content.
Create an ad-hoc socially distant office
See what you can do to accommodate your employees while staying compliant with mandatory 2m social distancing. The solution will depend on your office layout but in general, two things can be done. You can either break up desks or limit the number of people in the office. Worst case scenario, you'd need to do both.
Prevent the confusion by clearly showing who's working on each day. And most importantly, where are they stationed. Again, do that by showing info on your TV or Joan 13.
Utilize your existing meeting room booking solutions
It's really important to have social distancing also in your meeting rooms. Even if the first thought is that we just won't have face-to-face meetings, sooner or later, it's going to happen. That's why it's important to ensure your meetings are not only productive but also safe.
Limit the capacity of your meeting rooms on your calendar and clearly communicate it on your device. Make sure that employees really stick to booking meeting rooms. With clearly visible status, you'll avoid any interruptions and people barging into the room, causing a health hazard. Joan 6 can be a perfect solution for doing just that.
Long-term, systemic workplace changes
Let's firstly make one thing clear – even if the proposed changes are long-term, you still need to start working on them today. Long-term only means that they'll impact the way you're organized and ensure safety even a year from now on.
Building access schedule
Make sure not everyone comes to work at once – it'll create lines and annoyance among your employees. Thus, assign an arrival time window to smaller groups of people.
If your office building is not large enough to accommodate everyone at once and you're planing different shifts, create cohorts of individuals that are working together. That usually means pairing departments by how they usually cooperate – for example, marketing and design. As with everything, make sure you're analyzing the outcome and switch groups if needed.
Since not everyone will be at the office at the same time, it's good to show who's on their shift and who's not. Use Joan 13 to show the team grid right in front of individual offices. It'll prevent people from popping in and asking "is Mike working today?".
Meeting room availability and capacity
Since you can't eliminate your meetings, at least control the environment. Display the list of meeting rooms and their capacity on a place visible to everyone. It'll prevent employees from wandering around the office searching for a suitable meeting room. That's even more important if you're deciding to alternate your meeting rooms' usage between days or even weeks for proper sanitation.
Easily showcase available meeting rooms and their sitting capacity on a TV in the lobby, your common room, or anywhere else you have it placed. With Joan on displays, you can utilize your equipment with our software and bring clarity to the current meeting room situation.
Integrate and automate for the non-touch experience
It's in your best interest to create a smart working environment that limits the touching of shared equipment. For example, instead of checking-in when arriving at work in the lobby, place a system that uses an app that each individual can have on their phone.
Another thing that you can easily integrate for the non-touch experience is your meeting room booking system. Joan connects with calendars and communication apps like Slack, MS Teams, and Cisco Webex Teams.
For impromptu meetings, simply integrate Joan 6 with Cisco Webex Rooms or Jabra PanaCast Camera. It'll sense your presence and automatically change the meeting room's status. Go one step further and turn off the touch screen so people can't get tempted.
What are the next steps that lead to a safe return?
Navigating this new reality can be challenging. That's why we've prepared a short checklist with all of the steps you need to take based on the instructions above. You can get it here.
In case you'd like to discuss our solutions for getting back to the office safely, please contact us at sales@getjoan.com.