Now that COVID-19 vaccines have started rolling out, companies will be putting their back-to-office plans together. However, one infected employee or office visitor can have the power to turn the back-to-office plan on its heels.
Already there have been holdups in doling out vaccines, slowing the progress of individuals getting inoculated. Thus, for months and even years to come, companies will need to keep track of where people go within the office space. That way, if a COVID-19 carrier does interact with meeting rooms and employees, the company can track who and where the employee interacted with.
Even offices that have remained open have walked a tight line, risking partial or complete closure if a COVID-19 carrier entered their space. If these companies had a way to isolate the virus by identifying who and what might be contaminated, they could close off branches of employees and rooms rather than the entire office space.
Companies around the globe are finding new ways to trace their employees within the workplace and job sites. Some construction workers are using traceable armbands to monitor their routes throughout the day. Other companies are using employee personal devices to track their movements, which has been met with some opposition.
75 percent of employees are counting on their employers to create a "physically safe and healthy" work environment, and that includes contact tracing. Believe it or not, there are office solutions more easily implemented than personal trackers.
Get early access to Health Screening and Visitors Check-in.
Desk booking
Along with the new year, many parts of the world are pressing mandatory contact tracing for offices. Caught unprepared, some of these companies are hurriedly resorting to excel spreadsheets and other impractical solutions. Since mid-2020, Joan has been cooking up resources to help your employee tracing run as smoothly as possible.
Joan Desk Booking solution keeps track of who made their desk reservations and when. Additionally, with Joan 6 in place for booking meeting spaces, managers can keep track of where their team members traveled through the day and with whom they met.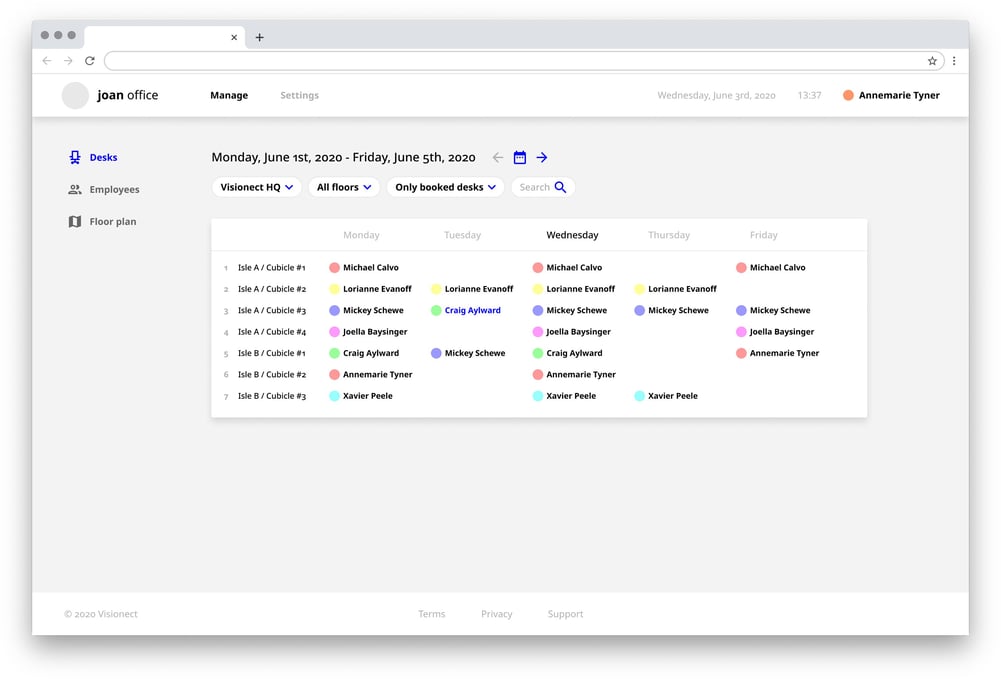 Not to mention, the desk booking app is now a part of Joan's "Safe return to work" bundle — which is explained in the next section.
Contact tracing — complete with visitor check-in
Joan has jumped in with two new free solutions: Health Screening and Visitors Check-In.
Get early access to Health Screening and Visitors Check-in.
Health screening
In many cities, companies and businesses are required to have their employees confirm their wellbeing before entering a business or office place. The latest feature on the Joan app helps companies manage this screening remotely. Employees can verify their wellbeing before even commuting to the office.
Joan's health screening consists of a customizable questionnaire, which employees fill out before their arrival at the office. If they declare any COVID symptoms, traveling, or exposure to COVID carriers, the app will let the employee know if they should stay home or not.
If the employee is advised to stay home, any desks they've booked for the day will become available during the time slot they were booked for.
Visitor check-in – Contact tracing beyond your core team
Despite COVID restrictions, sometimes clients and business partners still need to visit your office. Joan has devised a way for visitors to answer a screening questionnaire too.
Upon arriving at the office, visitors will be presented with a QR code. They can scan and access on their mobile devices, bringing up a COVID-regulations survey. From their mobile device, the visitor can answer screening questions that were customized by your company.
Considering most companies are required to monitor their employee's well being and implement some form of contact tracing, Joan Desk Booking app covers both. Help your back-to-office plan run as smoothly as possible by implementing the desk booking app, Health screening, and Visitor check-in. Sign up below for more info.