What do you think about when you hear "industrial"? Old-school? Steam-punk? Well, Perron038 is definitely an organization that took a modern spin on it. They are joining forces together with local organizations and educational institutions to create a completely new approach to innovation in manufacturing industries.
One of their core messages is "grow and innovate". And honestly, even by the glance of their headquarters, you know they are living by it. We had the pleasure to talk with Marius Woldberg, the quartermaster of Perron038.
The problem
When it comes to implementing the innovation processes, your workplace is everything. Google was one of the first ones to break the good ol' cubicle system into a dynamic, colorful open spaces. Why? It's simple – not a single out-of-the-box idea can be born inside of a box.
It's certainly not a surprise that Perron038, as the Dutch innovation power cell, embraced the idea of being headquartered in a beautiful, old industrial hall directly at the Zwolle train station.
While those industrial buildings are definitely an eye-catcher, re-organizing them into a more business-like environment can cause a headache. Especially if it's shared spaces in a need of a management system. As Marius put it:
"In Perron038 various organizations and people would be working at various times throughout the day. Many locations are sharable and so the organization was looking for a meeting room management solution with clean design and without extra cabling to facilitate that. "
The Search
The search for their meeting room booking solution wasn't daunting and long at all. In fact, one of the founding partners of Perron038 was already familiar with Joan since he has been working with Joan's Dutch reseller Backstage AV.
Marius met Joan while working on the interior design of the building. Funny enough, the vendor they chose for creating office walls used Joan as well. We could say it was love at first sight but honestly, it was simplicity. He was amazed by the ease of use and how simple it is to install the product. Not to mention, the design met the stellar standard he was aiming for. Well, on second thought, maybe it was love at first sight after all.
"We are in a high tech environment that lives & breathes innovation. In such a location, you need all the elements to match and seamlessly fit together. So having no cables, no wires & all on the secure wifi was a great plus for us. "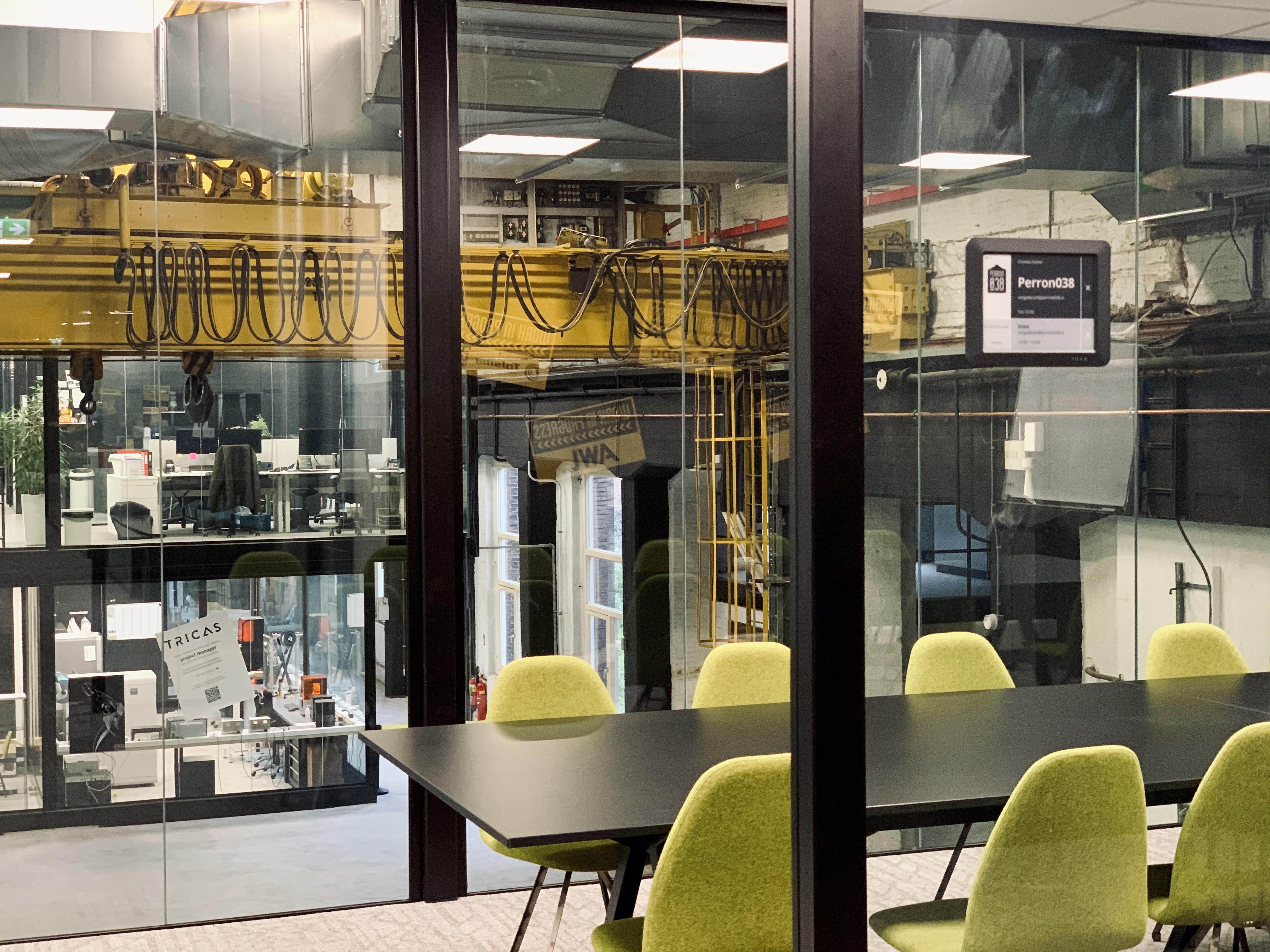 The Solution
With its simplicity Joan has become a part of their everyday life, enabling visitors, members & partners to see the current status of a meeting room. And, consequently, they got rid of meeting interruptions. Joan is the best paper replacement for booking meeting rooms out there, blending into high-tech environments wherever it goes.
"The use of Joan underlines the high tech DNA of our organization."
The greatest surprise for Marius was how Joan met all of his expectations. When he first saw Joan at another organization, it seemed to be easy, intuitive, and hassle-free. Basically, everything Perron038 needed.
"If you are looking to outfit your office to the standards of the 21st-century workplace and appreciate ease of use and slick design without the hassle of cabling, Joan is a great option to go for."

The meetings
Since we, at Joan, are trying to create better meetings across the globe, we couldn't avoid asking Marius questions on Perron038's meeting culture, habits, and interesting stories. How do innovative organizations run their meetings?
As it turns out, Perron038 manages their meetings with Google calendar (Joan supports all standard calendars).
They have two super cool meeting rooms. The first one is Charles Xavier room "because it has a great view overseeing a large portion of our beautiful location". It's nice to have a high-tech view as inspiration when working on innovative projects. The second room, Vision, is the big, event room where virtual meetings are facilitated and (yes, it gets better) there's a classic crane in there. Joan, cranes, virtual meetings, that's what we call a good meeting culture.
And the best advice on meetings Marius can give?
"I think great meetings need a combination of an inspiring environment as we offer. Then you need to have participants that know their craftsmanship and you need to offer "privacy" to work and concentrate. "
On a less serious note, do you remember how Perron038 has a crane? Well, they also have table tennis, a food truck, and craft beer.
"We created the Perron038 in co-creation with its future users; so young professionals of participating organizations."
When creating a workplace environment with young professionals in mind, it comes as no surprise that the room names are inspired by great heroes and innovators of the modern era.
You can hold a meeting in the Tony Stark Room, Shuri Room, or stop by the Q-room – where one never knows what's the next top-secret mission waiting for them.
The 3 – bullet takeaway
Gaining insights into Perron038 was an absolute pleasure. We love learning about the meeting culture of our clients and how they've stumbled upon Joan.
Thanks again to Marius Woldberg for sharing interesting insights and stories.
Here's a 3-bullet recap of the most interesting insights:
Old, industrial buildings are innovation hubs. However, it's a design challenge to transform them into a workplace. That's why wireless solutions, such as Joan, hold a special value.
Sharing spaces can be challenging. Especially when meeting rooms are needed for brainstorming and focused work. Interruptions have no place in that kind of environment. Joan has helped Perron038 with showcasing current meeting room statuses and upcoming meetings.
Simplicity. When working with different groups solutions need to be intuitive, hassle-free and easy to use. Honestly, when focusing on solving greater challenges, the last thing you want is to spend your time on booking a meeting room. Joan's got you covered.
Do you want to find the perfect meeting room management solutions for your office? Talk with our meeting experts, they'll be happy to answer all of your questions.