Are you a tech-savvy, smart home enthusiast? We've recently discovered how Joan can be used as a home automation system in just a few steps. We hope to spark your imagination for sharing ideas on how you'd like to re-purpose Joan.
Why Joan?
Due to its quiet design, Joan fits perfectly into every home. The ePaper technology doesn't just blend into every interior design, it also ensures long battery life. Thus, devices are easily manageable without any extra hassle and can be used for months before recharging.
With its magnetic backside, Joan can be simply placed on your fridge. No mounting or drilling.
Completely effortless.
Meet the DIY home automation system
Jure Jančigaj, DevOps Engineer at Joan, dedicated his quarantine days hacking Joan device for broader use. As a tech enthusiast, he had already tested some old tablets but the main problem was the need to hardwire them to places where it's kind of impossible. As the other solutions turned out to be huge battery drainers, he decided to tap into the unexplored potential of Joan.
Since Joan devices also support any touch dashboard even if it is not optimized for e-paper technology, the decision to go with them was a no brainer. At this point, we've got to mention that our Visionect Software Suite, a hosting server program, will transform any content to fit the screen.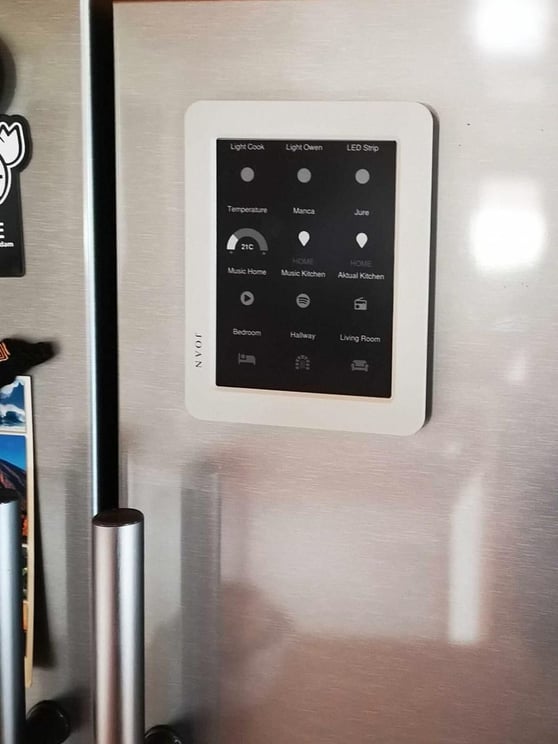 Let's see how you too can create Joan home automation system.
1) Control your smart home with Home Assistant and AppDeamon
Home Assistant is an open-source home automation software written in Python which offers the ability to control your smart home products locally. Currently, it offers more than 1500 platforms (integrations) with different services/devices.
For creating a dashboard and writing different automations in Python you can use AppDaemon, which is a software add-on that connects directly to Home Assistant. You'll be able to create a simple tile website for touch devices – HADashboard.
2) Modify CSS for optimizing dashboard to ePaper technology
By default, the HADashboard theme is with a gray background and colored text and icons. That's why you'll need to modify CSS in order to optimize it for the black/white color scale. Don't forget to disable animations on button presses due to the slower refresh rate of the e-paper display.
3) Personalize the home automation experience
The best part about your own home automation with Joan? You can easily personalize features by simply create a custom button to connect multiple actions. For example, you can create a mood button that will turn on lights, start playing music from your favorite streaming service, and notify your partner that your friends have just arrived.
Place the home automation system wherever you are
Jure says that above all he loves the ability to mount Joan wherever it's needed. He can have a Joan device on the fridge for easily triggering music and toggling with lights for his chef endeavors, and one next to the shower where he can control music when going into the bathroom – thanks to Google Chromecast Audio and splashproof speakers.
Since Joan is mounted with a magnetic mount, you can mount it on any clean surface (or simply stick it to your fridge). The magnetic mount is included with your purchase so you can set up your smart home minutes after the arrival – no need to postpone it due to wiring and installation.
And even after 2-3 weeks with a 100-200 display updates per day, Joan still doesn't need to get recharged, says Jure. With similar use, the standard tablets wouldn't last for even 2 days.
Is this solution the right one for you?
Keep in mind, this is definitely not an out-of-the-box solution. You'll need some technical (or at least Googling) skills to set it up. However, it's the perfect start if you're still deciding on smart home solutions and would love to explore the world with Joan. It offers an affordable, customizable, and fun way to see how home automation works and fits your everyday needs.
If you'd like to transform Joan into a home automation system, please contact us at support@getjoan.com.