Managing the COVID-19 pandemic isn't only about making it through to the other side; it's about making it through with your employee's morale intact. For the most part, companies have done a great job pulling out all the stops to keep up with ever-changing restrictions and their employees' needs. However, the long haul isn't over yet.
More than sixty percent of companies find retaining employees more difficult than hiring them. Showing your employees that the company not only cares, but is looking out for them too, can go a long way toward encouraging employees to stick around once the pandemic is over.
A study by PWC believes the biggest workplace values heading into a post-pandemic world are
Work flexibility
Better resilience and agility
Technology investments
New ways to serve customers
Community and societal engagement
Addressing these points in the new year can go far in letting your employees know you're company is looking out for them in the long run.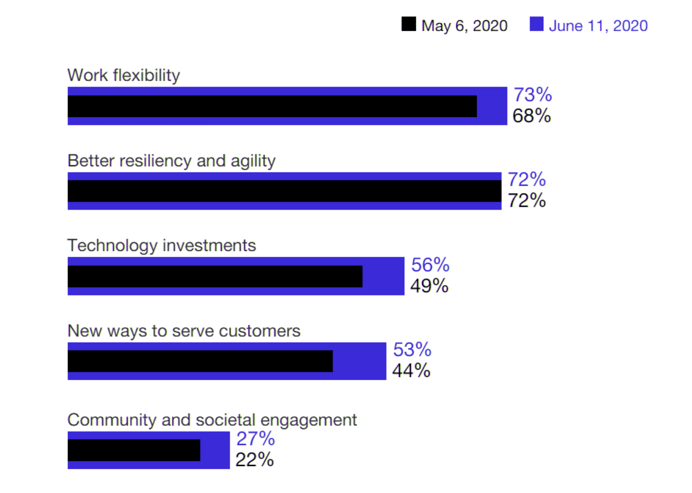 Work flexibility
In many companies, employees have proven they can work just as well remotely as they can in working in the office— better, in fact. From a survey of nearly 800 employers, CNN reports that "90% of employers say working remotely hasn't hurt productivity."
After such great a track record, many employees are looking to maintain a level of flexibility with their work environment once COVID-19 draws to an end. Approximately three-quarters of companies expect one in four employees to continue working remotely. One-third of employers expect over half of their workforce to continue their jobs remotely.
Parents with children, employees with poor driving conditions, and other employees are hoping to maintain a flexible work environment to accommodate their complex lives. Once upon a time, only one in thirty employers considered letting employees work from home. These days, the stigma is gone, and companies are understanding that employees can juggle life and work when given more freedom.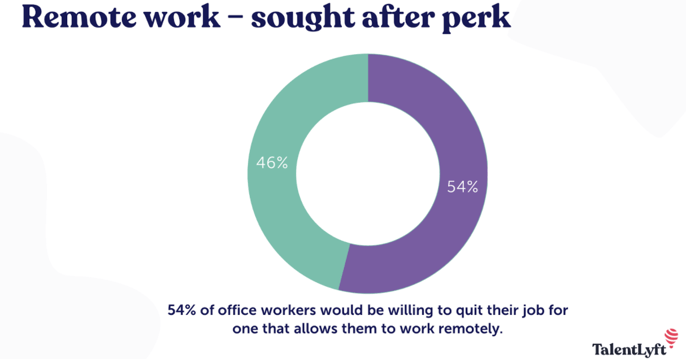 Set up a flexible workspace with Joan Desk Booking app.
Better resilience and agility
Employees have had many fears throughout 2020: how will COVID-19 impact them financially? Will the pandemic lead to a recession? Will there be another wave of infections? When?
When COVID-19 struck, unemployment rates rose. In the USA, "More than 58 million initial unemployment benefit claims have been filed by workers between March 14 and August 22." Immediately after the looming concern of COVID-19, the world fears unemployment and poverty. In uncertain times, job security is a terrifying concern.
Once we're through the thick of the pandemic, your employees are going to wonder what steps your company will take to make sure any, unlikely yet possible, future pandemics might affect their work and job statuses. Make sure to have well-structured contingency plans in place before your employees return to the office in the new year.
Technology investments
One of the major business handicaps of 2020 was the lack of technology that could help during a pandemic. In fact, it took some restaurants months to open after dine-in was restricted in some localities. Any restaurant that wasn't already signed up for Skip the Dishes or Door Dash fell behind their competition.
Corporations who hadn't invested in company-wide video conferencing software, softphones, or laptops were frantic, scrambling for ways to get their employees online. The downtime experienced by unprepared companies cost them clients and income, increasing layoffs, and job insecurity.
Begin 2021 investing in the right technology, giving your company the boost it needs to thrive in unexpected circumstances. In fact, it's not just remote technology that can help your company rocket out of the pandemic. For most corporations, it'll still be important for employees to meet face to face, discuss plans, brainstorm ideas… Investing in an in-office desk booking system like Joan Desk Booking app can help organize social distancing and keep track of who's been where in case of a COVID-19 breakout.
Learn more about Joan Desk Booking app – the tech that'll track your office capacity and enable flexible work.
New ways to serve customers
While poor technology held some companies back, having few to no backup plans for serving their customers also left a mark. Just look around in shops and stores: there are seethrough plastic barriers between you and the cashiers, there are stickers on the floor to mark six feet between customers… the modifications go on and on.
Most companies took weeks to think up how to still reach their clientele; weeks of lost revenue. DavidsTea, Gold's Gym, Pier 1, and many other large-scale companies claimed bankruptcy in 2020, unable to make the comeback they needed.
Now that we're at the tail end of 2020, most surviving companies have discovered new ways to reach their clients. Even so, there's always room for improvement. The struggle to keep up didn't just impact the higher-ups in these companies, it impacted all of the employees.
Some were affected by the stress of job insecurity, others from working overtime trying to make ends meet. Many were affected by both. Your employees will feel much more at ease once your company lines up reliable, sustainable, and practical solutions for future crises.
Community and social engagement
On the segue of attracting customer and maintaining company revenue,
"Highly engaged employees make customer experience. Disengaged employees break it." -Timothy R. Clarke.
It's obvious to see how this quote applies to departments such as Sales or Customer Support, yet the concept goes much deeper than that. For example, developers engaged in their jobs will think up user interface changes that will improve the user's experience, where disengaged developers will simply respond to bug fixes and requests from higher up.
However, looking past revenue, keeping your employees engaged and content improves their overall work experience.
In the middle of a pandemic, it's difficult to build up a company social club, sports teams, or other interactive events. Instead, companies are finding other ways to help employees feel a part of the community.
Enlisting third parties to promote wellness, such as dieticians or fitness pros, can help employees feel like they're not only well cared for, but a part of something. Sharing regular corporate updates encourage unity and keep the company's image fresh in everyone's mind. Hosting private online events such as team-made-videos challenges, guest speakers, or online holiday treats can make remote employees feel pampered, even from afar.
Enlist third-party experts for health and wellness
Share corporate news and updates
Host online events and treats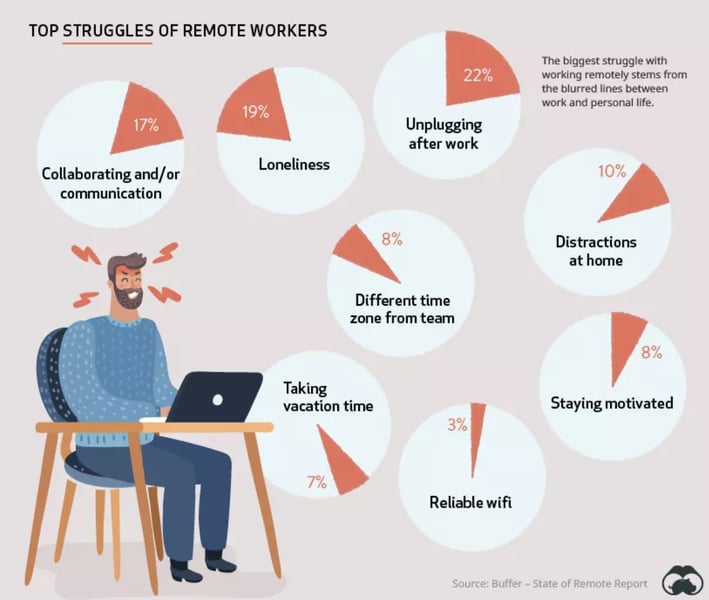 Share company news and improve corporate culture with Joan 32.
The pandemic of 2020 has changed the world for good. An unprecedented percentage of the workforce will continue to work remotely and those who don't will insist on workplace flexibility.
Companies will morph to accommodate both remote and in-office workers, adjusting their floorplans to account for fewer in-office employees. Employee experiences will transform, turning to online collaboration and social structures that will be the new norm.
Help your employees see your company as a stable, responsive, adaptable business for them to grow and flourish in. Get your ducks in a row before the pandemic ends because the repercussions of the crises are sure to last for years to come. Explore our products for earlier return to the office – Joan Desk Booking app (available today) and Joan 32 (available soon).