Visitors are a common and often essential aspect of any workplace. Even if you have a "no guests" policy, maintenance staff or specialists are a must for any workplace. HVAC experts, plumbers, electricians… maybe even food delivery personnel.
Additionally, some offices meet with clients, investors, or simply allow family members to visit. A visitor management system automates your visitor management process, allowing organizations to track visitors entering the office, reaping the benefits of enhanced security and efficiency.
The purpose of a visitor management system is to improve the visitor experience while maintaining the safety of the employees, showcasing the dual benefits the visitor management system brings to the workplace.
Benefits of visitor management systems
Not many organizations revolve around visitors. Therefore, automating parts of the visitor experience can help your office run more smoothly when visitors do arrive. Here's how:
Increase efficiency, satisfaction, and productivity
Studies show that office automation can cause a domino effect of good things. According to IT Chronicles, 74 percent of employees in highly automated companies say automation improved their job satisfaction. What's more, the University of Oxford reports that employees are 13 percent more productive when they're happy at work. IT Chronicles goes so far as to claim that "repetitive tasks cost 5 trillion dollars in lost productivity annually."
Automating elements of your visitor check-in and check-out process can help your staff stay on track, rather than conducting menial tasks that a computer could manage. This not only streamlines operations and improves efficiency but also leads to a happier and more productive workforce — showcasing the multiple benefits that an automated visitor management system brings to the workplace.
Free up your front desk
If you have clients or investors entering the office, you're going to want them to be impressed with your staff and the environment. Automating part of the visitor management process frees your front staff to focus on the guest and personalize the guest's experience. In other words, the front desk staff will be more productive on the job, worrying less on repetitive tasks.
Improved first impressions
First impressions are irreplaceable. Therefore, your company needs to make a great first impression every time. No matter how large or successful your organization is, you want your visitors to have a great in-person experience.
The right visitor management system can boost your company's first impression in more ways than one. First, the system can reinforce your company branding. Having your company logo or brand colors on your visitor system can help your company look polished and professional.
Second, choosing the right visitor management system can improve the visitor experience. You'll want a system that is sleek and classy while being intuitive and simple to use as well.
Lastly, a visitor system helps your business look modern and à la mode. Your clients and investors will feel more inclined to trust the company.
Customized workflow
One huge thing about visitor experiences is they should be tailored to your company and your visitors. There's no cookie-cutter one-fits-all visitor experience that will work for all organizations.
Your visitor management software should be customizable to your company's visitor types and needs. Additionally, the system should be customizable to collect the visitor data you're looking for. For example, a customizable health questionnaire can help you adhere to health regulations.
Increased safety
Visitor management systems are key to improving safety to your company information, workspace, and employees. Keeping track of non-employees entering a workspace keeps them accountable for their actions and helps in overall monitoring.
Still, today's visitor management systems aren't designed to simply guard the office against data leaks, inside information, theft, or vandalism; they're dual-purposed to keep employees safe from infection as well. Most visitor management systems have been updated to include health screening as well.
Rather than overload your front desk with paper health screening, visitors can fill out the health questionnaires before even approaching the front desk. This process helps the visitor check-in process run smoothly with minimal speed bumps.
Cost-effective
Automizing aspects of the visitor experience can help your company cut costs from multiple angles. For starters, automating parts of your front-desk tasks can reduce the number of staff you need manning reception. With technology handling parts of the check-in process, your staff won't need to worry about check-in and security questionnaires.
Secondly, as mentioned earlier, automation improves productivity. In a study by Inc. Magazine, researchers found that it takes approximately 23 minutes for an employee to recover from a distraction. With only four guests per day, your receptionist has wasted an hour and a half trying to get back on task. Minimizing distractions can help your front-end staff be more productive.
Analytics
Gathering visitor data isn't only about office analytics, but also helps companies comply with security and safety protocols. For example, many trusted companies strive to follow ISO 27001 rules, which include:
The date and time of entry and departure of visitors should be recorded
The identity of visitors should be authenticated by an appropriate means
A visitor management system not only collects the data required for information security, but also follows health security measures too.
Check out this article to find out all about workplace analytics.
The importance of a visitor management system
If you're implementing a visitor management system, it must be user-friendly and effective to leave a positive impression on your guests. What's more, it needs to be user friendly to the staff as well.
If you invest in a simple, straightforward visitor management system, your front-end staff will thank you for all of the benefits it offers. Automating simple check-in procedures eliminates daily tedium and helps staff focus on what really matters: the guest.
What's more, a visitor management system offers benefits by collecting essential data that office managers can use to analyze the workplace. Most visitor systems include some or all of the following data:
Date of the visit
Check-in and check-out time
Name of the visitor
Contact information of the visitor
Reason for the visitor to enter the office
Who the visitor is meeting
Takeaway
Visitors Check-In helps office managers easily keep track of who was at the office on what day and, more importantly, with whom they were meeting. Office managers can:
Set their own questions for the visitors.
Configure if the host gets notified about the visitor or not.
Decide if the visitors have to confirm their email address or not.
Create QR codes for Visitors Check-In forms.
Have a clear overview of the visitors in the Office Portal.
Export the data in CSV format.
What's more, the visitor management app offers benefits with a fully customizable health screening feature. Visitors and employees can complete the questionnaire before even arriving at the office.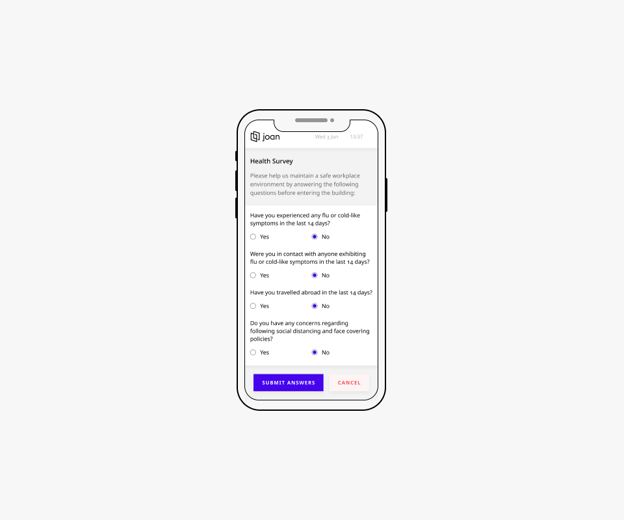 For more information on how Joan can improve your visitor experience, contact us.