Recently, Gartner released a series of guidelines for returning back to the office based on pre-established practices and opinions. The most notable guideline? Ensuring social distancing within the office.
Social distancing may sound simple in that there must be at least a 1.5m space between each person. However, when it comes to implementing this rule with limited resources (office spaces), it becomes much more difficult to manage. Namely, what we've seen is that companies around the globe are alternating between working from home and the office using rotating schedules, with the aim of limiting workplace capacity to 80% or less.
With those limitations, managing office space can be extremely time-consuming. Imagine creating a seating chart for your whole office, taking into account everyone's wishes while making sure that you're still following all of the health regulations. There's got to be a better way. And there is.
At Joan, we are developing a desk booking app which will allow employees to book their seat directly from their phone. In addition, a dashboard will clearly show who's in the office each day and enable HR managers to book time slots for individual teams.
Start a free trial.
Every employee can now book a desk from their phone
The first-come-first-serve basis is not only inefficient, it can also cause a lot of bad blood when someone arrives at the office only to discover that all of the desks have already been taken. There are also bigger, underlying problems with the system:
There's no overview of who's in the office and where they're seated
There's no freedom to book a desk and navigate the office smoothly on your own
Scheduling desks for teams is inefficient and time-consuming
While the first two points will be tackled later, let's focus on the third one – how everyone should be able to book a desk independently and obtain the necessary office insights.
Be confident that your selected desk is waiting for you
Eliminate any workplace uncertainty by taking back control. Book a desk in the Joan Desk Booking app with two simple steps – pull out a layout of your workplace and select your preferred desk, then choose a time slot. That's it! Your desk is ready and waiting for you. On the off chance that your seat gets reassigned, you'll receive a notification with details of your new arrangement.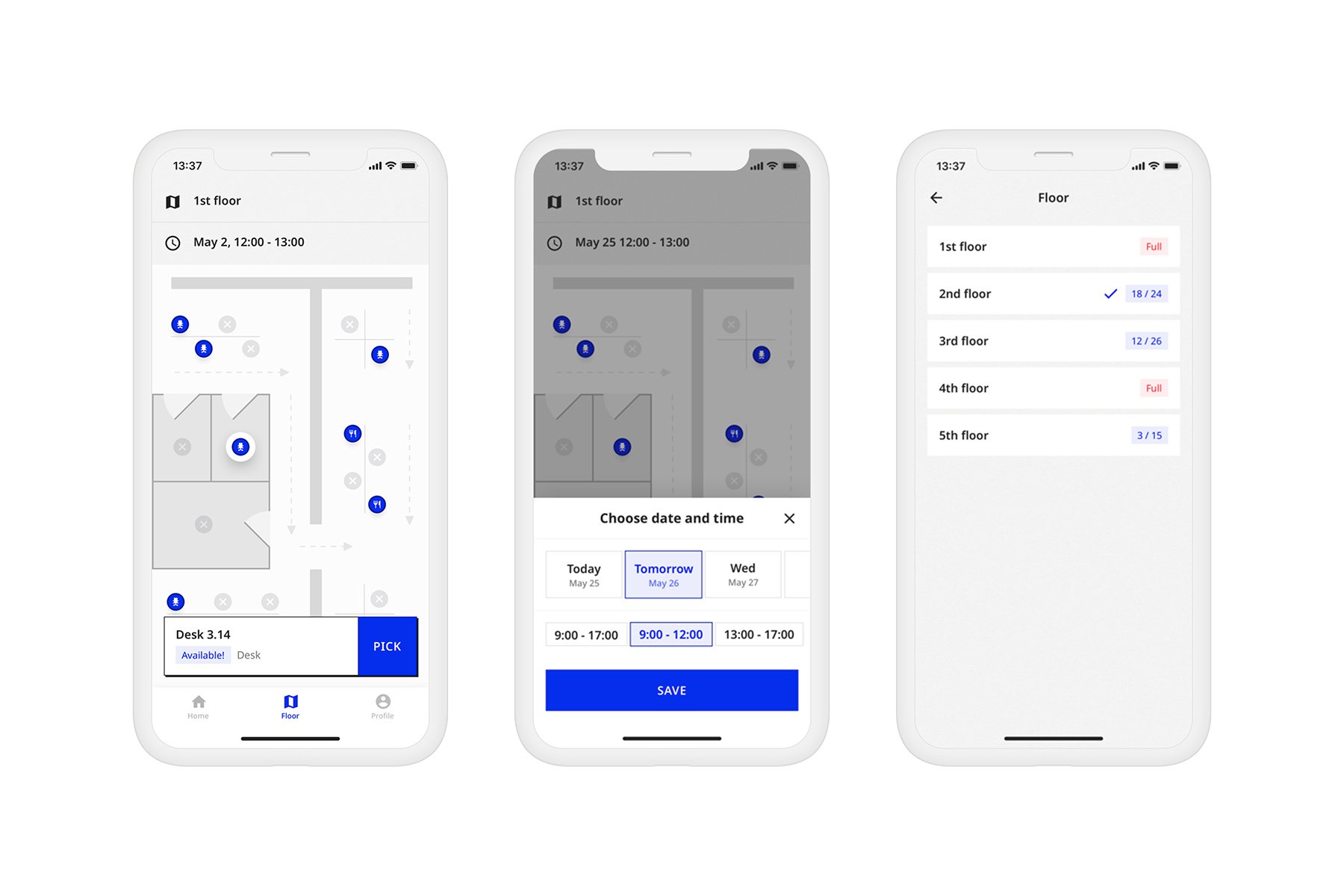 Alternate between working from home and the workplace in the simplest possible way
As with everything else, the team at Joan believes that office technology must support your work by being part of your everyday life in a discreet and efficient manner. The Joan Desk Booking app is no different. It is simple to onboard, manage, and book a desk for your time in the office.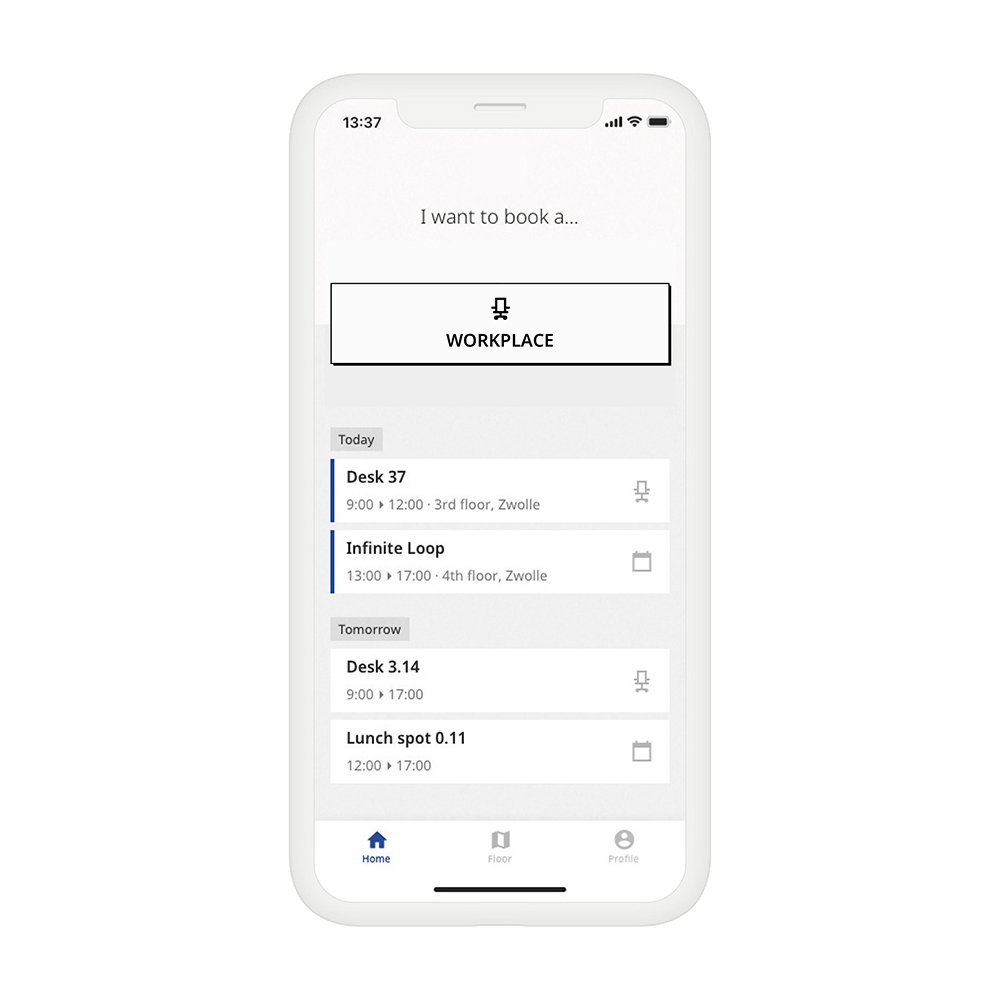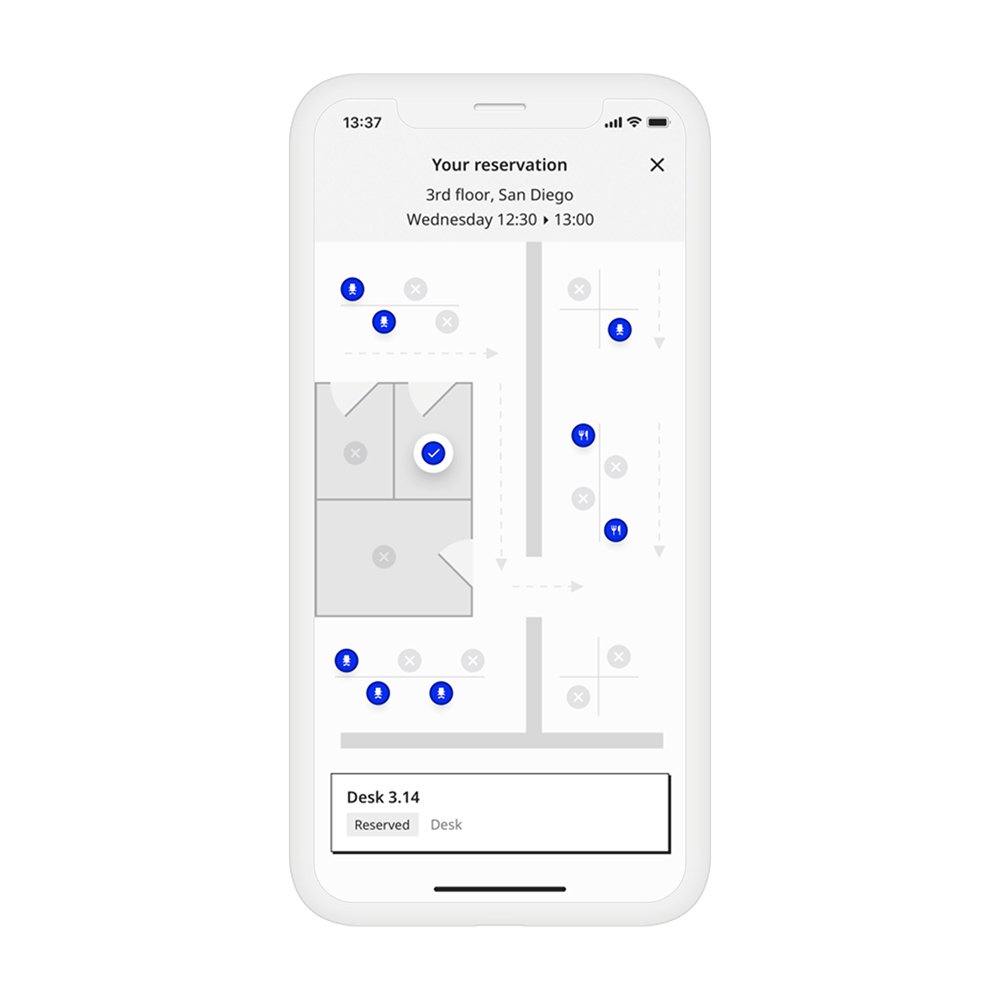 Start managing your workplace in the easiest way possible.
Every office manager can now easily track office presence and schedule desks
Office or HR managers are faced with the daily post-Corona task of keeping track of everyone in the office, as well as when the workplace is hitting capacity and whether there is enough space for everyone when considering social distancing.
That brings us to the two problems mentioned above: having an overview of who's in the office and scheduling desks based on a team lead preference.
Keep track of who's in the office and when
Keeping information on the presence of each employee can be challenging. All the current alternatives are awkward and time-consuming – reminding everyone to fill in spreadsheets, and analyzing them at the end of the month.
With Joan Desk Booking dashboard that syncs with Joan Desk Booking app in real-time, the information on attendance is always kept at your fingertips.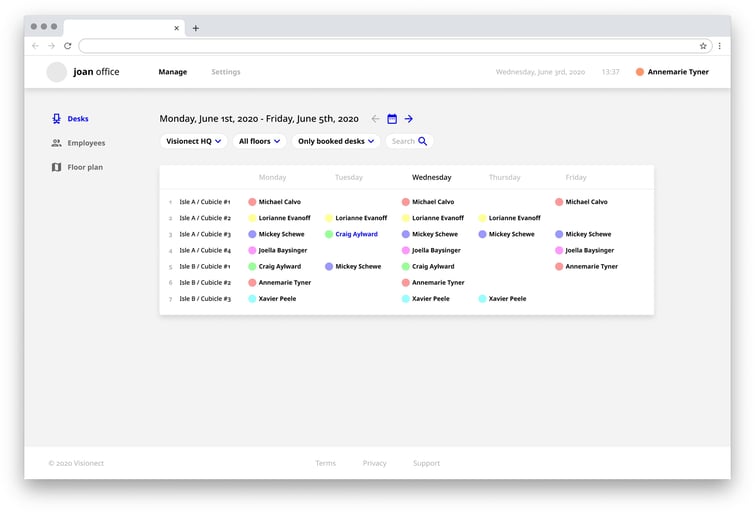 Schedule desks for a whole team
While some people do work independently and can book desks on their own, it's sometimes necessary to get a whole team or even a mixed team in the office on the same day. From design sprints to growth meetings, those interdisciplinary events are based on the cooperation of different departments.
Instead of back and forth messaging on Slack, a team lead can simply notify the dashboard manager on the attendance of the team members, and they can schedule desks accordingly. No extra hassle of communication and individual scheduling.
Update desk bookings
Let's say a new regulation is announced overnight – we're facing another health threat, so the new social distancing proposal is 2.5m with a maximum of five people in one room.
Since everyone has already booked their desks for this week, it's time to get your hands dirty:
Upload a new map with updated limits and desks
Change all of the existing bookings to meet the criteria
With an overview of all bookings, updating their details is fairly simple. Change the desk and time, and the employee will be notified of the change.
Enable Joan Desk Booking with a single click
Are you an existing Joan customer? Then the onboarding process is a whole lot easier for you. In fact, it's done with a single button within the Joan Portal.
Here are the steps:
Log in to the Joan Portal
Click "Settings" in the top navigation bar
Go to "Desk Booking" that's on the left side menu
Enable desk booking
That's it! It takes less than 5 minutes to start organizing your workplace.
Start for free
Go ahead, give it a go. In the next 10 minutes, you can register, upload an office plan, and add employees. It's the beginning of a flexible workplace that will ensure your employees' safety, and bring clarity to workplace management.
Register today