Integrated Systems Europe (ISE) has been bringing together AV enthusiasts for almost two decades. It's the largest professional AV and systems integration trade show in the world. No wonder Joan has been a part of it for a couple of years now, and for a good reason.
With our innovative solutions, Joan is among trendsetters in the meeting room booking industry. Why? Let's face it, the modern workplace is built on complexity – from managing remote teams to adopting new technological solutions company-wide. Even though tech makes our every day easier, there's definitely extra hassle when it comes to the workplace. Here's what we're currently dealing with:
Abundance of high-tech solutions leads to decision-making paralysis
We cannot seem to ever escape the paradox of choice – whether it's while buying a new pair of jeans or deciding on a new CRM software. Having more choice does not necessarily mean having more power. On the contrary, having a choice is believed to lead to fewer decisions since we cannot gain any certainty on whether we're leaping in the right direction. While deciding on a new solution won't lead to workplace depression, it can certainly lead to decision-making paralysis. Leaving the workplace in a need for a solution for a longer period of time, hampering productivity, efficiency, and satisfaction.
Integration issues when adding any new technology
Let's say you've finally decided to go with a specific CRM system. It turned out to be a great call however when trying to import leads from your landing page builder there seems to be a problem. No integration is available for your service provider. Great, now you have to add engineer hours to solve yet another integration hiccup. Yep, that's going to be costly, for sure.
Managing solutions require additional, non-intuitive skills
Yaaay, you've got the CRM solution in place, you've dedicated additional recurring engineer hours, so everything is good to go. Well, until it's actually deployed and you realize that it's labeled completely differently from what your team is used to and somehow it's not following the classic kanban logic. What now? The support team is kind enough to offer additional training… for 1k per person.
The example above is only one of the many issues any modern office is dealing with daily. That's why Joan's proprietary devices and software solutions were developed with one thing in mind – simplicity.
0 integration issues, immediate deployment, completely intuitive management, and the easiest decision you've ever made.
Our solutions are the best answer to the above complexity. They are your starting point, the backbone of your office. Here's why:
Joan connects to your company's calendar. That's right. It sits on top of your existing infrastructure – no need to master yet another booking tool.
Being a trendsetter simply means responding to users' needs in time. We are constantly developing new integrations with your favorite tools – from MS Teams and Slack to Cisco Webex Teams and even Amazon Alexa.
It's just simple – the magnetic mount ensures no extra drilling (and TIME) is spent on mounting the device. Every feature, language, customization is set in one place (Joan portal), and the user tested layout ensures 100% clarity for all.
Meet Joan at ISE 2020
At this year's ISE we are bringing the newest generation of simple solutions out there – Joan 6, Joan 13, and Joan on displays. Here's your chance to meet them before arriving at ISE.
Joan 6
You can think of Joan 6 as the hero of your workplace – place it right next to a meeting room or any other office space. It'll show a meeting room's current status, any upcoming meetings, and it'll enable you to book the room on the spot (yes, it's a touch-screen device). But the real value is at its core – with Joan 6, you won't ever need to worry about finding a free meeting room again. The used-to-be daunting task is now as simple as clicking "Send" in your email. This gives you more time to focus on the meeting you're attending.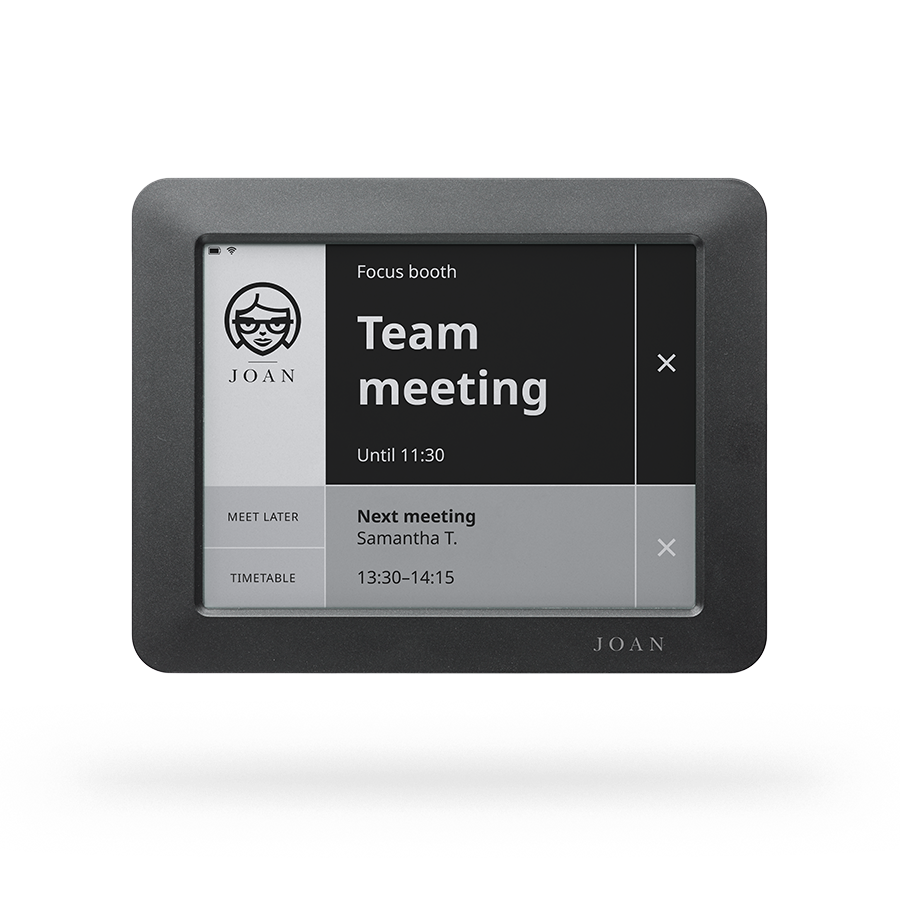 Joan 13
That's a bigger version of our office hero – it offers the ever needed overview of your meeting rooms. Place it in a lobby, open space, and feature availability of up to 9 meeting rooms. It's especially useful when you need a last-minute space for an impromptu meeting. See which meeting room is free on Joan 13 and book it with Joan 6 once you arrive.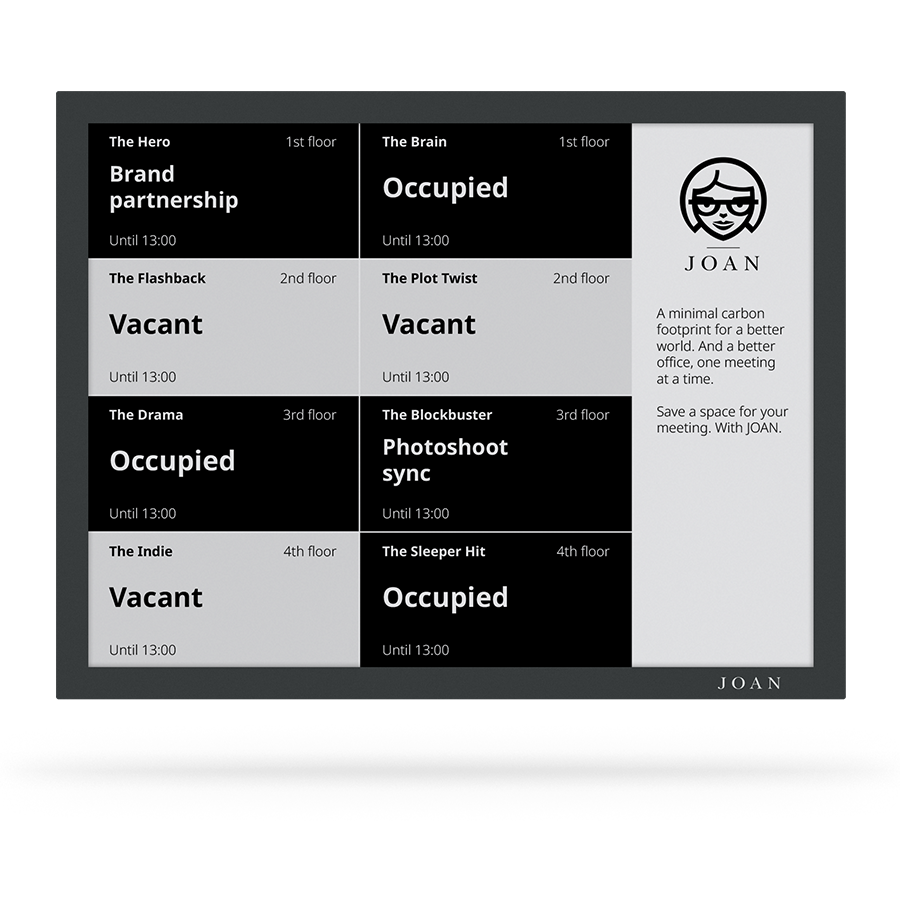 Joan on displays
Although our devices are tailor-made for the best possible meeting room management, we still want you to leverage any existing equipment. What better way to put your office TV to new use than by featuring a list of ongoing meetings, meeting rooms, their seating capacity, and all the other important info.
Joan devices are not only easy to use, but they are also easy to mount. As mentioned above, Joan 6 and Joan 13 arrive with a magnetic mount and can be in place in a matter of minutes. Thanks to e-ink technology, Joan needs re-charging only once every quarter. To put it simply, set it up and leave it running. Joan will do its job without any extra hassle.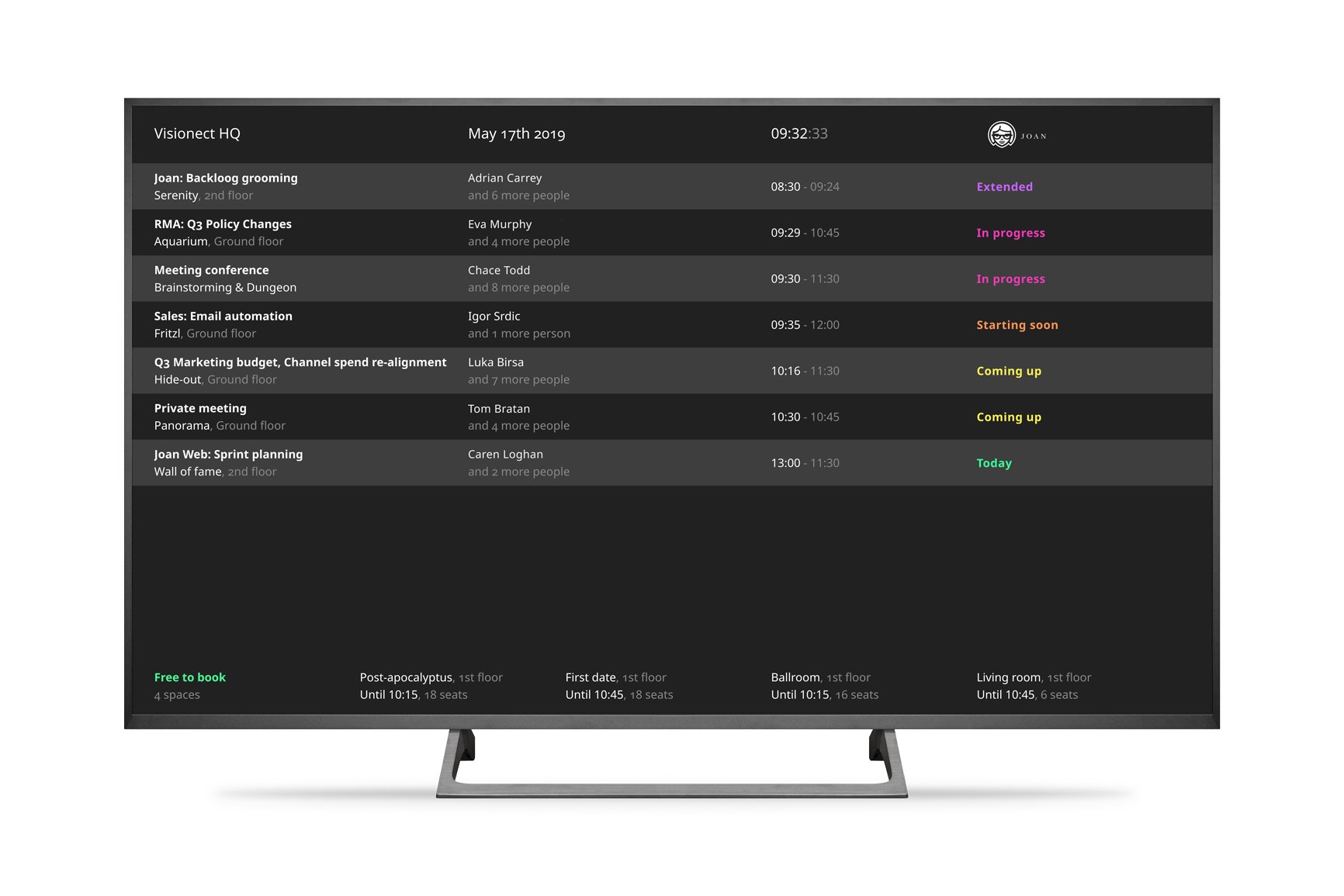 Pro-tip for the ones visiting us at this year's ISE:
Try mounting the device, we guarantee you're in for a treat.
Ask about its integrations – with natural language processing in place, booking a room in MS Teams/Slack/Cisco Webex Teams is like talking to a colleague.
Try booking a room on the spot – it's pure magic. The room's status updates immediately across all calendars.
Learn more about workplace integrations
Are you also attending the Smart Building Conference? Lex de Grijs, Director of Western Europe at Visionect, is giving a lecture on the integration challenges we're seeing today and why is there a technological gap between our everyday lives and our work environment.
The workshop is interactive, so you're welcome to share your opinion on where the workplace technology is heading towards.
Here's how to get a free entry to ISE 2020
We'd like to hear your challenges, and the opportunities you see at the modern workplace. In fact, we are giving away our code for free entry at ISE.
Make sure to register and book an appointment with our meeting experts. See why Joan is the backbone of any modern office and how it stands against the complexity of our modern world.