Sign up today and receive 15% off your Joan 32 purchase.
Now, more than ever, public information and real-time frequent updates have become essential. Use cases for digital information signage extend way beyond internal use and present a valuable source of information in many public spaces.
The challenge that still remains is how to convey the information in the simplest and most efficient way. That's where Joan 32 comes in.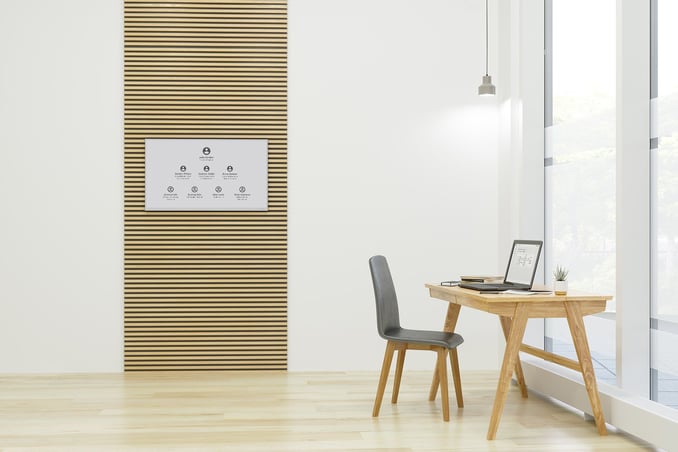 P.S. You can always skip the reading and sign up for 15% off Joan 32. Scroll down, there's a form waiting for you.
Meet Joan 32 – The most sustainable large-format digital display on the market
The newest product in our series is Joan 32 – a 32-inch, ePaper, energy-efficient display, which is perfect for any workplace or public space.
We live in dynamic times, and Joan 32 Digital Information Sign is the ideal tool to convey information, front and center wherever you wish. Joan 32 Digital Information Sign provides tremendous flexibility to visibly locate, mount, and be up and running within minutes.
Its size originates from the idea that eInk technology shouldn't be reserved solely for individuals and small groups; it's something that everyone could – and should – use in everyday life.
Ambitious?
Probably. But not impossible. Joan 32 technology is 99% more efficient than LCD screens and 100% easier to deploy. This makes it the perfect solution for displaying information on a large scale.
The only digital signage without a constant need for power
Joan 32 can be placed wherever it's needed the most, whether that be an office building, an airport in a shopping mall, or anywhere else where information needs to be displayed.
The problem with other solutions is that they require a constant power supply in order to work. Consequently, this means that they must be placed near a power source, resulting in drilling, wiring, and limited options for mounting. All of a sudden, you're not in charge of placing digital signage anymore – you're dependent on your surroundings and constrained by environmental limitations.
In contrast, Joan 32 gives you complete control over your signage. With its advanced proprietary technology, Joan's battery lasts for weeks and can be recharged overnight. There's no need for a constant power source, drilling, or wiring.
Place Joan 32 where the information is needed. It's that simple.
Quiet design enhances the environment
Unlike other digital signage, Joan 32 is built on foundations of versatility and calmness.
In a world full of distractions, bright colors, and ads, it's absolutely necessary to convey important information in a professional manner. And what's more professional than showing static information on a black-and-white ePaper display? Joan 32's ePaper screen is enclosed in a precision-brushed aluminum casing, enforced with a durable glass pane to protect it from scratching and hazing. It comes in two colors: slate gray and graphite black.
From its large screen to its casing, everything about Joan 32 is aligned with principles of quiet design. This is when information truly looks beautiful.
The all-in-one concept
When it comes to digital signage, the industry standard comprises three components: the screen (signage), the player, and the mount. These individual elements result in higher costs, integrations, and maintenance.
In defiance, Joan 32 breaks the current industry standard by delivering everything in one device. It's already VESA mounting compliant and it has a centralized content management system. Simply create an account within the Joan portal and manage information directly from there. No need to plug in and manage additional devices.
Sign up today and receive 15% off your Joan 32 purchase.
4 most popular use cases for Joan 32
Are you struggling with the idea of Joan 32's usability? We've gathered some of the most popular use cases at the request of Joan customers.
1. Corporate communication
What better way to showcase KPIs, feature new employees, and promote internal newsletters than showing them on a large screen?
Place Joan 32 in a lobby and other common areas. This will positively impact company culture and bring clarity to the current state of the business. Read more about its impact on corporate culture.
2. Digital menu
The lesson learned by the restaurant industry in 2020 is that menus present a health hazard. Thus, many restaurants have embraced ad-hoc solutions, such as writing items on walls or placing a large chalkboard right in their entranceway.
However, these improvised solutions hinder the whole dining experience. It's not something we wish for or expect from high-end restaurants.
We understand that 2021 is going to be crucial for rebuilding the economy and reinventing many concepts for providing a safe experience. It's fair to say that restaurants are among those businesses that have been hit the hardest by new regulations.
So, when you do re-open your restaurant, make sure that your guests have a top-notch experience. Don't make them read a chalkboard menu scrawled in your handwriting. Joan 32 can deliver a classy look to your digital menu and meet fine-dining expectations.
Sign up today and receive 15% off your Joan 32 purchase.
3. Airport signage
Did you know that Atlanta International Airport is the busiest in the US? Over the course of one year, more than 103 million passengers depart to 220 destinations.
And each one of them will be searching for one key piece of information – their gate number.
With this in mind, it's paramount that gate numbers are presented clearly and in as many places as possible. With LCD screens, it almost seems like mission impossible – even adding one additional screen results in wiring, drilling, and extortionate costs. Joan 32 can be placed in the most visible spaces in just minutes, without the additional costs and hassle. You can now deliver flight information wherever your passengers are (and not just near a power source).
4. Wayfinding information
What do museums, hospitals, and industrial facilities have in common?
It's challenging to navigate their premises, especially if you're a first-time visitor.
Because of the common challenges that accompany digital signage, there tends to be a lack of wayfinding information. You might find one screen in the lobby or near the main entrance, and, if you're lucky, you'll receive a map of the place (not a sustainable or scalable solution).
With Joan 32, you can easily place wayfinding information at every corner, hallway, entrance, or wherever people seem to get lost the most often. Make sure that you don't have visitors wandering around the corridors or skipping part of your exhibition by accident.
Lock in the early bird offer for Joan 32
Are you interested in Joan 32? We're launching it in early 2021. However, if you sign up to receive more information, there's a special discount waiting for you upon its launch.
Sign up below!