"Early-bird users report battery life extended by two to five times the original."
Joan rivals other top-end displays in design, quality, and usability. However, where Joan displays have always outstripped the competition, been unbeatable in the field, is where battery life is concerned.
With our latest upgrade, Joan 6 Pro devices now have a battery life of up to five times greater than ever before. Our powerful wireless room schedulers have always lasted for several months on a single charge. Well, now they have the potential to last longer.
The power of battery
Joan isn't just a pretty face: it's the most versatile meeting room scheduler on the market. The ticket that makes Joan the most easy-to-setup conference room display is the fact that Joan runs entirely on battery power.
But, so does your phone. So, why is Joan so great?
Because Joan wireless displays can run approximately 365 times longer on battery power than your mobile phone can. This perk means the devices only need to be charged every few months to a year — and counting.
Again, why does this battery capacity matter? Because the low-power design enables Joan to be mounted anywhere on any surface… wirelessly.
Joan displays can adhere to virtually any surface type with no installation costs — no drilling or wiring required. These versatile screens are incredibly low maintenance. Just set them up once and configure or update them directly through the Joan portal.
Not only does stellar battery efficiency nearly eliminate any maintenance for Joan displays, but also has a minimal carbon footprint on the environment to boot. Save energy bills while saving the planet, one sustainable display at a time, by choosing e-paper instead of traditional LCDs.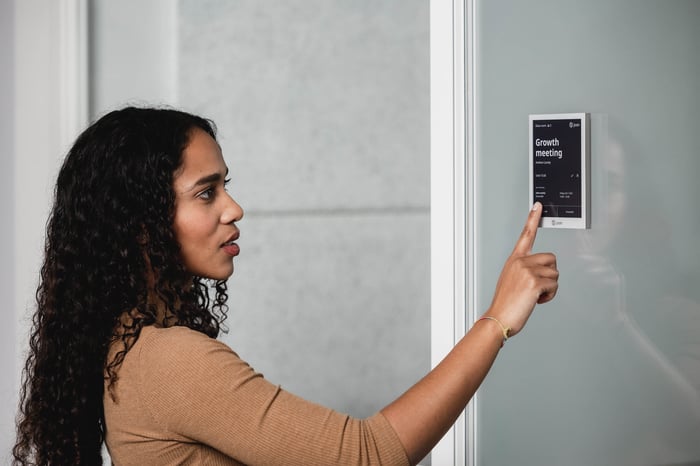 3 tips for improving your Joan display's battery life
While Joan displays have been optimized for incredibly long battery life, there are some steps you can take to optimize the battery life even longer.
1. Turn on Joan "office hours"
Did you know about the "office hours" feature? By default, Joan devices remain active even when the last person leaves your office for the day. However, you can manually configure the time periods for your Joan to be active in the Joan portal, so when nobody is in the office, Joan can take a break as well.
For example, if your company's typical workday is five days per week, nine hours per day, from 8:00 until 17:00, you can set up the same schedule for Joan.
This simple change will increase the battery life of your Joan device by three to four times as they do not consume any power while they are sleeping, making it the most impactful step you can take to drastically increase your Joan's battery life.
This is how you do it:
Log in to Joan portal
Navigate to the "Settings" page via the top navigation menu
Select "Organization" from the left-hand side menu
Find the "Set Joan's Office hours" section and set the time of the day and days of the week you want your Joan devices to be operational.
2. Have a good WiFi connection
The wireless network is an often overlooked aspect of how long your Joan can run between charges. A poor network prompts Joan to attempt to reconnect, wasting valuable energy the device otherwise wouldn't be using. The Joan portal keeps track of the WiFi strength for each device, helping you troubleshoot possible causes and solve them.
3. Bonus tip: Disable touch
The touchscreen capabilities of Joan 6 and Joan 6 Pro wireless schedulers account for a fair bit of each device's energy usage. If your company doesn't use or doesn't need touch capabilities, you can turn them off in the Joan portal to lower the device's power consumption.
Choosing your Joan
Choosing the right Joan display for your use case is as easy as checking criteria off your list:
Do you need large, visible signage with custom content? Have a look at our Joan 13 wireless display.
Are you looking for a small meeting room scheduler? A Joan 6 or Joan 6 Pro is right for you.
Do you need wireless display touchscreen capabilities? Check out our Joan 6 and Joan 6 Pro meeting room displays.
Of course, all Joan devices can be mounted on virtually any surface and run months between charges.
Contact our Sales team today to learn how Joan can fit into your office.