You're working from home – it's the new reality that many of us now face. COVID-19 has pushed every business towards digital transformation and remote teams, whether we like it or not. And it's safe to say that this change has definitely impacted our everyday lives. We can't just wake up in the morning, get ready, commute to work and focus on getting our daily tasks done.
It's this sudden shift that made us rethink how meetings – and work in general – should be carried out. Now, the team here at Joan can't help by completing your to-do lists for you. But what we can do is ensure that you're able to focus enough to get through them on your own… without any distractions, interruptions, or even temptations to move away from your laptop.
Let's be honest – you're getting nothing done and it takes forever to finish simple tasks
The majority of us were not ready to start working from home. Even if we were, there's still one thing that no one could've prepared us for – the constant interruptions.
Whether you're living with loved ones or sharing the apartment with roommates, being interrupted is inevitable. And that's not because everyone enjoys distracting you on purpose; it's because kids can't read situations and frankly, it's often an issue for adults, too.
So, how can you achieve peace and privacy when working from home in order to be more productive? In particular, how can you communicate this with others?
There are some ways that are… well, just inefficient. It's like drinking your top-shelf wine from a sippy cup. Awkward, cringey, and you're done with it after the first try. To name just a few examples: sticky notes, sheets of paper, and even locking your home-office door.
Here's why they don't work:
You constantly need to update them, taking time away from your work.
They don't sync with your calendar, meaning that the whole system collapses when you need to take a last-minute scheduled call.
They can easily fall off your walls and doors without you noticing.
A piece of paper has zero authority – you've taught your children that paper is made for drawing and having fun
The bottom line is this: they're just another thing for you to keep on top of your mind if you want to stay uninterrupted. Honestly, it's not what you need at all. What you do need is a solution that'll seamlessly integrate with your workday and make sure that everyone knows about your timetable and current availability.
Introducing Joan Home: The device that your home office has been waiting for
Joan Home is built on the legacy of our devices which manage meeting rooms: Joan 6. Our team of developers utilized the experience we have in enabling uninterrupted meetings for companies such as NASA, Amazon and Samsung, and transformed it into the perfect solution for every household.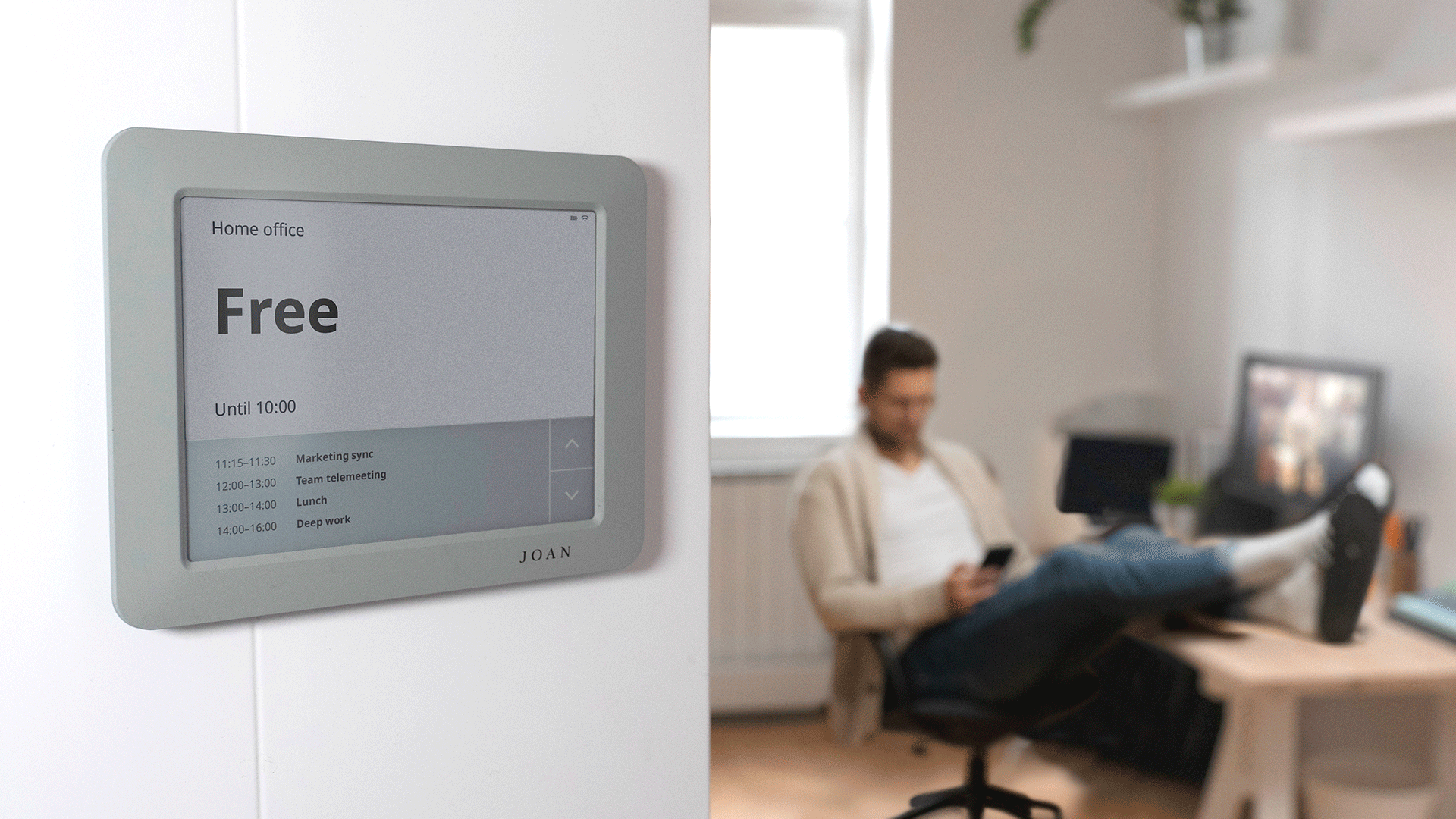 Joan Home has been created with one thing in mind – to keep you uninterrupted and focused when working from home. Produce quality work in less time. Spend the afternoons with your kids without worrying about finding time for more work. You'll be able to get through your to-do list in no time.
The best part about Joan Home? It requires almost zero attention. It updates in real-time, syncs with your existing company calendar and only needs recharging once every few weeks.
Make it clear that you're currently working
Joan Home will display your current availability as "free" or "busy", making it clear when no one is allowed to disrupt you. Since it's connected to your calendar, this status will change automatically.
Show your timetable for the day
Minimize distractions by letting everyone in on your schedule for the day. It'll clearly display when you're available for lunch, chores, or discussion. It'll also signal when your workday is over and you're enjoying some free time.
Feature other information with custom content
Joan Home is not your typical productivity device. Once you're finished with your workday, it can transform into an information board or a picture frame. It's really up to your imagination and abilities in creating your own custom content.
Keep your workdays interruption-free in the simplest way possible
Joan Home was built on the principle of simplicity. You've got enough complicated things to deal with in life, and we understand that. Joan is simple because of several reasons:
Mount your device without any drilling, wiring, or damage to your walls. It comes with a magnetic pad that you can stick onto any clean surface. Simply place Joan Home on the magnet and you're all set.
You probably don't need yet another app to install – so there isn't one. Joan Home connects with your existing calendar (supporting all of the major ones), so there's no need to enter your meetings into a separate tool.
Joan's advanced eink technology ensures that it is extremely power efficient, meaning that you only need to charge it every few weeks. Custom content, language and other settings are managed via a simple to use, intuitive Joan portal.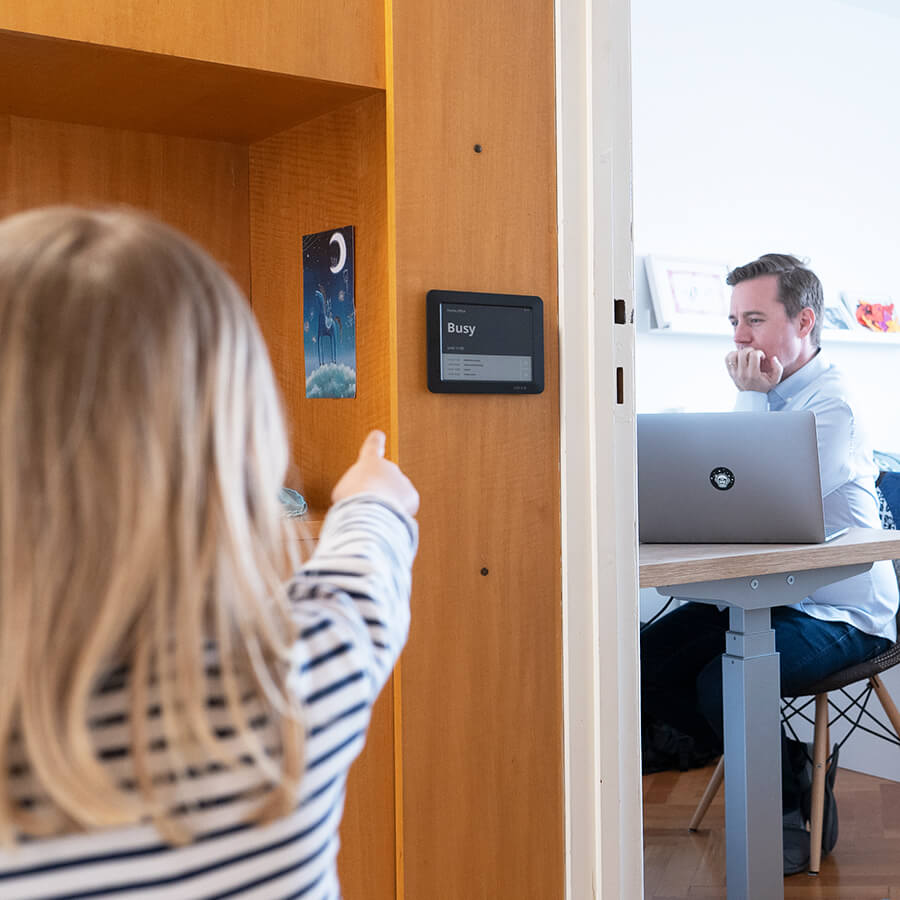 Are you ready to win back your productivity?
Head over to the Joan Home page and discover the features of Joan Home, along with some use cases, all in one place. If you have any questions, please reach out to our sales team at sales@getjoan.com or contact your local Joan partner.