This month, we sat down with two of KraftPal's most passionate employees: Jure Malešič, the VP of Operations, and Aljoša Kous, Marketing and PR Manager. What are they so passionate about? The planet.
KraftPal has its sights set on sustainable practices and its employees love the company all the more for it. With everything they do from in-office practices to product manufacturing, KraftPal chooses sustainability.
As a fast-growing company, KraftPal faced meeting room challenges from room squatters to overrun meetings. It didn't take long for Malešič and Kous to realize they needed a robust room booking solution — pronto.
Choosing Joan was a no-brainer for Malešič. Read on to find out why.
Meet KraftPal
Founded over a decade ago, KraftPal is one of those rare companies that seeks to reinvent something not for profit, but for the environment. The company focuses on reinventing pallets made of corrugated cardboard. In the words of Malešič,
"In at least 80% of cases, there are too many natural resources being spent for a logistics platform: a pallet. It really doesn't need to be made out of wood."
Malešič explains that a corrugated cardboard pallet weighs only 4.5kg compared to the 25kg of a wooden pallet. This means that compared to wooden pallets, pallets made of corrugated cardboard cause significantly less carbon dioxide emissions during production (52% less pollution) and 80% less pollution during transport (due to weight). While the idea behind a cardboard pallet isn't new, the push to streamline sustainable pallet production is.
With the help of Pasaca capital investment, KraftPal is looking to achieve what's never been done before and they need the best, most sustainable, most supportive tech to make it happen.
The company strives to spend as much time as possible together in person. With so much time spent on site, they certainly make the most out of their office spaces.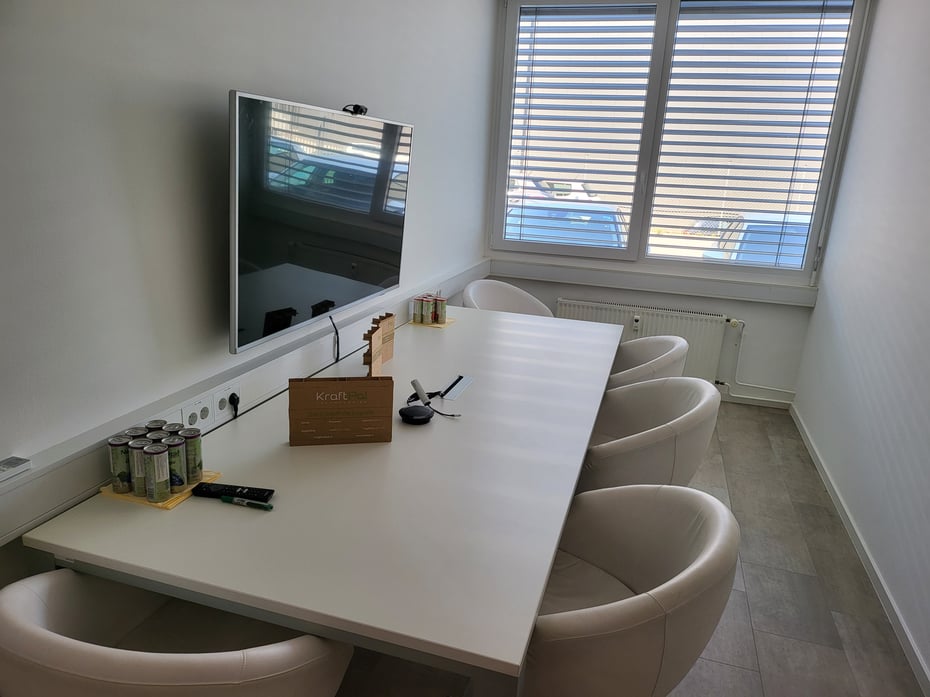 Sustainability at heart
Built on the foundations of sustainable practices, KraftPal lives what it preaches.
Malešič and Kous both are passionate about being a part of a company that's making a difference to the planet: moving to change the world from a mainstream perspective. Kous added:
"The best thing is that a lot of companies all over the world are trying to solve problems and they think they can change the world. But, our product is going to change the world."
The company is wholly committed to achieving carbon neutrality as one of its main sustainability initiatives. For every product, resource, and tool they invest in, KraftPal thoroughly investigates how sustainable the solution is.
When choosing an office management system, sustainability played a "tremendous part" in their decision. Secondly, KraftPal sought a solution that is easily scalable for their ever-growing company. Lastly, they wanted a classy, unobtrusive design that was nonetheless effective.
✔ Sustainability
✔ Scalability
✔ Silent design
Luckily, Malešič already knew about Joan and our sustainable designs: "I was already convinced that Joan was the best solution on the market for us."
Enter Joan
"We don't have much time on our hands to throw out the window. Joan makes that a little bit easier for us," summed up Kous.
As the KraftPal team grew, so did their demand for a meeting space. Their entire Slovenian-based team uses a single meeting room on a first-come-first-serve basis, resulting in a flow of overlapping meetings and numerous meeting room problems.
With a single overbooked meeting room, teams found themselves meeting in hallways, behind desks, in the parking lot… in bathrooms… The discord grew to a point where the KraftPal team was struggling to capitalize on their beloved office time, losing out on collaboration opportunities: "It takes away time and takes away focus from what's really important."
At that point, Malešič said, "yeah, it's time to buy Joan."
While the KraftPal IT team had never heard of Joan solutions before, they quickly became fans. Eager to have a functional meeting room, Malešič had a Joan display expedited to the office. The setup was simple and painless: "It was implemented in, I'm not kidding, under one hour both from hardware and software perspectives."
Onboarding was as natural as booking the meeting room through the in-house calendars, seamlessly syncing across the Joan interphase. The meeting room display was a hit, showing employees the room's availability at a glance. Overall, Joan facilitated employees organizing their workdays enough to connect without having to meet in unorthodox spaces.
Kous commented that design is one of the most important aspects in the tech world right now. Luckily, Joan excels at design, having won three Red Dot awards in recent years. Joan displays are subtle, unobtrusive, and effective. And, in Kous' opinion, incomparable to other digital solutions on the market.
One way Joan blows competition out of the water is through our sustainable designs. Each display is made out of reusable and recyclable materials such as aluminum and glass. What's more, displays like the Joan 6 Pro last six months on the power it takes to brew a single cup of coffee. On average, each employee drinks about twenty cups of coffee… per week. Thirdly, Joan displays have the lowest failure rate in the industry. The devices are made to last, minimizing waste from manufacturing to the overall lifecycle of the device.
As a testament to Joan's sustainability initiatives, KraftPal wouldn't have invested in any solution but a sustainable one. And, unsurprisingly, the KraftPal team hasn't received any complaints about their Joan solution: it just works! Malešič concluded:
"The experience was really positive. The fact that we don't have to maintain it, support it, or even charge it much, really plays a huge benefit in the journey."
What's next?
While KraftPal grows exponentially, so will their interest in Joan. The office management solution has all but eliminated overlapping meetings, supporting onsite collaboration throughout the office. In the words of Malešič, Joan is a "facilitator," helping employees "spend as much time as possible on things we need to spend time on."
Moving forward, each new KraftPal location will be equipped with a meeting room system as a prerequisite. With Joan being the most sustainable solution on the planet, not to mention a company favorite, the future looks bright.
Get in touch with our sales team to learn how Joan can support your office, big or small.