We are happy to announce that from now on you can integrate Joan with MS Teams.
Our priority has always been empowering everyone to run better meetings. That's why we're continuing developing new solutions, updating our hardware, and creating new integrations.
Integrations are the ones that enable seamless onboarding and create everyday ease of using Joan. By being a part of your working culture and tools from day one, Joan is not only super easy to use but it's also creepily efficient. With Joanbots, you don't need to break your ongoing work to find a free meeting room. Simply book it in Slack, ask Amazon Alexa to book it for you or, with the latest addition, book it in Microsoft Teams!
Why did we create Joan bot for MS Teams?
For starters, MS Teams has more users than Slack! Even though Slack is more millennial-friendly, no one can stop MS Teams from taking that market share. Well, this and +600 votes of our existing users wishing for this integration.
Your wish is our command. Joan is all about listening to our clients – in Joan Labs, where this idea was voted, there is always something to vote on. We want to keep our focus on developing things that are of utmost importance to you, our users.
How does it work?
For using this app you'll need a Microsoft Teams account, a Joan Portal account, and a device, of course. Here's how to set it up.
Book your next meeting by simply talking to Joan bot in MS Teams. Joanbot will check for any available meeting rooms, book one immediately or reserve it for later. Booking a room, thus, simply accompanies your daily flow of communication. Since Joan bot recognizes natural language, talking to it is as talking to your colleague.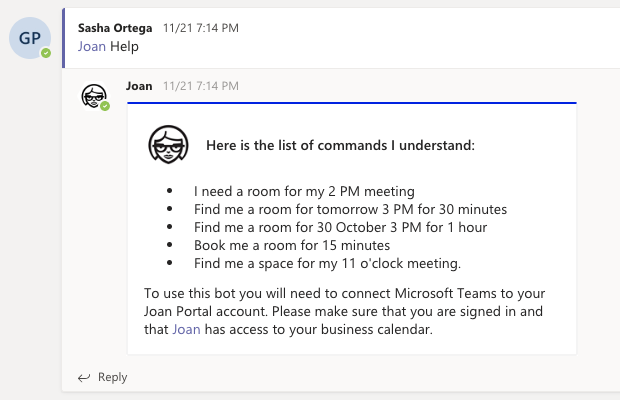 Here's how Joan can find a free meeting room for a specific day and time slot.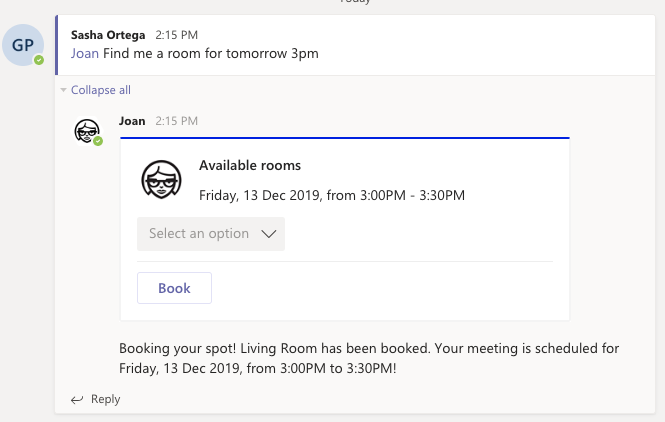 That's awesome, where can I get it?
Here's the best news: MS Teams is available on all plans until March 2020. After that, the integration will be possible with our Standard and Premium plan.
Want to start using Joan in MS Teams today? Contact our team of meeting experts.