Office dividers are as old as the corporate office space. First, there were cubical walls and floor-to-ceiling, solid office walls. Since then, office spaces have evolved. Many are so abstract that they don't even look like offices at all. Consider Lagranja's Barcelona office: is it a bar? Is it a third-grade story-telling room?
Moving away from only being "cool", office space dividers got yet another function at the start of 2020. With them, you can divide your office with the intention of providing a safe environment for your employees.
When should you get office dividers?
If your office is still pretty much an open plan office, it's currently a health hazard for anyone working in there.
At this point, it's a little too late for any last-minute renovations. Thus, it's only reasonable to go with something that can be set up in days.
5 types of office space dividers
Block dividers
Everblock shares the same concept as the famous Lego® blocks. The company offers large, plastic blocks to create your own barriers, take them down, and create new ones as needed. What's more, you don't need trained professionals to set these barriers up.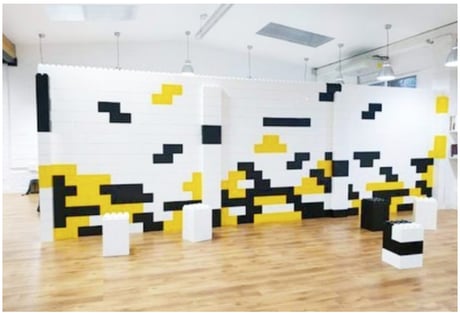 As the frosting on top, making the perfect barrier for each type of workspace could be a great team-building activity.
Mobile pod dividers
Sometimes creating a new space can be as simple as raising a floor or changing a color. Neuca's office in Toruń, Poland, uses movable booths that both are a step up and a color change compared to the rest of the space.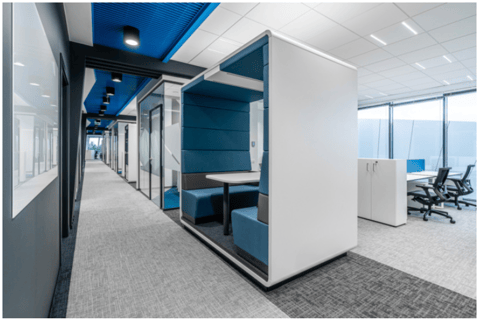 Mobile booths embrace an open, flexible atmosphere. Like with the block dividers, these meeting stations can be moved and reorganized with minimal expertise. However, we must keep in mind that they aren't a good fit for keeping your employees safe.
Hanging Divider
Although not the most effective for sound barrier, the hanging dividers in IDEO's San Francisco headquarters create an effective visual barrier, separating their kitchen from the rest of the open office.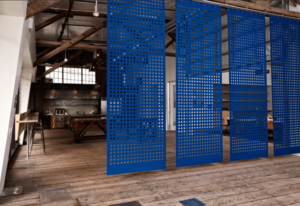 Like with Neuca's mobile booths, the vibrant, contrasting colors of these hanging barriers create a clear divide between the spaces.
Rotating panel dividers
Floor to ceiling panels can be effective for opening and separating spaces as needed. Francis W. Parker School in Illinois installed rotating panels to separate their kitchen from the space beyond. What's more, the panels are actually whiteboards for increased functionality.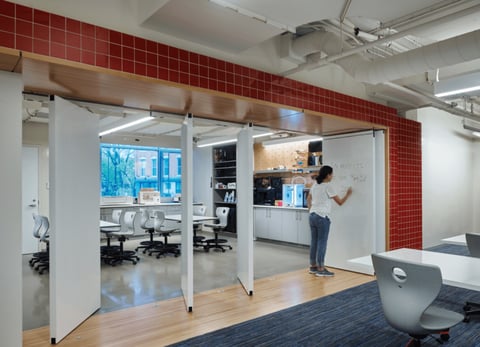 Rotating panels can be effective dividers in office spaces. Two separate meeting rooms can be united by simply turning the panels. A lounge can be closed off from the kitchen to create one massive board room.
Brainstorming stand dividers
For a simple and effective solution, line up dry erase stands around a table and multimedia television. At least, that's what Lagranja implemented in their Barcelona office.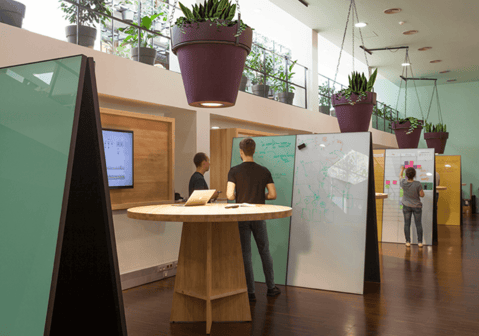 Their spaces are designed to be flexible. So, rather than worrying about rotating panels, might as well just pick up and move the six-foot whiteboard sign to recreate meeting spaces.
Are you hesitant about getting office dividers? There is a better way…
It's safe to assume that majority of businesses, searching for office space dividers at the moment are the ones trying to safely manage their return to the office. What if we told you, that you can create a safe environment in the next 10minutes at a fraction of the cost?
With Joan Desk Booking solution, you can easily upload the existing office floor plan, add desks, and invite employees to download the mobile app. There's no need to install physical dividers and change the look of your office.
Simply limit your office capacity by marking which desks are bookable and allowing employees to them before arriving to the office. This also allows for contact tracing in case of a covid case, and collect information on office presence.
Even though office dividers might look awesome in pictures, it takes time and effort to install them in an office. If you're only considering them as a mean of keeping your office safe, consider an alternative in a form of an app.
Manage your limited office capacity with Joan Desk Booking solution and sign up for a free trial.