In our previous blog posts, we introduced Joan's two new products – Health Screening and Visitor Check-in.
Both of these solutions were created for faster return to the workplace while ensuring the highest standard of safety when working from the office. However, we do realize that navigating different solutions and combining them for satisfying regulations and safety can be challenging. Thus we are launching a new bundle that includes everything from the above-mentioned solutions to a desk booking app.
Introducing "The all-in-one kit for your safe return to the workplace"
As previously mentioned, the all-in-one kit includes:
Health Screening,
Visitor Check-in
Joan Desk Booking app
Health Screening
Track the health of your employees with a partially automated questionnaire before they arrive at the office. With these tests, you can lower the risks of infection at the workplace. Check their current well-being, and assess any risk factors automatically.
How does it work?
You employees will receive an email with the questionnaire one day before working from the office with a phone notification. They'll get notified about their results before they leave for the office. In case their questionnaire signals increased risk of infection, they'll get prompted to stay at home.
As a part of the Safe return to work kit, our Health Screening solution is completely free.
Visitor Check-in
Your workday hardly goes by without any meetings. And as soon as we hit the offices, calls will shift back to face-to-face discussions. Oftentimes, these discussions are joined by external people who don't go through employee health screening. That's where Visitor Check-in comes in.
How does it work?
Any visitor can simply scan a QR code, fill in the questionnaire set up by you, and get their access confirmed or denied. Visitor Check-in expands the options of contact tracing of our desk booking app to also include visitors. With both solutions, you'll have a complete overview of who visits your premises and when.
As a part of the Safe return to work kit, the Visitor Check-in solution is completely free.
Joan Desk Booking app
With Joan Desk Booking app you can limit and track the number of people inside the office building while empowering employees to book their desk and alternate between work-from-home and office. The solution is simple to use and easy to onboard. Unlike similar alternatives, Joan Desk Booking app can get deployed immediately. We even offer a demo account for an easier understanding of our product.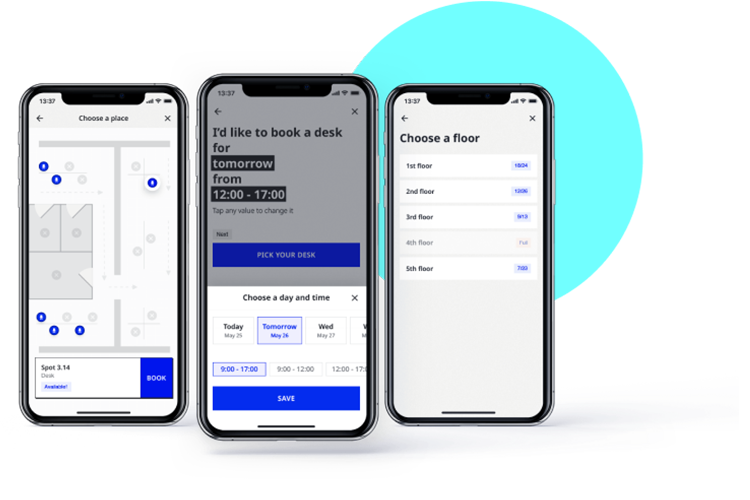 We are offering a freemium model for everyone who signs up for the Safe return to work kit. Get the app at no cost for the first five users.
How does the bundle work?
This bundle is open for registrations until the start of February and will be released by the end of it. By registering today, you'll receive Health Screening, Visitor Check-In, and Joan Desk Booking solution at no cost (the latter holds true for up to 5 users).
Here's how to sign up for it:
Click the "Lock freemium" button on the header
Fill in the form
That's it. Someone from our team will reach out to you. You can activate the offer any time until 1 June.