When the coronavirus first broke out, not many scientists or statisticians could have predicted how productive remote working can be. Yet some companies, including Canada's tech giant OpenText, have experienced their most productive quarter in history.
Even so, remote employees are on the tip of a knife: a drop in productivity could convince companies to favor in-office protocols once again. It's up to us to maintain productivity and momentum as more and more companies consider long-term remote policies and flexible work scenarios.
This article covers the future of work-from-home policies and some tips for making the most out of remote opportunities.
Will companies continue to work from home in 2021?
Pre-pandemic, the leisure to work remotely was a gift; a bonus; a treat… However, moving forward into 2021, remote work has become the norm.
In fact, one in four employees wants to leave their jobs after the pandemic in search of greener grass. Many of these employees are jumping ship in search of flexible work hours, hybrid work scenarios, and flexibility. Half of the remaining 70% of employees not looking to job hop is still considering leaving companies that don't introduce more workspace flexibility in 2021.
According to an analysis by Goldman Sachs Group Inc., the COVID-19 pandemic has driven productivity and sped up digitalization in the workplace. Goldman economists have called this "one of the silver linings of the pandemic."
According to Enterprise Technology Research, the number of employees working from home is expected to double in 2021. Most companies have been pleasantly impressed by the productivity they've seen from remote employees. Not to mention, remote jobs save companies on real estate and utility bills and may even sweeten the pot for new hires.
So, will companies continue their "work from home" policies into 2021? Yes. If companies want to retain their employees, they'll need to implement some work-from-home policies. A recent survey by Gartner suggests that nearly three-quarters of office-based employees will work remotely after the pandemic.
Working from home has proven to be productive. Yet, can we keep up that productivity? Below are some tips for keeping you on track.
How can I be productive when working from home?
Working from home should be simple: you live there, you know the space… There are no surprises, right? When the pandemic started, most of us overestimated how prepared we were to work from home.
Every room in our home had a purpose. Even for families who had a designated office, it likely served a dual purpose as a games room, pet space, guest room. We underestimated how difficult working amidst home-life distractions can be; we miscalculated what supplies, technology, and resources it takes to feel settled and ready to work; the list of what we weren't prepared for goes on.
It's been a year and a half since many companies initiated remote work protocols. If you haven't already perfected your work-from-home setup, the tips below will help you iron out the kinks in your plan.
Set up a home office
Just as athletes condition their bodies, you can condition your mind. Train your brain to work best in your workspace. Whether that's in front of a window, outdoors, in the dark, or in a bright office, you need to make a specific space your work zone: your retreat.
Despite all of the articles online telling you exactly how to set up your office, set up your workspace your way.
Consider this: Northwestern Now states that natural light increases productivity. However, Pacific Standard says studies show dim lighting sparks creativity. So, which is it? Use whichever solution works for you.
However, here are some relatively undisputed pointers:
Consider ergonomics
There are some positions our bodies are just not meant to be in for eight hours a day. Whether you work better slouching or not, your body won't thrive if you loaf around all day.
Invest in an ergonomic chair, a hybrid standing/sitting desk, a foam floor mat… whatever will help you thrive while working.
Invest in technology
For remote workers, your career is only as strong as your technology. Don't skimp on it.
If your microphone cuts out, you won't be heard. If your lighting is poor, you won't be seen. If your Wi-Fi is unreliable, you will be seen as unreliable too.
Keep well stocked
Despite how technology-oriented society is, some of us still feel more prepared using physical tools such as paper, pens, scissors, Post-its, staplers… Stay stocked up on your favorite resources; going without them is a stress you don't need to add to your workday.
Keep organized
When we work from home, there's less pressure to stay organized. However, Medium Magazine states that the benefits of a clean, organized workspace include time-saving, improved concentration: overall heightened productivity.
However, if you work best in a messy office… go right ahead, but maybe don't advertise the mess during your Zoom calls.
Be creative
Your office is in your home. You can do anything. So, why don't you? Get creative with your office space. If a living wall can cheer you up, plant one. If fairy lights will make you smile, hop to it. Transform your space into something that makes you happy. Best yet, live in your pajama bottoms the whole day.
All in all, choose what works best for you and your performance.
Organize your work environment
If you're of the majority who works best in an organized environment, here are some tips to achieve organization in your workspace.
Dust and wipe
Don't underestimate the power of dusting and wiping your workspace. Not only does a clean workspace help the space feel fresh, but also tricks you into organizing, shuffling, and sorting whatever's on your desk. This leads us to the next point…
Purge
Yes, some personal belongings can bring joy to your workspace. Yet, too many can weigh on your mind, whether you know it or not. Keep your personal belongings to the bare essentials.
Organize
Whether you like a messy work environment or not, you still need to be able to locate things when you need them. Organize your possessions and make sure everything has a designated home when it's not being used.
Simplify
Consider someone wearing way too much cologne in the office: the scent becomes an irritating distraction you simply can't overlook. Just like our sense of smell, our visual senses can get overwhelmed too. Avoid overloading your senses by keeping your office space simple.
Have a plan for each day
During our morning commute to the office, we often spend time reflecting on our workday. However, when we work from home, a trip downstairs to our office doesn't have the same value. Don't face your computer without a plan. Instead, start each day with an organized to-do list.
If you begin each day with a plan, you may experience…
Less stress on you
If you start with a plan, you won't have that "dumped in cold water" feeling each morning when you realize your day's to-do list.
Less stress on others
Another great way to get recognition while working remotely is by being everyone's go-to person. If you have a plan, you can give your teammates a boost by taking the lead or contributing ideas.
Enhanced focus
If you start with a plan, you can plow ahead with your projects. In fact, the right time tracking software can help you get through your day with confidence, rather than doubts or second thoughts.
Improved work-life balance
Starting your day with a plan helps keep you from worrying about your to-do list in your personal time. Keep your work clean cut from your personal relationships, hobbies, and downtime by setting and sticking to a daily work plan.
Limit distractions
Most companies who hesitate to allow remote working are concerned about home distractions. The range of these distractions includes everything from kids and crafts to video games and social media.
The first step toward avoiding distractions is identifying them. Here are some common interruptions you might face:
Family matters
Family matters are unavoidable. However, having a strong work-life balance will help you handle them in your personal time, not your work hours. Set up boundaries for your family members, roommates, or anyone entering your home during workdays.
Pets
It's hard not to dote on your furry little creatures, especially when they don't understand how you could possibly find your computer monitor more interesting than them. Keep in mind that, if you weren't working remotely, they'd be enduring nine or more hours per day without you. Steel your resolve and stay on track.
Personal to-dos
A productive mindset means you're driven to accomplish tasks. However, once we get the drive, it's hard to differentiate between work to-dos and personal ones. This is where the "have a plan for each day" point comes in handy. Make sure to sort out your personal versus work-related chores at the start of each day.
Media
Breaking habits is hard and often can't be done cold-turkey. Instead of banning yourself from your favorite media outlets during work hours — Facebook, Instagram, YouTube, TikTok, Twitter, Netflix — schedule media time into your day. Checking up on your favorite channels can be just the mental break you need to get back on track.
All in all, identify your weaknesses and address them outside of work hours.
Take advantage of the freedom
Even if there's one main environment you work best in, a change of scene can give you the mental boost you need to thrive at work. Take advantage of the freedom you have working from home. Take your mobile office outside on nice days, cozy up on the living room couch with a blanket and your laptop on others… mix it up.
Oddly enough, a change of scenery can alter your outlook on your work. If you change your work location, your brain feels as if there's something new. This sense of novelty can transfer to your work, helping re-spark your interest.
Take regular breaks
There's a difference between breaks and distractions: breaks imply you were earnestly working before leaving your desk for ten to fifteen minutes.
However, unlike distractions, breaks are essential for both your health and your productivity. If your company supports flexible work hours, use them to sustain your personal life. Enroll in those yoga classes you were always too exhausted to take; spend time cooking yourself a proper meal for lunch or binging snacks; go for a walk and get some fresh air when you need to recharge.
These breaks away from your desk don't have to affect your productivity. In fact, studies show that taking breaks at work improves productivity.
Keep in touch with your office while working from home
According to Forbes, "a positive attitude and strong relationships open the doors to advancement." Yet, when it comes to fostering work relationships, remote employees may find themselves handicapped. There's less of a chance for spontaneous meetings with the next tiers in your company: your boss's supervisors, your CEO, other teams…
Even so, there are still ways you can get noticed. Make sure to participate in every virtual event you can attend. Sign up for remote social interactions for networking opportunities and human interaction. Bring a positive attitude with you to each and every event so you stand out like a comet among stars.
Aside from being recognized, make sure you're remembered. Go the extra mile for your fellows; send them positive messages or follow-ups.
Use the best tools to save time and increase productivity
Again, if you can't be seen or heard, you probably won't be recognized for advancements within your company. If you work from home, technology is everything.
Here are some tools to help you put your best foot forward:
Reliable conferencing tools
Let's say you've aced all of your projects for the last quarter. However, your mic is garbled in meetings, your camera is dim and blurry, and your internet cuts out. When your company is considering a promotion or raise, chances are it'll go to your smiling coworker who talks the most and always has her camera on for video conferencing.
Don't let technology hold you back: invest in reliable conferencing tools from the get-go.
Complete planner software
According to Zapier, the best calendars of 2021 are Google Calendar, Microsoft Outlook Calendar, Calendar.com, Fantastical 2, Apple Calendar, and Woven.
Chances are, your company is already using one of these options company-wide. However, be sure to make the most out of them.
The features that make a great calendar app are…
Customization options
Shareability
Ease of use
Multi-platform capabilities
Most people don't know the full capabilities of their calendar software. Did you know Google Calendars can be shared to other platforms, including Trello and Asana?
When used correctly, Microsoft Outlook can be used to organize your schedule, emails, notes, tasks, and contacts. Most users only use half of the features and it's up to you to try out the others.
Ultimately, you don't necessarily need new planner software, but the knowledge of how to capitalize on your current solution. Experiment and do your research to get the most out of your planner tool.
Office schedule display
What's the best way to fend off at-home distractions? Avoid them entirely. How do you avoid them entirely? By making sure your household knows when you're busy.
To do this you can…
Print out your schedule and tape it to your door every day
Invest in a home office digital display that shows your calendar and availability
Joan offers a home version of their e-ink display configured especially for remote workers who need to limit distractions at home.
"My kids love Joan Home. In fact, when they use my 'home office' for a call of their own, they expect the same level of privacy as I do when working. It's a big stress reliever for everyone. They also know when I'm done with my workday, and I know they will not interrupt."
– Matt Mayfield, Telekta
Joan syncs with your work calendar. Therefore, unlike a printout of paper, it's up to date every hour of the day. When you're not stuck in meetings, Joan shows you are "free," helping your family members know when you need privacy and when you don't.
What makes Joan stand out from other digital displays is the e-ink technology. It's one thing for an office to manage wiring for LCD displays, it's another thing to tidy up cables in your home.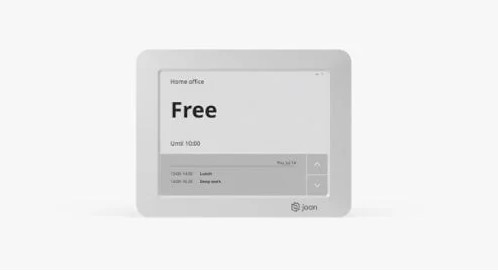 Joan displays are virtually cable-free. In fact, the Joan 6 Pro runs up to six months on a single charge, using 99% less energy than LCD screens. When the display runs out of power, simply unmount Joan from your wall, charge it overnight, and re-mount it in the morning.
Overall, it's time to set your home office up the right way once and for all. For most companies, work-from-home days are here to stay.
Visit Joan Home page or book a demo call with our workplace experts to learn more about optimizing your workspace.