This year, we sat down with a duo from EURACTIV: Jeremy Senecal from IT and Chris Powers who's in charge of the communications team. We discussed their current workplace structure, challenges, and how Joan 6 helped them improve on-site collaboration.
Meet EURACTIV
EURACTIV is an independent pan-European media network specialized in EU affairs. Or, in Chris' words, "our job is to connect EU news to people in the different European countries." Chris' team sits together in Brussels but they work in different languages, trying to get the latest news to Europeans.
The team at EURACTIV is following a hybrid work model. They favor this model partially because of recent COVID restrictions encouraging work-from-home, but also because they realized, despite all the modern SaaS tools, work-from-home still can't beat the productivity and collaboration that can be achieved on-site.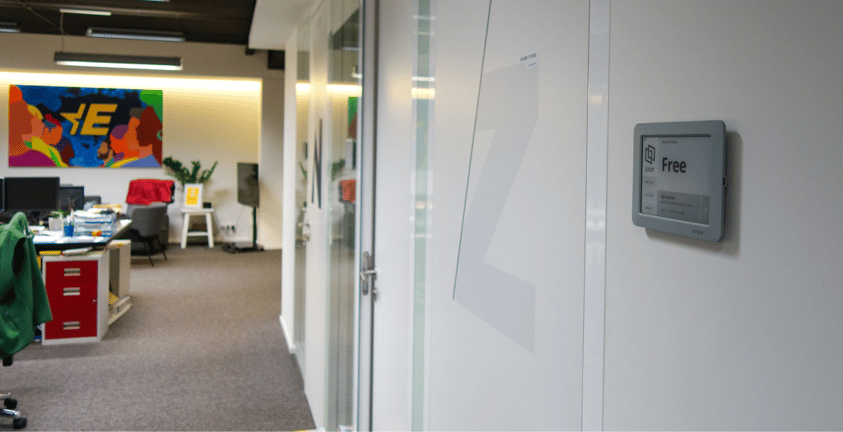 The problem: Crowded office space leads to collaboration challenges
2021 was a good year for EURACTIV with significant growth in their team. However, with the sudden growth, there was an immediate shortage of space in the office. This inevitably led to meeting room confusion, interruptions, and limited time spent working together when in the office.
EURACTIV knew straight away that having a meeting room booking system is a step towards a more organized workspace.
But how did they land on Joan 6?
The solution: A wireless room booking system with a minimalistic feel and long battery life
When asked "why Joan?", Jeremy admitted that it wasn't his first idea:
"My first thought actually was to do something kind of by myself with a tablet and something that would stick on the wall."
However, with limited resources, Jeremy assumed that building a similar tablet-based solution would be more expensive, wouldn't have the minimalistic design, and would definitely not be wireless.
So when the IT director brought up Joan, Chris and Jeremy decided to take a closer look… and they liked what they saw.
"I really like the minimalistic approach and the simplicity of the device (kind of like Remarkable tablets). Just white and grey and nothing else that would distract the office environment. I really love the battery life as well and the fact that it's completely wireless. That was one of the important points, I didn't want to recharge the tablets every two days. That would have been really inconvenient for me," explains Jeremy.
The first impression: Beautiful design with stellar functionality
"The first reaction that I got a lot was this device really beautiful."
The team at EURACTIV praised the design as noticeably professional, especially without any cables hanging around the display. This professional feel is what's really important for them since a lot of European leaders visit their headquarters in Brussels.
Chris continues to admit that at first, they weren't sure what Jeremy was so thrilled about when he ordered Joan: "It's only really once up on the wall that we got the point. And then we were impressed with how clean and high-end it looked. We could see straight away what Jeremy was excited about."
The onboarding of the entire organization was also really smooth. They basically did it in two short steps — Jeremy showed and explained Joan 6 functionalities at one of their weekly meetings and followed up with a welcome email (pre-prepared by our Joan team).
"I showed the device, I showed how to use them. It's three buttons. It's really easy to use. So that was the introduction."
Since Joan 6 integrates with their Google Calendar, there was no need to introduce any new solutions followed by extensive onboarding.
Still, the appearance and simplicity weren't the only things that won over EURACTIV…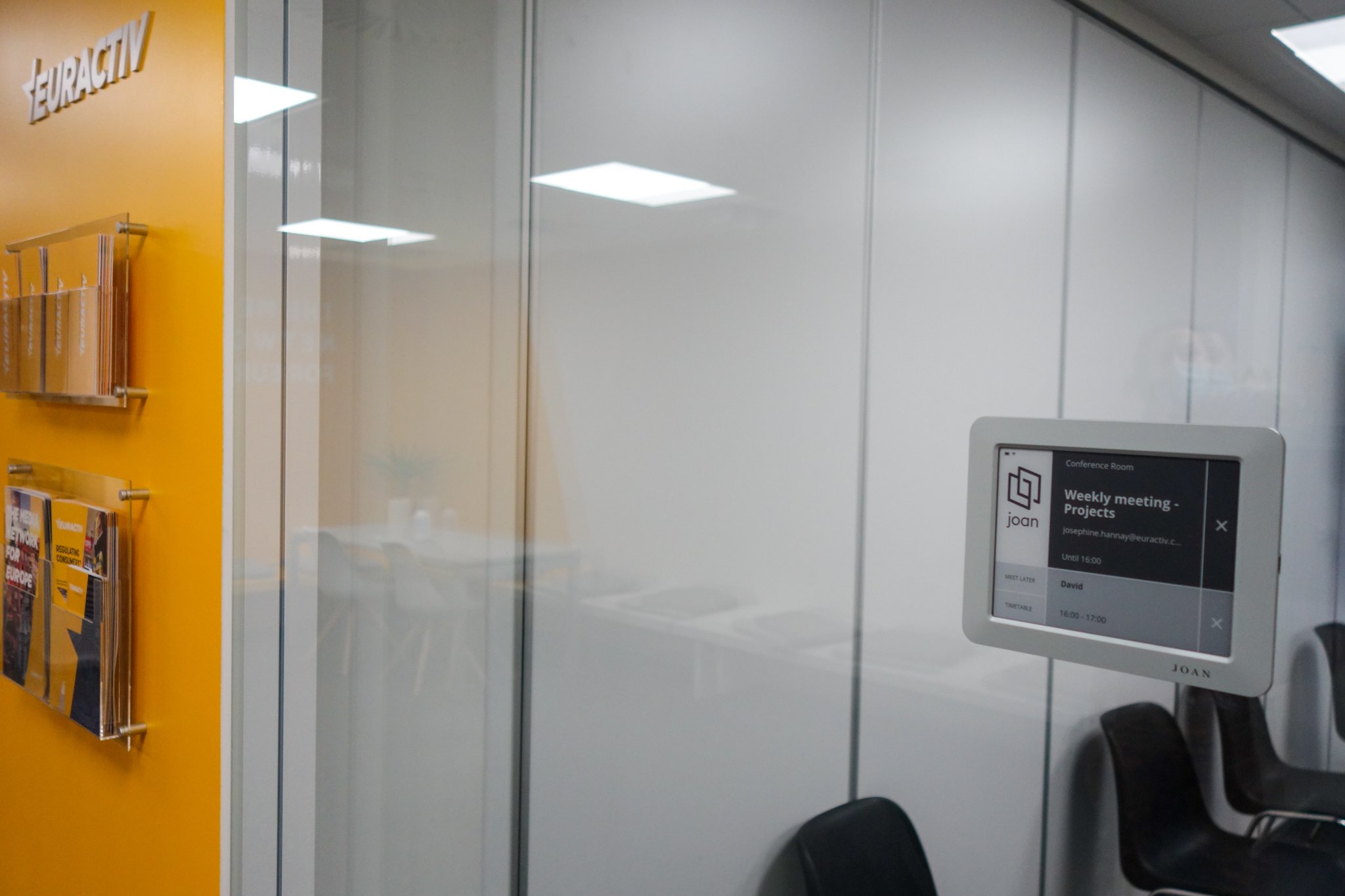 The result: Less workplace conflict, more focused work
Before Joan, the team used Google Calendar to book rooms. However, there was no clear signage in front of the meeting rooms and it was easy to forget to book a room in advance. What often happened is that someone saw a free meeting room, jumped in for a short team meeting or focused work, and then somebody else booked the room five minutes later.
So, now there were two teams fighting for the same meeting room, trying to figure out who has the right to continue working in the room.
In overcrowded workspaces, this scenario happens daily.
With Joan, communication on meeting room availability is clean, straightforward, with a user interface that takes a single tap to book a room. The experience resolves workspace conflicts and ensures that teams can focus on their meeting.
"Joan brings clarity to our office. Anyone can see from far away, okay, this room is booked because the screen is black instead of white. It also makes it much easier to find the booked room and it is reassuring that there's no overlap in the booking. This makes things just a bit smoother. Honestly, it's a peacekeeping tool making sure everyone can do their best work while in office."
The workplace reality: Going fully remote is not an option — people want to meet onsite
When asked about EURACTIV's future plans, Chris is clear: "We will for sure be spending more time in the office as soon as we can. We like meeting in real life; it helps us get things done better."
While hybrid is definitely something they're keen to consider in the future, going fully remote was never an option. The reality is, employees, want to return to their workspace where they can speed up collaboration, focus on teamwork, and have uninterrupted meetings with the help of Joan.