"Hybrid" has become quite the buzzword in 2022. Statistics around the world show that, moving forward, over 70 percent of companies are opting for a hybrid work model.
So, what does this mean for office management?
Many companies are turning away from assigned desks. In many cases, it doesn't make sense to reserve a desk for an employee who's only in the office two to three days per week.
Still, once companies decide to forgo arranged seating, they're stuck with other challenges:
How can employees reserve their workstations each day?
How can managers locate their employees within the office?
How can we foster collaboration with the new arrangement?
The ultimate question: how can you organize something unpredictable? Something that's organically rearranged every single day?
A hybrid work model can be enough to drive any office manager nutty. Still, there's hope that it'll get easier.
For starters, a desk booking solution is a must-have. With the right desk booking system, employees can reserve desks and workstations remotely before even arriving at the office. Rather than wasting morning minutes wandering the office in search of an available desk, employees know exactly where they'll be working before even arriving at work.
There's the first problem solved.
Problems two and three are a bit trickier. Luckily, the same solution works for both.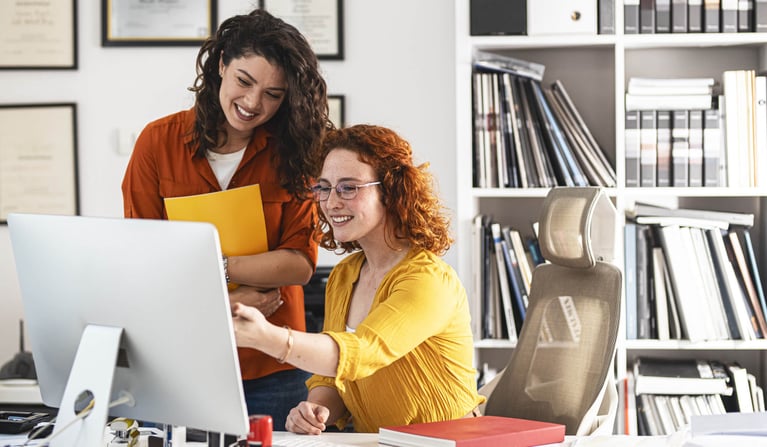 Departments. Particularly, configurable department settings within the desk booking tool.
With department settings, office managers can assign employees departments and assign departments to employees. One employee can belong to multiple departments, making the configurations truly customizable.
Any unassigned desk can be reserved by anyone. However, with department settings, desks can be segmented off and assigned to specific departments. These desks are only reservable for individuals within the departments.
Everyone outside of the department will have to either work within their own department's cluster of desks or at an unassigned desk.
So. How can a manager locate their employees throughout the day? Easy. More often than not, most of the team will be working in their designated group of desks.
With hybrid workspaces, many managers are concerned about the lack of interaction between team members. While teams work virtually two or more days per week, they're interacting less than when they were in the office full time.
It's essential to make the most out of the time teams do spend in the office. Having teammates scattered around the floor leaves little room for collaboration.
Department settings give teams the opportunity and nudge they need to interact while on site. With everyone working in close quarters, they'll be present and available for the moments that matter.
"'Moments that matter' are the moments that impact an employee's organizational experience most significantly throughout their day, year, and career." - Gartner
Joan's desk booking solution offers all of these features and more.
No office is the same and no office stays the same. Therefore, the best office solution can adapt to the changes that come about as office managers improve the workspace one change at a time.
Other customizations available in the Joan app include:
Limiting how many days in advance can a user book a desk. In some offices, one employee reserving the same desk for days or weeks can be a crimp in the system. On the other hand, it might be convenient for employees to be able to reserve the same desk within their department's cluster. The Joan app lets office managers what works best for your company and choose how far in advance can employees book their desks - 30, 60, or even 90 days.
Enable/disable a desk. There are a few reasons why this setting might come in handy. For example, the office manager can configure all desks to be "available" on holidays and days off for those keen employees who like to work when the office is quiet. Every office has the opportunity to customize this setting to their liking.
Managing a specific floor. Manage one floor at a time or have one floor hybrid and the other assigned… the workspace is the office manager's oyster.
Allotting time specifications. Configure company-wide time slots during which desks can be booked.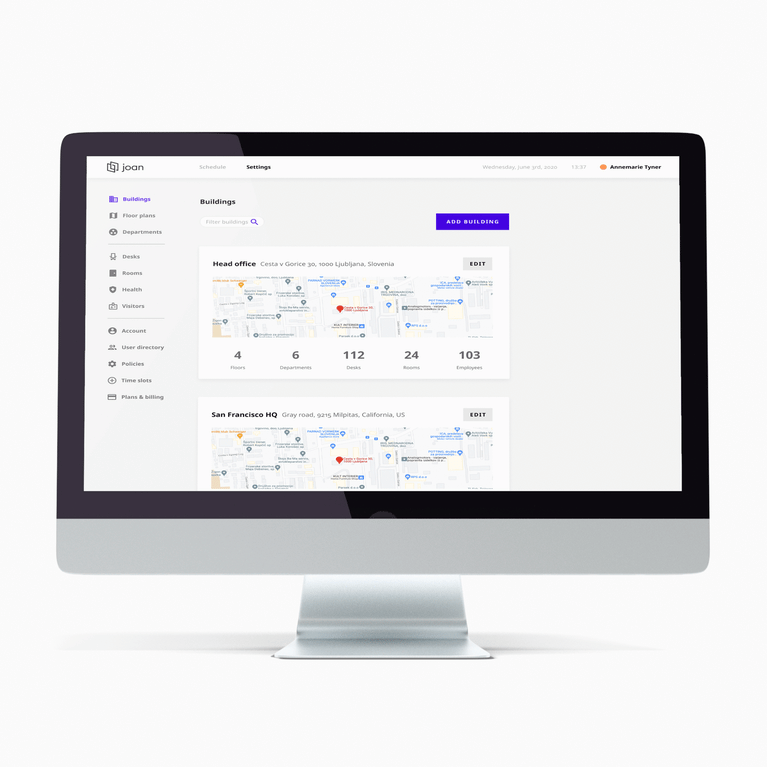 Limiting occupancy
With the app's latest update, you can also limit departments, floors or building's occupancy level. For example, as companies return to the office, many are implementing a "one empty desk between employees" rule. This rule helps enforce a minimum of six feet distance between individuals.
To impose this rule, a company can set their occupancy level to 50 percent, making sure their employees can adhere to the "one empty desk" rule.
With this tool, companies can guarantee enough room for employees to physically distance themselves within the office.
What's more, restricting occupancy levels also helps distribute employees among floors. Therefore, no one floor should see more traffic than another nor be noisier than another, helping employees feel comfortable and focused in the office.
The configurations don't stop there: office managers can also add additional buildings. These buildings can be configured with their locations and time zones. The system's analytics help managers keep track of occupancy, showing how many floors, desks, and employees were available on any given day.
The best part: Joan evolves with you. Our desk booking system is constantly expanding as we improve the features to suit your current and future needs.
Our customers are our greatest source of insights into what could make your office experience all the better. With Joan, as your office develops and changes, so will your desk booking system.
Don't have a desk management solution in place yet? Try Joan Desk today!