Meet the industry requirements and see how Joan surpasses them.
The fact that the average company has 250 unattended meetings each year, calls for some office management action. Unattended meetings are taking up free resources that should be used differently. They hinder the productivity of the company as a whole. Without them, meetings won't get postponed to a later time for nothing.
According to Harvard Business Review, executives can sometimes be caught in meetings for up to 23 hours per week on average. Less time is left for them to finish more important tasks, and ever since 2000, the number of meetings is increasing by 10% yearly. Thus, reaching for a system that at least enables simple and efficient meeting room management is a must.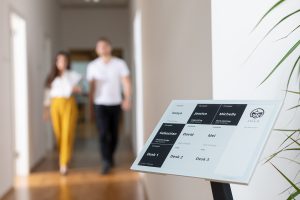 Industry requirements
The challenges we face today should be approached through a prism of the industry criteria.
Synchronization with your existing infrastructure
The adoption of new solutions is not easy. Thus, it has become increasingly important to introduce new solutions that smoothly integrate with the existing infrastructure. When this is not so and the onboarding process is complex and time-consuming, a major part of the business might not be able to use such a solution. Even SMBs can face extra costs for training, on-boarding, and IT implementation.
Instant information
An ever faster lifestyle keeps pushing us towards instant culture. Communication has never been easier and information can almost always be found on the spot. Why would we settle for anything less when it comes to managing our workplace? Wayfinding around the office shouldn't be a struggle, and information on meeting room availability should be found right at the door.
Seamless design
Every office has its own vibe. From minimalistic designs to pop art-ish chairs and lavishing plants. The key to all solutions is to complement the existing company culture. There are two ways to complement it. One is through smooth onboarding and simple use, the other is based on the appearance of the solution. The design needs to be minimalistic, smart, and simple. Without extra buttons and unnecessary functions.
Simplicity
Just like design, the user experience needs to be based on simplicity. Booking systems are used by everyone within your company, from the C-level to your IT and marketing departments. In order to work perfectly, a solution needs to be intuitive and simple to onboard.
Security
It is necessary to adhere to advanced security protocols and use thin client services in order to protect all company data from outside hacks and leads.
Sustainability
The core of every conscious work environment is in the sustainability of its processes, tools, and solutions. Economy, as a whole, is becoming increasingly aware of the impact we, as human beings, are creating. Individuals need to start with small steps in their personal lives. However, with the majority of days spent in the office, it is important to also strive towards sustainable practices in the workplace.
Does Joan fit the industry requirements?
| | |
| --- | --- |
| Industry requirement | Joan |
| Synchronization with your existing infrastructure | Joan seamlessly integrates with your existing calendar. Other integrations also include Cisco Webex Teams, Amazon Alexa, Slack. |
| Instant information | Joan showcases information where you need it the most. At the meeting room doors, huddle spaces, office pods, lobbies, etc. Its information is updated in real time. |
| Seamless design | E Ink® technology, an anti-glare system, sustainability, and minimalistic design makes Joan a device that matches any office. Its casings come in two elegant colors – slate gray, graphite black. |
| Simplicity | Joan is simple and intuitive to use. With its easy on-boarding, it is suitable for any type of company. Book a meeting room with a simple touch of a button, from your phone, or directly from calendars. |
| Sustainability | Joan devices are 99% more power efficient than their LCD alternatives. Making them the most energy efficient solution out there. |
| Security | Advanced security protocols ensure the safety of any sensitive data. Moreover, its thin client system guarantees no data leaks to the outside world. |
What are the next steps
Order Joan 6 or Joan 13 here. We offer a 30-day money back guarantee, so no risks involved. Each first purchased device receives free Premium plan access for the first month. No need to think about the subscription plans today. Test everything out and pick one later.
Not sure which device to pick? Compare them. Get Joan on your own device – talk to our sales team, they'll be happy to help.