From our lineup of Joan Innovation Award 2023 winners, our team had the pleasure of interviewing two top members of VAV Medientechnik Gmbh: Thomas Sautter, Senior Sales Manager, and Julian Kalkschmidt, Head of Technicians.
For VAV, Joan solves a key problem many of their clients face: the need for a wireless meeting room display. Luckily for VAV, their clients, and the corporate world, Joan has got their back. Still, innovation isn't just about using cutting-edge tech, it's also about thinking outside of the box.
Joan selected their 2023 innovation award winners by singling out companies that exceeded expectations and fostered creativity with Joan solutions and devices in their repertoire. Although Joan is natively a meeting room scheduler, some companies got creative, with the help of the VAV team.
About VAV Medientechnik
VAV Medientechnik is an information technology and services company based in Germany. The business specializes in helping clients find the perfect solutions to make top-of-the-line workplace experiences. One of their offices even houses a showroom for clients to see the new-age technology in action.
"We install [...] all the technologies you need to have a good experience in a big conference room." — Thomas Sautter
Sautter has worked with the company for over 20 years. He knows the ins and outs of the business.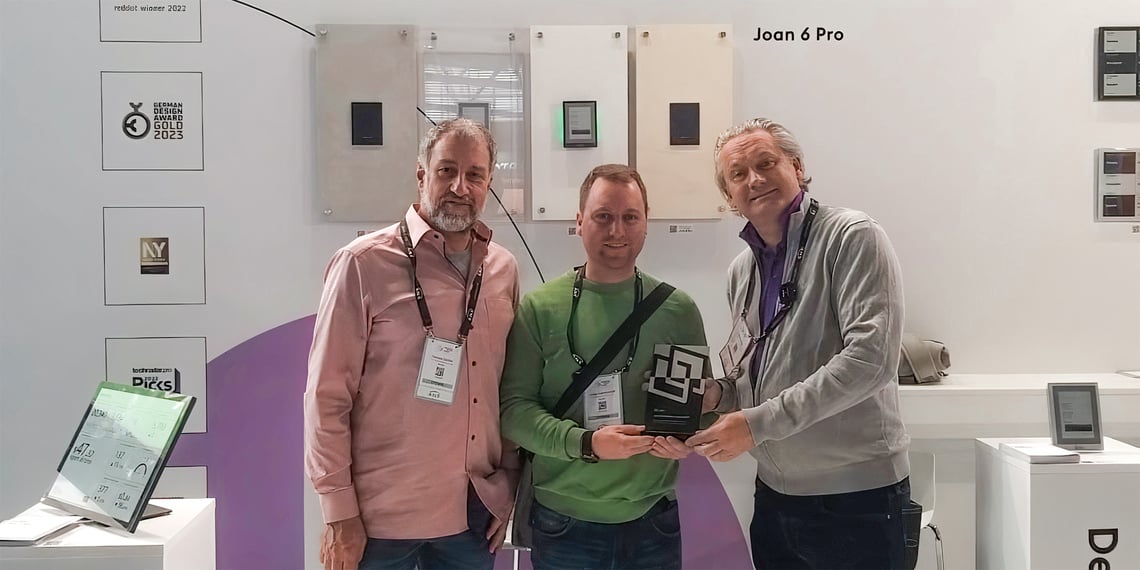 The modern conference room
The company's expertise ranges from small huddle rooms to large conference rooms. But, ultimately, VAV evaluates the building as a whole.
There aren't many "one size fits all" solutions when it comes to meeting spaces. The VAV team assesses each space carefully, asking questions like
What's the room's purpose?
Who will be using it?
How many people will be using it at the same time?
While many companies supported hybrid work conditions before the pandemic, COVID-19 showed them they were ill-equipped to handle hybrid work conditions on a big scale. Even with many employees back in the office, conferencing tools and solutions need to be simple and seamless.
These days, companies want conference rooms that support hybrid meetings. While this task is simple enough to solve, VAV prefers to dig deeper and not just solve the problem but enhance the whole employee experience.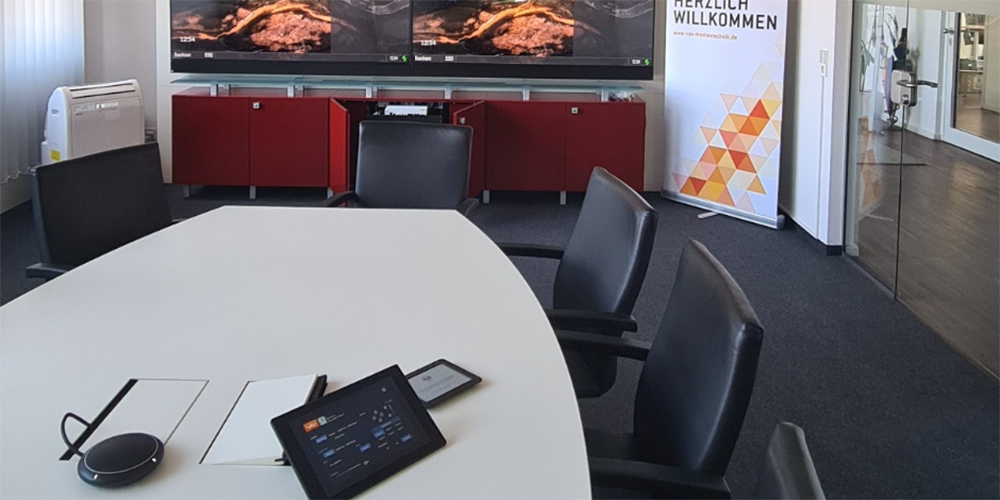 Joan hits the mark
Sautter is directly involved with VAV customers. He converses with them one-on-one to learn their pain points and help them discover the right technology to solve them.
Time and time again, two key questions arise:
What about meeting room booking?
What about displays outside?
Then these customers backtrack as they admit they don't have the cabling or electricity to support meeting room displays — "Do you have a solution?"
Wireless
Sautter has a solution. He recommends Joan: a low-power meeting room e-ink wireless display that's compatible with any surface and location. Joan displays run six months to a year on a single charge, making installation a breeze: no drilling or wiring required. The magnetic mount makes it easy to remove and charge the display, and then re-mount it before meetings begin the next morning.
Easy to use
For a product to make it into VAV's portfolio, it must be easy to use and reliable. These solutions don't only make clients' lives easier, but also helps the VAV team onboard new technologies. Luckily, Joan provides an incredibly simple UI and our devices boast the lowest failure rates in the industry.
The Joan 6 and Joan 6 Pro touchscreen displays, alongside the Joan app, make booking office assets unbelievably easy. Employees can check if a room is available immediately and book a meeting with a tap.
Analytics
Another great, unexpected feature is Joan analytics. This data provides rooms statistics including
How many people are in a room at a time?
Which rooms are most popular?
Which rooms are underused?
Who books which rooms the most?
The number of ghost meetings per room?
And more. Many VAV clients use these statistics to analyze room performance. This way, office managers can make changes to the office to improve the company's use of their real estate.
VAV clients get creative
While most VAV clients use Joan as a meeting room scheduler, there are others who have gotten more creative.
One company uses Joan 6 Pro displays to show when certain colleagues are on vacation or out-of-office. For example, if Peter is working in an office for two weeks and the next two weeks Carl works in the same room, the Joan display shows who is working on-site those days.
In this case, Joan Room solutions are being used similarly to Joan Desk. The main difference is, there's a Joan e-paper display to help other employees know who is working in a shared office room and on which days.
What the Joan Innovation Award means to VAV
To say the least, VAV was surprised when they found out about their Joan Innovation Award. The prize was wholly unexpected and quite the compliment.
Joan tech helped the VAV team go above and beyond for their clients by overcoming meeting room pain points that other office solutions couldn't solve. We can't wait to see what they think up in 2023! Joan use cases are growing, covering everything from asset booking to visitor management while offering more flexibility to any office space.
Find out how Joan can revitalize your office by contacting our Sales team.