We've unleashed our latest solution to all Joan customers: the new asset reservation system! This new feature meets hybrid and flexible workplaces head-on, matching them stride for stride. No matter how you set up your agile work environment, Joan is here to help.
Joan is an industry leader in meeting room management. Our teams are endlessly refining and fine-tuning the office experience, searching for new ways to go above and beyond our customers' expectations. While our solution began as a meeting room booking system, we soon saw the potential for Joan to be so much more.
With hybrid work on the rise, the Joan team forecasted how prominent desk sharing would become. In 2020, we released our desk booking solution before most of our customers even returned to the office. The Joan desk booking app enhances the employee experience, simplifies office space management, and bolsters productivity.
Next, to make Joan a truly all-in-one office management solution, our team implemented a Joan visitor management system. Automating the visitor check-in and check-out procedures helps in two key ways: collects dependable visitor information and frees up the front-end employees from tedious paperwork, allowing them to focus on creating a great visitor experience.
This year, our team realized another impending office issue: managing shared assets. More than ever before, companies are offering shared resources including spare monitors, standing desks, video cameras, parking stalls, and more. If a desk reservation system could significantly improve the workplace experience and efficiency, an asset reservation system would undoubtedly be even better.
After a dollop of beta testing and a sprinkling of app refinements, our solution is ready for you. Our booking system can accommodate even the most unconventional assets. We can't wait to hear about which ones you've added to your Joan app!
Check out our video to get an idea of what this new asset reservation system can do.
Three ways to use our Asset reservation system
For inspiration, here are some assets you can add to your booking solution:
Parking

. With companies switching to hybrid work, many are cutting back on their parking stalls or reconsidering who gets parking passes. CEOs, managers, and other higher-ups are working from home half of the week, just like everyone else. Rather than waste paid parking, many companies are opting for a parking reservation setup.

Technology

. Shared technology isn't a new problem, but it's one that we can fix. Everything from spare monitors to iPads can be added to the Joan booking app, making sure employees get a turn with the resources they need to get their jobs done.

Assets

. There's no limit to the resources a company can add to the Joan app. Employees can reserve company cars, teams can book safety equipment, and coworkers can reserve the foosball table for teambuilding breaks.
With Joan, all of these assets and more can be bookable on the fly, from anywhere, directly on a mobile device. Employees can rest easy knowing they'll have the resources they need when they need them.
For more insights, check out our article, A day in the life: Hybrid workplaces with Joan.
Setting up
The Joan asset reservation system is intuitive to configure and offers customizations to support your unique spread of company resources. To get started…
Go to

Office portal:

If you are not yet a Joan customer, you will need to create an account first.
Add assets: Add assets and create rules that govern how each asset can be booked.
Invite the team: Once you've set up the assets in the portal, invite the rest of the team to start booking!
Reserve any asset in just a couple of taps
Joan is easy to install and even easier to set up. The app is intuitive and accessible from both a mobile device and your desktop computer. Employees can make a reservation in just a couple of taps:
On the Home page of the application, select

I want to book an - Asset
Choose the preferred day and time
Choose the

location
Choose the

asset type
Pick the wanted

asset
Confirm the reservation and start using your asset.
And you're done! It's super easy. Watch the video to check yourself.
Get started today, for free
Are you ready to see how the Joan asset reservation system can elevate your work environment? Sign up for a FREE 30-day trial and start adding your assets to find out! If you're already a Joan user (first of all, hi!), just jump into your Joan settings, find "Desk booking," and toggle the setting to ON.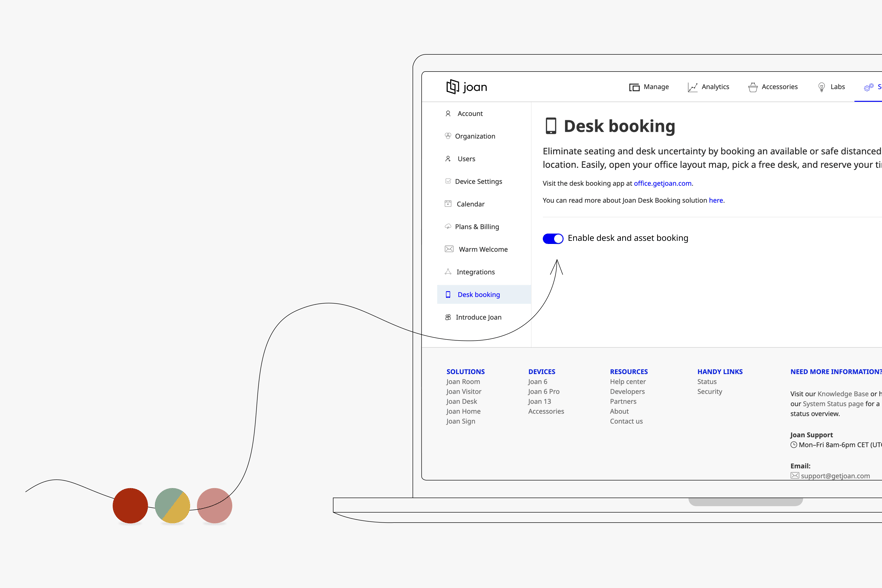 If you need any help, don't hesitate to contact our Support team. We'd love to kick start your asset booking experience.
Growing together
Without feedback from our customers, Joan wouldn't be the world-renowned, award-winning solution it is today. The bottom line is, we'd love to hear from you. Tell us what works and what doesn't, how you use our workplace management system, and what you'd like to use it for.
Every tidbit helps our team make your experience the best in the industry… and beyond.
Try Joan asset reservation system today.
OR leave your email if you want a guided onboarding by our sales team