2022 is over and, boy, what a year it was. The post-pandemic world landed us with a landfall of rising workplace trends:
Flexible work. After two years of working from home, many employees grew accustomed to flexible work habits. These habits include taking longer breaks, working from various locations, and flexible hours.
Hybrid work. The Great Resignation pressed many companies to accommodate hybrid work conditions. Most companies who tried enforcing full-time on-site work, five days a week, experienced a significant turnover rate.
The Great Resignation. Since many industries experienced a rise in productivity during work-from-home mandates, employees expected their flexible and remote work conditions to continue on some level and resigned if they didn't.
Silent quitting. A prominent trend in 2022, silent quitting employees reach the bare minimum requirements of their job to avoid burnout. This trend arguably stems from people experiencing a better work-life balance and employee well-being while working from home.
The underlying factor in these trends is flexibility. Employees want the flexibility to choose where they work. If the past two years have been any indication, most individuals choose work conditions that boost their productivity. So, why not support these new trends and where they're headed?
Focus on the employee experience
Most companies have taken a preemptive approach to back-to-the-office protocols. These days, it's rare for a corporation to mandate in-office work five days per week. If they do, they're certainly facing a high turnover rate.
Still, 2023 can be even better. The world has had two years to navigate remote work conditions. Companies have made it a top priority to connect employees for teambuilding and moments that matter. With these advancements, arguments against hybrid and remote work conditions are dwindling. Putting first the employee boosts employee wellness, satisfaction, and loyalty.
Target collaboration not presence
The future of work is in supporting internal collaboration. This support might mean manager training on how to keep remote workers engaged, travel expenses to get teams together, or new technologies to support employee interaction.
If you manage a hybrid work environment, be careful to not overlook the office. What once worked on-site might not work with the office at less than half its capacity. When teams gather in person, they need to make every moment count. It's important to support a smooth meetup experience.
For example, the Joan wireless room scheduler helps eliminate room squatters, overbooked meetings, and helps ad-hoc meetings find a meeting space. On the other side, Joan desk booking not only helps employees reserve workspaces in advance, but can also be configured to seat team members among each other.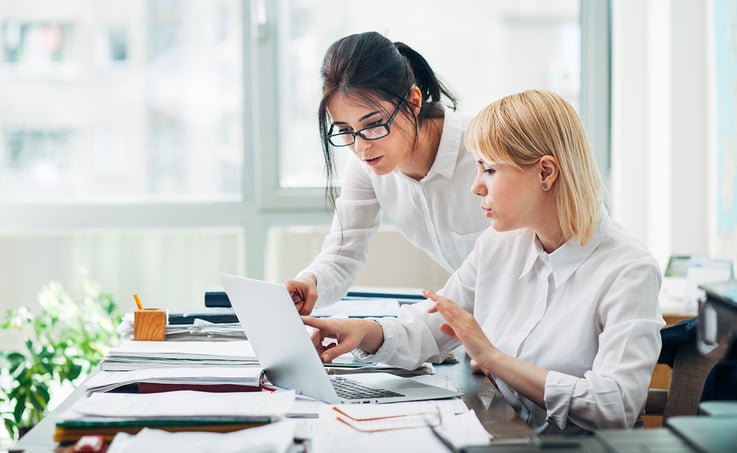 Retain talent via upskilling
According to Gartner, upskilling is the new method for companies to remain competitive and improve employee retention. Most employees would rather not be stuck doing the same job for years on end. Instead, they want to improve their skillsets and flexibility to expand their career opportunities.
Nearly three-quarters of all employees are looking for different jobs due to a lack of skills-building opportunities. This issue can really hurt a company, costing it high employee turnover expenditure and in-house top talent.
In recent years, companies are focusing a lot more on their internal workforce and nurturing high-performing employees to move into higher positions in the company. This boost requires internal opportunities, support, and upskilling programs to yield the best results.
Stand out with creative initiatives
According to McKinsey, after the great resignation comes the competition for talent. Employees are looking for specific perks: great work-life balance, improved mental health, hybrid or remote conditions, good pay, and other perks. The problem is, every company is offering the same package.
With 40% of employees considering quitting their jobs, companies need to get creative with how they entice talent to join their team. Here are some ideas to get your creative juices flowing:
A four-day workweek. This setup is already common in some countries without a loss in productivity. This structure supports employee wellness and a great work-life balance. A four-day work schedule might be the right sugar to sweeten the pot.
Metaverse solutions. Virtual reality is a rising industry. Companies invested in it are usually seen as nuanced and modern. What's more, VR has the power to support remote employees and improve company culture.
Travel bucks. Some companies invest in yearly teambuilding trips to get their remote teams together somewhere in the world. With, of course, all expenses paid.
The perks you offer say a lot about the type of company you run. The labor market can smell forced or double-handed perks from a mile away. So, pick an attractive park and stick to it. Also, make sure your current employees have the same benefits as the new ones. After all, they're the people you need to upskill to foster a loyal workforce that knows the company inside out.
Start a new workplace trend with Joan
While 2022 had a jumble of work trends, next year should be just as busy. With nearly half of the workforce looking for new jobs, employers are getting inventive with how they attract the top talent. There's no limit to the variety of new ideas and trends that will appear in the coming year.
What trend will you start?