The Joan team has been talking with our partners to discover what office tech is up-and-coming or in high demand for 2023. These companies are known for offering next-generation, leading-edge technology that helps office spaces be as productive as possible.
Let's have a look at the current conference room technology trends they mentioned and how you can upgrade your office experience in 2023.
Upgrade your conference room with the latest tech on the market
The theme of 2023: hybrid. Everything in the office needs to
Help employees be as effective as possible while working on-site
Connect remote employees to on-site teammates
Companies have never been so driven to transform the office experience. Because of this drive, companies have also never had to work so hard to keep up with their competition.
Upgrading your office space has the potential to boost productivity and give you a cutting edge in your industry. Here are some game-changers you'll want to look out for…
1. Digital whiteboards
A digital whiteboard is a cloud-based solution that upgrades the virtual collaboration experience in a familiar way. Our society has known the analog whiteboard, and then the interactive whiteboard like the Smartboard. Digital whiteboards are a natural evolution of a concept we've been using for generations. This progression makes digital whiteboards easy-to-adopt conferencing technology for any office.
Modern conference room solutions are designed with hybrid work in mind. Any meeting attendees with an idea can take control of the digital whiteboard to contribute content from anywhere, supporting their teams with the brainstorming process.
2. Meeting room displays
commehr employs high-quality meeting room displays to show each room's availability and agenda, plus allow employees to reserve meeting spaces on the spot. The room booking software updates with the in-house company calendar in real time over WiFi, keeping everyone up to date. Joan meeting room displays are one of their favorite, effective, user-friendly room solutions in the IT company's portfolio.
Most conference room booking solutions offer office analytics about who books which room the most, which rooms are most popular, which most frequently result in no-shows, and more. IKANDA took these analytics one step further by implementing "room capacity filters" so employees can make sure to reserve a room that'll fit the whole team. With this filter, users can tell which rooms are conference-sized and which are huddle rooms.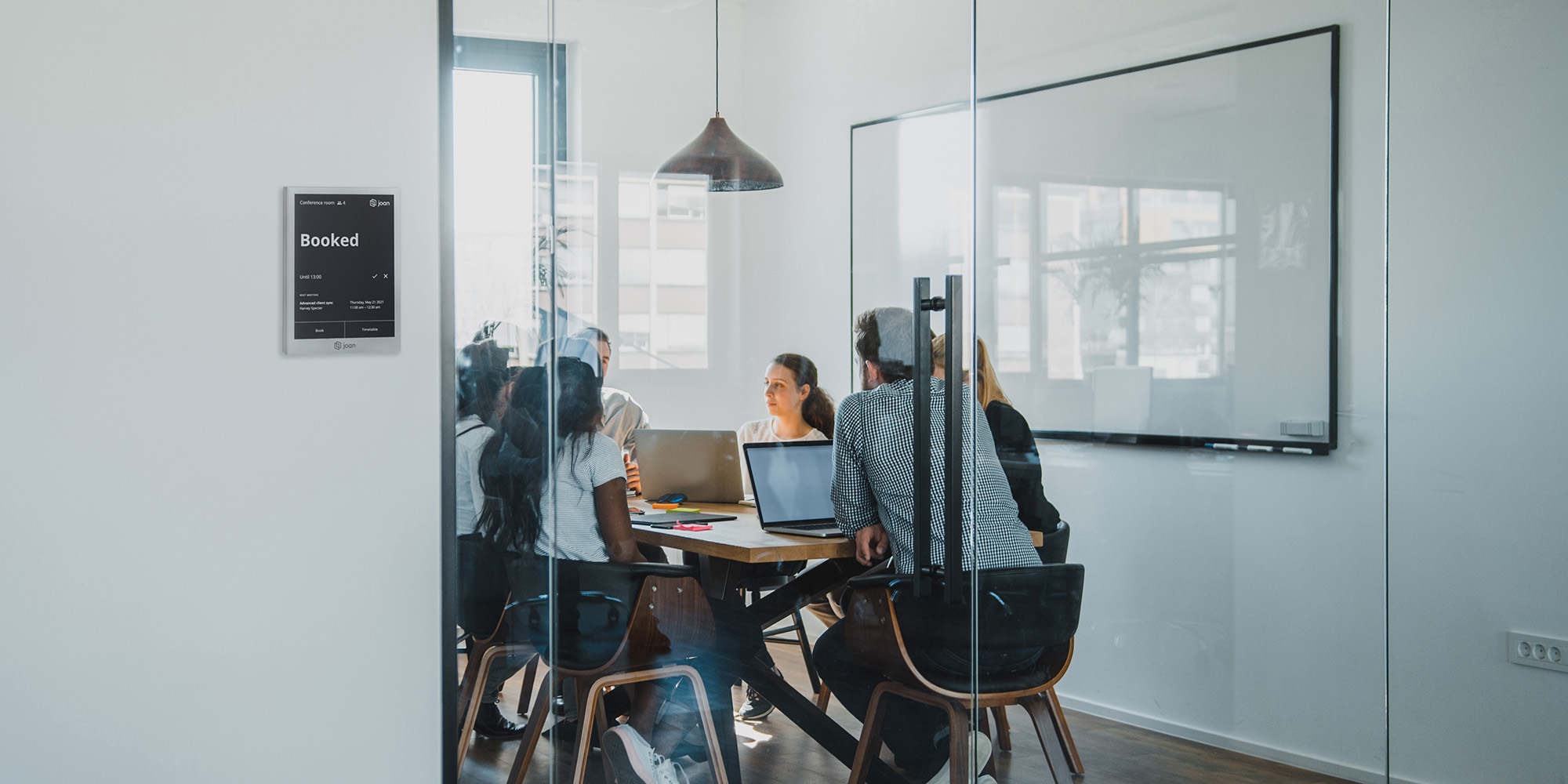 3. Voice-recognition technology
One of the most up-and-coming technologies is voice recognition, much like Alexa or Siri. With the right configurations, this technology can control nearly every aspect of the office including lighting, music, and blinds.
Our IT Services partner, Tech Superpowers, outfits their clients with the best technology that will help them get a leading edge over their competition. One prominent advantage of using voice recognition technology in the office is increased productivity. Because employees can dictate and issue commands hands-free, they can work more efficiently. Another benefit is increased accessibility: individuals with disabilities can more easily navigate and interact with the office.
Fun Fact: Tech Superpowers currently houses the only JBL Synthesis-certified, showroom-based theater in all of the Greater Boston area. Why not check it out yourself and see their portfolio in person?
4. AI-powered cameras
In 2022, 80% of people were working remotely in some capacity. In 2023, remote or hybrid meetings have become the norm for most companies and positions. In an effort to recreate the face-to-face experience for video conferencing, the VAV Medientechnik conferencing equipment portfolio includes AI-powered cameras that use AI to track and zoom with the speaker, making it easier for remote team members to participate in the meeting from their home offices. Features like face recognition can save time on room setup, automating time-consuming processes and improving the efficiency of the conference call.
A room booking solution is a great tool to keep track of which meeting rooms have AI-powered cameras and which don't. For example, the Joan room booking system can be configured to show users which technology and resources each room has, helping them book the right one.
5. Wireless connectivity
With the right video conferencing software, IT can configure wireless presentation systems. Users can connect their personal devices — such as smartphones and laptops — to the conference room equipment, including audio visual tech.
The leading conferencing platforms that support wireless presentations include Microsoft Teams and Zoom. With these solutions, users can enter a room and connect easily to the room's camera and microphone, then share their presentation without having to bother with cables. This configuration supports smoother and more productive meetings.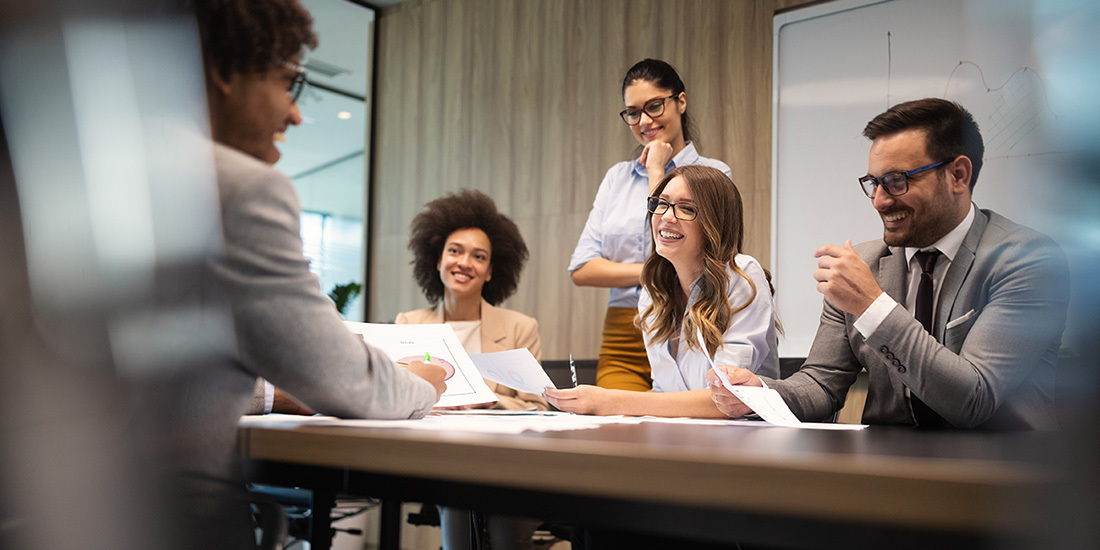 6. Smart lights
Another trick of the trade, Tech Superpowers loves smart lights, which allow "for dynamic lighting across tonnes of colors." With the right software, offices can "control everything from lighting to shades."
This level of lighting flexibility has the potential to cut back on energy consumption, enhance the comfort and productivity of office inhabitants, improve safety and security, and improve office convenience.
Upgrade your conference rooms with Joan and our partners
Updating your conference room design can be as simple as placing adhesive wireless booking displays outside of meeting rooms, or could require an IT services company — like Tech Superpowers, commehr, IKANDA, or VAV — to transform the entire experience with new-age tech like AI or wireless conferencing.
Why not start simple?
Joan meeting room displays, Joan 6 and Joan 6 Pro, are fantastic booking solutions that all but eliminate room squatters, overbooked meetings, and wasted real estate due to no-shows. The best part? Anyone can install and use these user-friend devices — no IT specialists required.
Contact sales to discover the best Joan solutions for your workspace.