If you haven't heard, this year Joan decided to shine a spotlight on three of our partners with our new Joan Innovation Awards. After experiencing a successful year at the Red Dot award, iF Design award, German Design award, and NY Product Design awards, our Joan Innovation Awards are our way of "paying it forward."
commehr GmbH was one of the three winning companies! Our committee selected the winners based on their ability to think outside of the box and to exceed their clients' expectations with Joan solutions in their portfolio.
After we told them the great news, we sat down with Sebastian Springer, Technical Senior Sales Consultant, and Theresa Kern, Marketing Manager, at commehr. This duo had a pretty good idea of why their company caught our eye.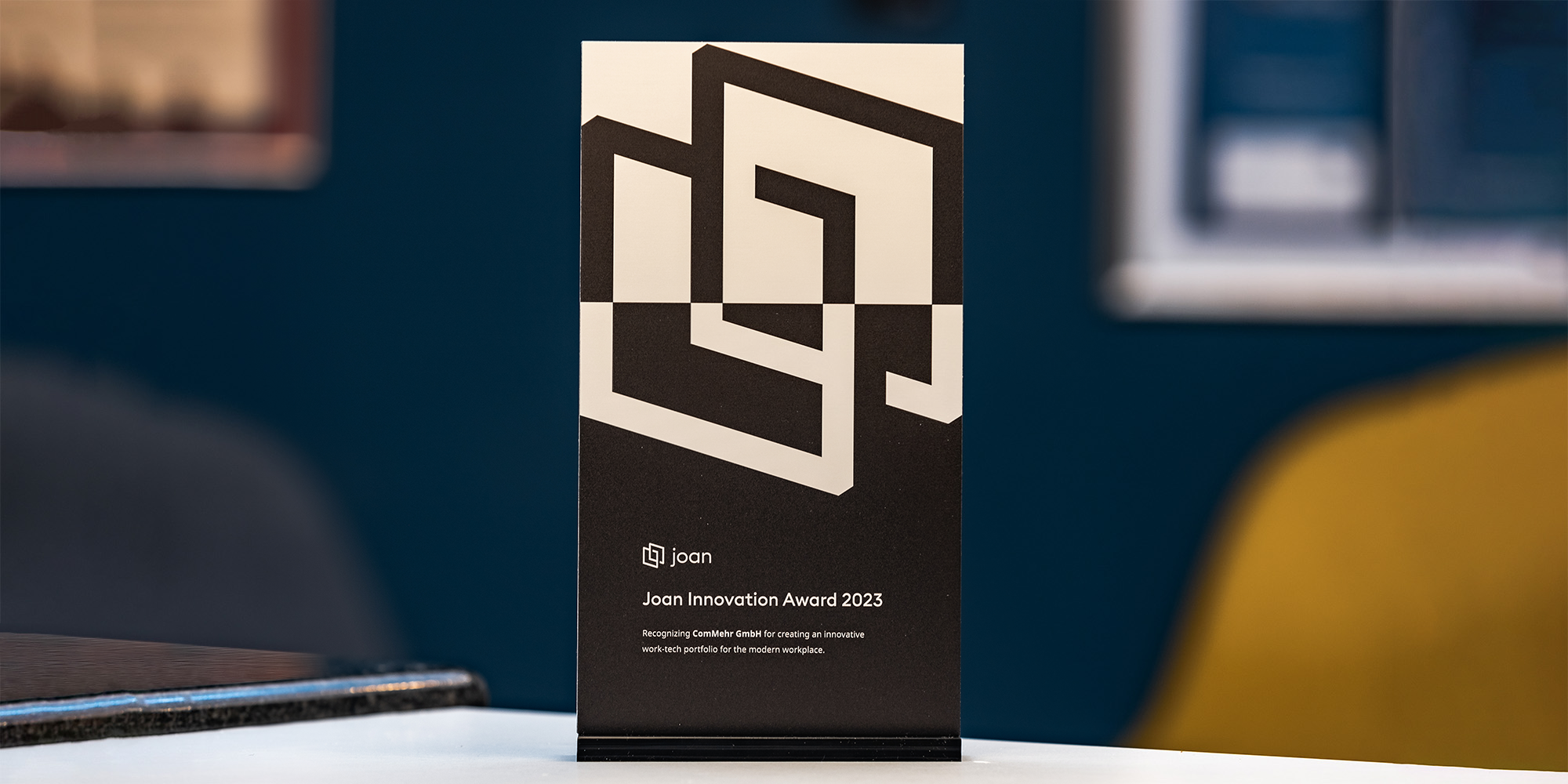 About commehr
Commehr, part of the netgo group, is an IT service provider based in Berlin that provides office solutions. Their clients are mainly based around the city and some even throughout the rest of Germany.
The company specializes in providing tailor-made IT solutions for startups and scaleups to help them scale quickly. These types of ventures often have common pain points or challenges that commehr knows about and is ready to solve. With commehr taking care of the IT side of operations, up-and-coming companies can focus on what they're really passionate about: their products or services and growing their business.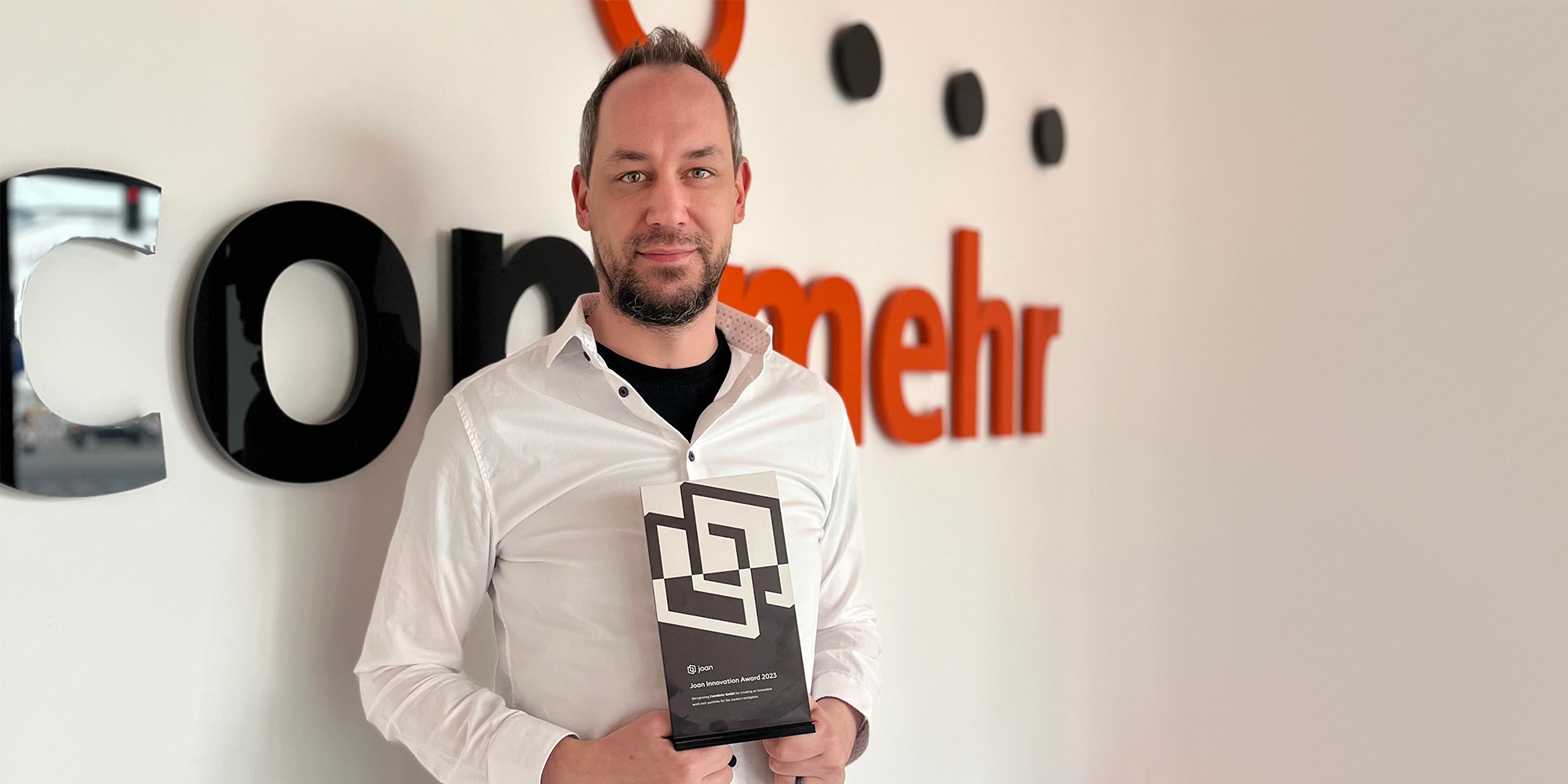 Achieve your best work in a streamlined workplace
Startups and scaling companies are fast-paced environments. The commehr team has to stay ahead of the game, making sure these businesses aren't restricted by their IT infrastructure.
However, while IT providers can solve a lot of problems, they have no influence over the real estate a company is working in. So, the task for the commehr team is often to make every square foot count and to enable companies to make efficient use of what they have.
When it comes to growing companies, Sebastian said "no one ever has enough meeting rooms. You need to organize them really, really well." Too often, employees jump into conference rooms that look available only to get kicked out minutes later by a team that actually reserved the space.
Ultimately, commehr has found that many of the office pain points for growing companies have to do with the meeting room experience. Room squatters and overrun meetings delay meetings that were actually booked, causing bottlenecks and unproductive time-wasting.
"So, these problems focused on the meeting rooms — these are the problems we solve with Joan." — Sebastian Springer, Technical Senior Sales Consultant.
The secret to success is to streamline the room booking process. Once employees have access to Joan, they can book a room, a desk, or a company asset from their account using the Joan app or their in-house calendar. Overall, onboarding employees to the Joan workplace management system takes the commehr team very little time and costs their clients very little.
The end game
In our call, Theresa highlighted the key requirement for any office space: Everything must work. While this point is incredibly basic and straightforward, too many offices run in pieces rather than a whole. For a solution to work, it needs to simplify the office experience. Joan office management solutions do just that:
"No matter if you use Google or Microsoft, Joan solutions integrate with both solutions seamlessly." — Theresa Kern, Marketing Manager
Joan fit the profile
Back in 2018, Sebastian landed the task of finding a room booking display for commehr meeting rooms that was both wireless and easy to use. After showing Joan to his teammates, the verdict was unanimous: "That's exactly what we need."
"No one else offered that flexibility and those solutions. So, the choice was really easy." — Sebastian Springer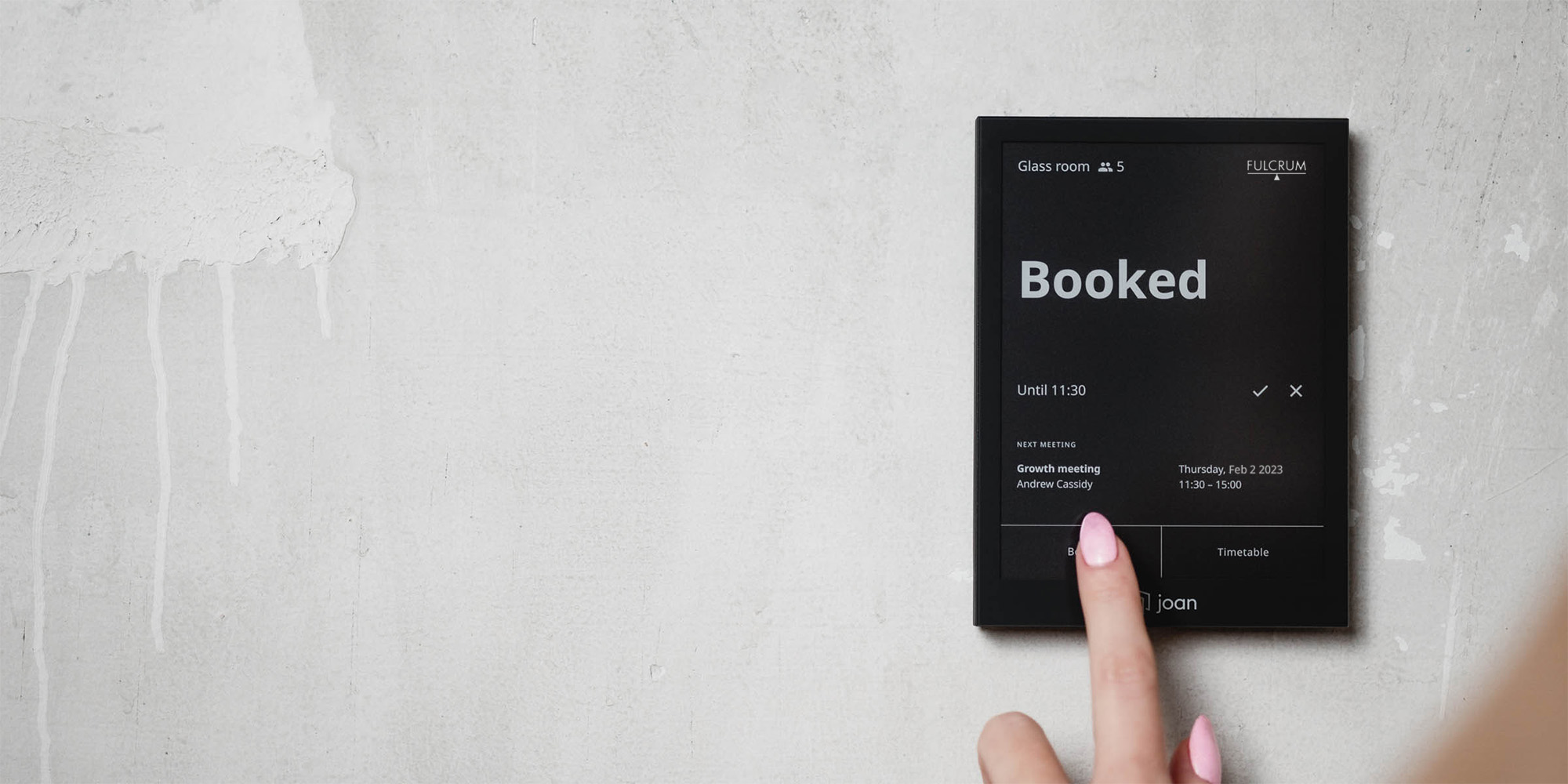 Meeting room management
When it comes to Joan room booking wireless displays, the commehr team simply preconfigures them, connects them to the network, and then hands them over to their customer's office management department. The setup is really quite simple and the rewards are more than worth it. commehr customers benefit from meeting room management that boosts productivity, helping them grow.
One of the biggest perks about recommending Joan to commehr clients is that the Joan platform connects directly with their in-house calendar — commonly Google Calendar or Microsoft 365. Meaning, commehr doesn't have a lot of work configuring Joan to the existing system. "We can import the user also for the desk booking solution and then we're good to go."
Most startup companies are modern and forward-thinking, making the majority of commehr's clientele keen on sustainability.
"We have the Joan 6 devices that can run up to three months, and the big ones, Joan 6 Pros, that can run up to six months, which is great." — Sebastian Springer
Overall, Sebastian loves the Joan 6 and Joan 6 Pro wireless displays for their transparency of meeting room schedules, ease of use, wireless design, and… they simply look good in any environment.
Desk booking
The post-COVID world has very different office spaces than pre-pandemic. But, the commehr team is fully skilled and equipped to handle the rise in flexible workplaces and hybrid workspaces.
"Now, when everybody shows up on different days to the office, they need to book resources." — Sebastian Springer
Since Joan's great introduction into his office, Sebastian has implemented Joan Desk booking, further transforming the commehr workspace. After experiencing the magic for themselves, Sebastian's team now recommends Joan desk booking to their clients who want to streamline their office management.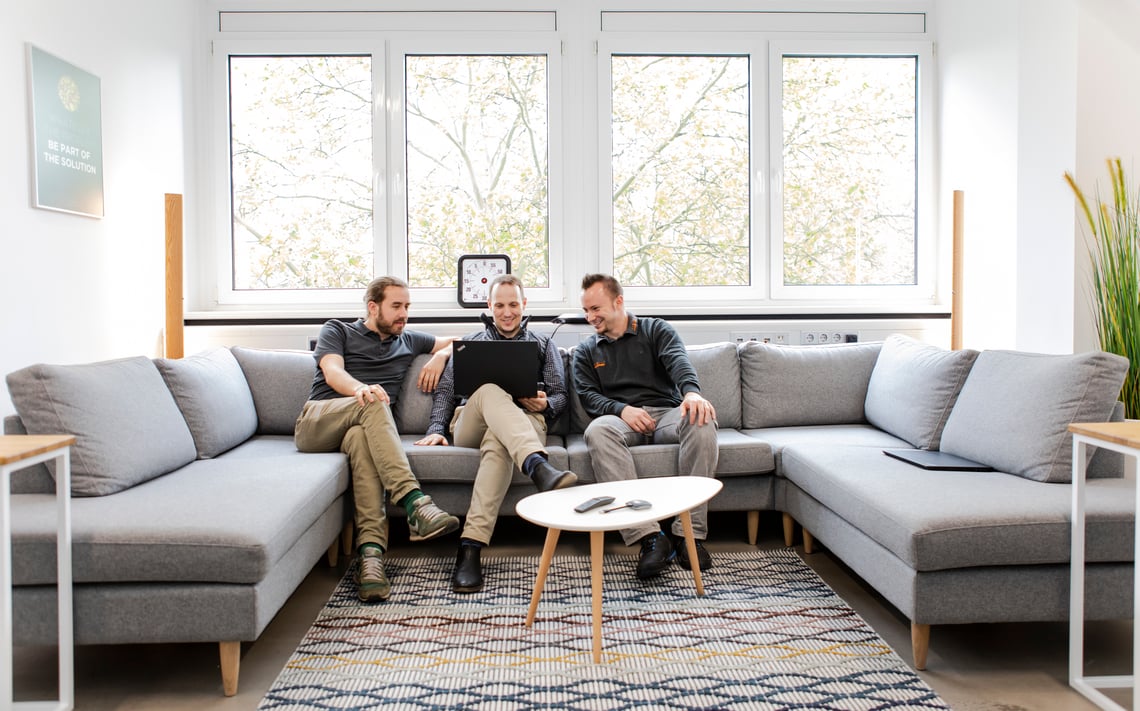 Departments
In 2022, Joan released Departments to the desk booking experience. Desks can be configured to only allow users from certain departments to book them. This way, team members from the same department can more easily sit next to each other when they work on-site. Or, as Sebastian suggested, "we can make sure nobody can book the CEOs office."
Asset management
In hybrid workspaces, employees need to have access to the resources they need when they need them: "you're not in the office every day, but you still need to organize those resources."
With Joan asset booking capabilities, companies can make anything bookable. Sebastian reminisced about the items he's seen added to Joan Asset Management, which, beyond parking spaces and other common resources, included simple things like notebooks or a… place for a dog: "They brought a dog into the office [...] that's bundled to a resource that you can book for your dog if you want to bring them into the office."
A dog! Our Joan team loved this idea.
Office signage
Some commehr clients use Joan solutions to show the desks and meeting room floorplan, and other office wayfinding information on a big display, making everyone's day more efficient and productive.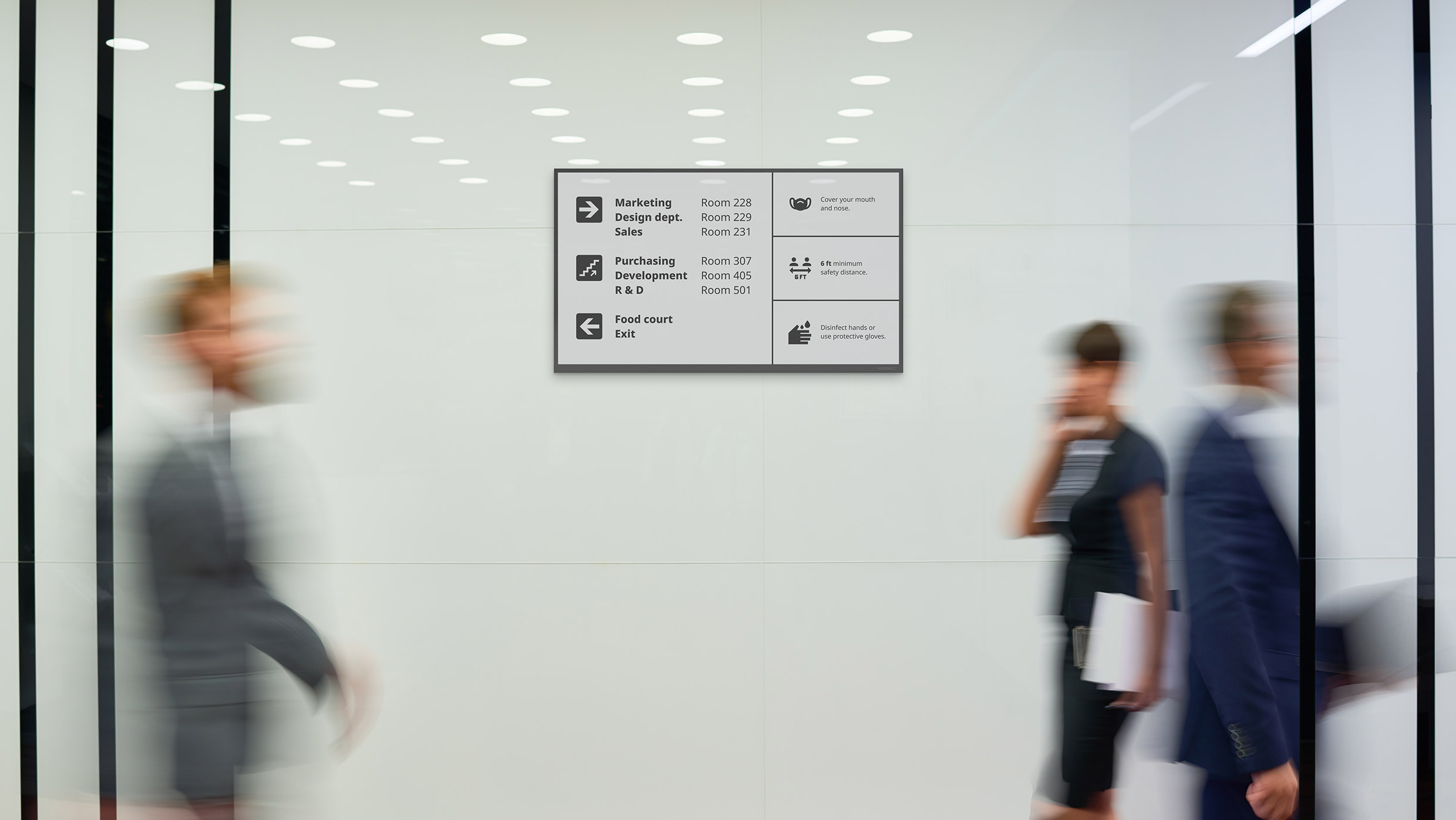 What the Joan innovation award means to commehr
"We're really honored to be a part of the Joan community and to be able to bring in new ideas," said Sebastian when asked about the award. One of his favorite aspects about working with Joan is the fact that Joan devices improve with partner and customer feedback — we actually listen.
"That's really great for us and we love to be part of that. [...] We love to also bring those new features to existing customers. Okay, say now we can book resources. Now you can also use desk booking." — Sebastian Springer
When asked what's next for commehr, Sebastian jokingly said, "next year, another award?"
Why not? At this rate, commehr will have dozens of new innovative ideas added to its repertoire by then. With their passion for providing their customers with state-of-the-art technology that commehr has personally tested, their office solutions will undoubtedly keep getting better and better.
Find out how Joan can upgrade the employee experience in your office by contacting our Sales team.